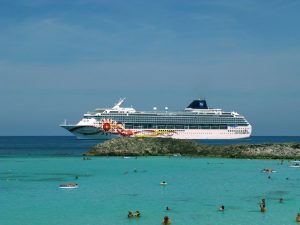 What's so great about NCL? Flexibility for one thing, and plenty of it! With Norwegian Cruise Line you can enjoy the perfect cruise based around your own schedule. There are no strict dining times, no formal dress codes, and no hassle. Dress up, dress down, stay in, go to a club, do nothing, or do everything. The choice is yours.
NCL's Freestyle Dining allows passengers to dine wherever they like, and to take their pick from a range of different restaurants throughout the morning, noon and night. There are no set seating times which makes life much easier for families, and for anyone who just wants to dine when they're hungry – not when they're told to eat. Then there's Freestyle Accommodation – NCL's answer to flexible cabins. That means you'll get the widest selection of accommodation at sea ranging from luxurious Presidential-style suites, to interconnecting family rooms and budget-friendly cabins.
Another Freestyle element is NCL's Freestyle Fun and Entertainment. This means you can find a different style of cruise to suit your preferences – be it a family cruise with the kids, or a romantic retreat just for two. If you do have the kids in tow, many NCL ships come equipped with great kids' clubs and activities for all ages, ranging from tots and toddlers to trendy teens.
All that, and we haven't even mentioned the destinations yet. With NCL you can travel to various locations all around the world, ranging from the Mediterranean to the Greek islands, and Atlantic islands like the Canaries and Madeira to the sizzling Caribbean. Many itineraries have been spiced up too, giving you a real taste of adventure. For instance, you could take a flight to New York City and then join a cruise to Bermuda, before returning to the Big Apple ready to take your flight home.
How's that for the cruise experience of a lifetime?