A Helping Hand
Resources that extend a helping hand to organizations around the world who are in need of financial and other support. Also visit Study Abroad Programs, and Volunteer/Work Travel, for more information
providing vital education, health care, cultural and environmental preservation in the Himalayan region
208 views
Submitted Feb 26, 2010
our main objective is to improve the quality of life of the remote population of the Himalayan region via the introduction and use of environmentally friendly renewable energy technologies
554 views
Submitted Feb 26, 2010
My goal is to provide education for all those who lack greater opportunity. With your help, we can alleviate poverty for people around the world and educate thousands of individuals.
39 views
Submitted Nov 20, 2015
Idealist is a project of Action Without Borders, a nonprofit organization founded in 1995 with offices in the United States and Argentina. Idealist is an interactive site where people and organizations can exchange resources and ideas, locate opportunities and supporters, and take steps toward building a world where all people can lead free and dignified lives.
65 views
Submitted Mar 11, 2010

The International Institute For Peace Through Tourism (IIPT) is a not for profit organization dedicated to fostering and facilitating tourism initiatives which contribute to international understanding and cooperation, an improved quality of environment, the preservation of heritage, and through these initiatives, helping to bring about a peaceful and sustainable world
191 views
Submitted Feb 26, 2010
To promote and provide community-based education and literacy programs,
especially for girls, in remote mountain regions of Central Asia
253 views
Submitted Feb 26, 2010
Two billion children, 85 percent of the world's total, live in the developing world. Their futures and those of their children depend on whether they go to school and how much they learn. Innocent Eyes Project, Inc. is a nonprofit organization that supports grassroots child education programs in developing countries by raising and allocating funds for projects where small amounts of money can have the largest impact on underserved children and communities. Your support can make a difference.
65 views
Submitted Jun 17, 2013
is a Non-Governmental Organization, founded in 1994, seeking to help in promoting Reconciliation and Peace building structures, through rebuilding homes and traumatized hearts which were caused by the effect of ethnic wars, injustice, division etc...
209 views
Submitted Feb 26, 2010
online fundraising, donations and ideas
52 views
Submitted Feb 26, 2013
Kind Traveler IS a warrior for good, a shift in mindset, an idea with the power to evolve into a growing global movement fueled by every day people like you who love to travel, by charities that dedicate themselves to creating a better place to live, and by hotels and travel properties that believe they have a responsibility to the communities where they do business.
60 views
Submitted Jan 18, 2015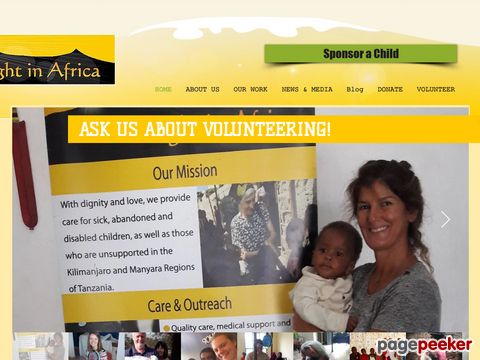 Light In Africa is a Tanzania registered not for profit organization (NGO) which cares for sick, abandoned and handicapped children and other unsupported people in Africa.
74 views
Submitted Mar 12, 2010
Belgian based - an orphanage in Cambodia
57 views
Submitted Nov 14, 2012
Local Travel connects independent and mindful travellers with local people.
57 views
Submitted Feb 27, 2013
Meaningful travel is experiential, socially-responsible travel allowing travelers to make a difference and give back. Tours address and lend financial support to global development issues (women's empowerment, youth, education, health, poverty-alleviation and social justice) in the countries we operate. Sometimes meaningful travel may include volunteer travel
50 views
Submitted Dec 5, 2013
exists to alleviate suffering, poverty and oppression by helping people build secure, productive and just communities. The agency's programs currently reach 7 million people in more than 35 countries
250 views
Submitted Feb 26, 2010
Mongabay.com seeks to raise interest in and appreciation of wildlands and wildlife, while examining the impact of emerging local and global trends in technology, economics, and finance on conservation and development
314 views
Submitted Feb 26, 2010
Mountainfilm is dedicated to educating and inspiring audiences about issues that matter, cultures worth exploring, environments worth preserving and conversations worth sustaining
160 views
Submitted Feb 26, 2010
myKRO.org was started in the spring of 2008 with the goal of increasing awareness for the concept of microfinance. It stemmed largely from discovering Kiva.org and realizing the impact that $25 can make in the lives of those in developing countries. The world of microfinace is undiscovered by the general population due to the lack of coverage by the mainstream media, and even the online world. There was no central source for information relating to microfinance that could be found in early 2008, so myKRO.org was born. We are bringing together the voices of volunteers, employees of NGO
54 views
Submitted Aug 8, 2010
Namaste India Children
57 views
Submitted Jun 20, 2010
This is why the Obakki Foundation exists. A safe, reliable source of water is the foundation for growth in all other areas of life. With clean water, communities in Africa can do more than just survive
47 views
Submitted Apr 2, 2014

About Dave's Pick
Category Stats
Listings:
94
Regular:
93
Dave's Pick:
1
Last listing added:
Nov 15, 2017