African Safaris
African Safari Companies & African Safari Resources.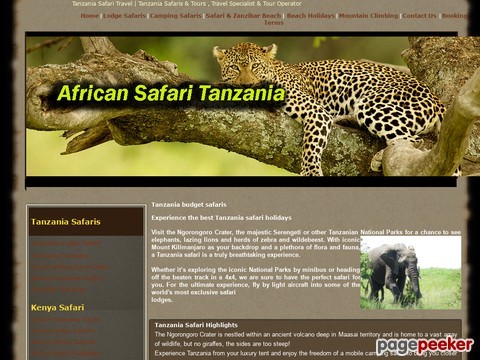 Safari Kenya Budget Camping Safari trips Masai Mara lodge, Tanzania Amboseli camping Safari Kenya
84 views
Submitted Feb 26, 2010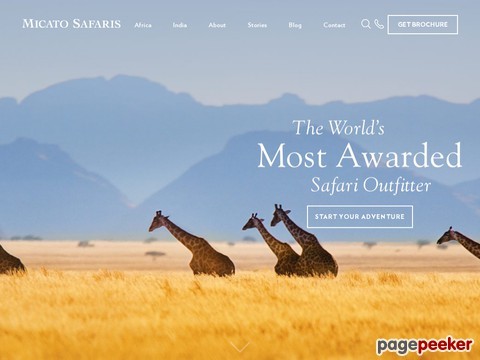 has been voted the "World's Best Tour Operator & Safari Outfitter" by Travel+Leisure magazine
169 views
Submitted Feb 26, 2010
Offering exciting and adventurous safaris to all Kenyan Parks like Tsavo East and West, Amboseli, Masai Mara, Lake Nakuru, Baringo, Bogoria, and Naivasha and to the northern frontier parks of Sambur
61 views
Submitted Feb 17, 2012
Climbing Mount Kenya Climb
257 views
Submitted Feb 26, 2010
Mount Kenya Trekking,Mount kenya,Climbing Karibu! Welcome to Mount Kenya Climbing Expeditions website with a wide selection of East African travel, expedition and safaris. You will find this website useful for your safari planning and we will be happy to be your African host, where a warm welcome awaits besides the unique and diverse people, culture, wildlife and landscape.....the magical land of Mt Kenya
208 views
Submitted Feb 26, 2010
Experience excellent Safaris and Tours during your Namibia Holidays with your professional German Tourguide
56 views
Submitted Aug 29, 2017
Hand-made holidays to Namibia, Botswana, South Africa, Zambia and Zimbabwe. Over 20 years experience in creating dream African holidays.
144 views
Submitted Sep 13, 2011
Safari planning specialists offering a range of safaris in Tanzania, Kenya, and many more African regions.
145 views
Submitted Feb 26, 2010
Derived from the swahili word for journey, the word safari has been adopted through out Africa to describe the thrill and excitement of game and.......
127 views
Submitted Feb 26, 2010
A Uganda based Eco safari experts with extensive hands of practical experience in safari planning and tailor-made safaris of group tours based around each individual's special interests, time scale, budget and requirements.
176 views
Submitted Feb 26, 2010
Gorilla tours, rafting and all wildlife saris in Uganda and Rwanda.
162 views
Submitted Feb 26, 2010
a Kenyan based tour company offering budget and luxury tours to Kenya, Tanzania, Uganda and South Africa for both the up market and budget travelers
366 views
Submitted Feb 26, 2010
Palace Travel offers tours and safaris to more than thirty African countries and the Indian Ocean Islands. Destinations include Ghana, Mali, Senegal, and Libya in addition to the usual vacation destinations such as South Africa, Kenya, Tanzania, Egypt, Morocco, among others.
93 views
Submitted Feb 26, 2010
The best pilanesberg safaris and tours to choose from. daily departures from johannesburg and surrounding areas. view our best last minute safaris specials! We are Pilanesberg National Park #1 safari experts
23 views
Submitted Oct 16, 2017
kenya safaris & Tanzania Tour holidays East Africa -: masai mara Wildlife safari,holidays in Kenya Tanzania lodge providing african traditional safari travel in various lodges and tented camps in Kenya
147 views
Submitted Feb 26, 2010
tailor made African safaris
366 views
Submitted Feb 26, 2010

affordable African Safari
394 views
Submitted Feb 26, 2010
An African safari guide to parks and lodges on the continent. Articles and a question and answers section make it easy to learn and ask questions related to your trip.
131 views
Submitted Feb 26, 2010
Safaris in East Africa - With over 40 parks and game reserves, Kenya has long been known as "big-game" country. Kenya has always viewed its wildlife as a national treasure.
144 views
Submitted Feb 26, 2010
- Tanzania Adventure - we offer tailor made private Safaris in East Africa for the discerned traveller, Kilimanjaro climbs and Zanzibar holidays
214 views
Submitted Feb 26, 2010

About Dave's Pick
Category Stats
Listings:
116
Regular:
111
Reciprocal:
4
Last listing added:
Oct 21, 2017