Backpackers & Budget
Backpacker resources. Budget Travel. See also our Student Travel and our huge Travel Blogger Directory for more info.
Flashpackers
(17)
Affluent backpacking. Often characterized by those who leave their jobs for a while and continue to travel in a backpackers style yet have bigger budgets.
joing Brock as he backpacks around the world, backpacker style of course
88 views
Submitted Feb 27, 2010
Guide to travel Europe, backpacking, Eurorail and Eurail pass, hostels, budget travel, and cheap tickets.
737 views
Submitted Feb 26, 2010
Cheers for stopping by to check out my blogging antics – I'm doing my best to bring you heaps of advice, inspirations and chaos from my RTW travels!
78 views
Submitted May 28, 2012
At Backpacker Bible, we seek to better the travel experience for the traveller, the places visited, the businesses and companies selling travel experiences and the local communities and people hosting their visitors. By following the advice that Backpacker Bible is offering, not only will you receive the most relevant and up to date tips and suggestions for the most culturally rich and authentic travel experience, but you will also belong to something far bigger.
25 views
Submitted Dec 26, 2016

Thanks for visiting BackPackerBucks, home of the super discount travel card that saves you money and provides funds to orphans in need. On the site you can: Buy a card and save money. Advertise a discount for cardholders free of charge. Place a banner ad to target the budget traveler in your area. The list of discounts is always growing and changing, so visit the site often to check out what's new.
66 views
Submitted Jun 24, 2010

Every body could do backpacking include girls ! Tips, transportation,accommodation and the story, its all in here !!
63 views
Submitted Jun 23, 2010
Backpacker hacker is a global community coming together to share their stories through articles, photography, and video.The backpacker experience isn't easily captured in travel guides so instead, we draw upon individual experience to bring you the latest information on top backpacker circuits.
24 views
Submitted Aug 2, 2017
backpackerheaven.com is the ultimate resource for the backpacker and independent traveller. We are dedicated to providing budget travellers with backpacking tips and advice, travel guides and useful information, to guide them in their adventure into the unknown
65 views
Submitted Apr 29, 2010
But it wasn't until a trip to Argentina in 2008 that my passion for travel was really lit up. My flatmate Patrick and I stayed in a hostel for the first time in our lives. And that's where I discovered the concept of backpacking. From that point on, I knew that one day I too would backpack the globe.
63 views
Submitted May 9, 2013

everything for backpackers
49 views
Submitted Oct 20, 2013
A comprehensive list of guides with tips and advice on everything you need, before, during and after you travel. Perfect for everyone from beginners to backpacking nomads!
48 views
Submitted Dec 19, 2014
based in New Zealand offers good tips and tricks for backpackers
68 views
Submitted Mar 12, 2010
this company makes lightweight bear resistant containers
401 views
Submitted Feb 26, 2010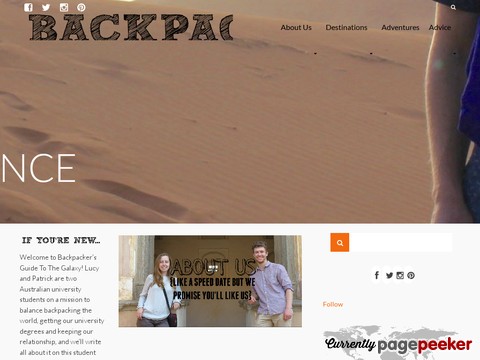 Lucy and Patrick are two Australian university students on a mission to backpack the world on under $50 a day, and we'll write all about it on this student travel blog.
29 views
Submitted May 1, 2016
backpacker stories
36 views
Submitted Dec 23, 2015
a comedy series for the digital generation
62 views
Submitted Aug 12, 2013
Preparing to embark on an extended honeymoon in South East Asia before settling down as expats in Australia - will blog home! Our adventure began New Year&#39
57 views
Submitted Feb 8, 2013
Backpacking Addictz is a site for backpacker and set up by backpackers: Backpacking is all about the
73 views
Submitted Jun 18, 2010
Backpacking and budget travel magazine for those looking to travel the world.
129 views
Submitted Feb 26, 2010
Hi and welcome to the Backpacking Bear Travel Blog! My name is Joe Louis and I am your furry, photogenic travel blogger. Unlike ordinary bears, I have a strong passion for traveling. I am currently backpacking around the world and am excited to share my adventures and experiences with you. My goal is to inspire as many people (and bears) as I can to join in the spirit of wanderlust and go globetrotting!
53 views
Submitted Oct 26, 2014

About Dave's Pick
Category Stats
Subcategories:
1
Listings:
171 (188 counting subcategories)
Regular:
170
Reciprocal:
1
Last listing added:
Sep 29, 2018