Backpackers & Budget
Backpacker resources. Budget Travel. See also our Student Travel and our huge Travel Blogger Directory for more info.
Flashpackers
(17)
Affluent backpacking. Often characterized by those who leave their jobs for a while and continue to travel in a backpackers style yet have bigger budgets.

excellent content rich backpacking directory chock full of articles and money saving tips
76 views
Submitted Mar 11, 2010
Thrifty Drifters is a new online meeting point for budget travellers to share tips, information and stories.
56 views
Submitted Jun 15, 2014
Achieving big dreams on a tight budget.
38 views
Submitted Nov 14, 2015
Are you an armchair traveler who likes to read about adventures from the comfort of your office? Then this blog is for you.
66 views
Submitted Jun 23, 2010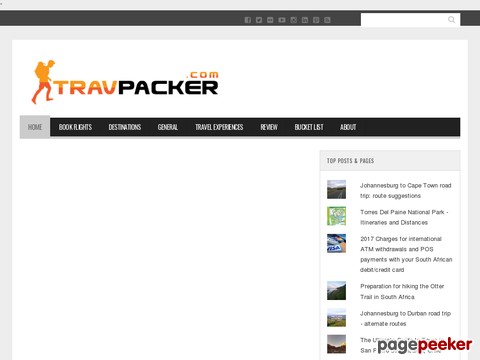 The purpose of this blog is to share some of my experiences
55 views
Submitted Mar 10, 2013
Friends and relatives often ask me for budget travel advice and I love helping them out. So, I thought, why not have a site where I make all this information on budget travel available?
57 views
Submitted Oct 22, 2014
has 100's of the top travel sellers competing for your business. Offering 1000's of airfare, vacation, cruise and hotel deals
492 views
Submitted Feb 26, 2010
There are many travel resources and guidebooks out there that tell you how to travel on the cheap, how to save money, how to get the best airfares. We have read and used many of them, and there are lots of good ones around. How To Travel For Free (or pretty damn near it!) is different in that in these pages, we share our own personal resources and experiences to show ways in which you can travel not just cheaply, but for free
193 views
Submitted May 3, 2011
Travel Independent .info is an independent, non-commercial site by travellers for travellers to encourage people of all ages to travel independently and give them the information they need to feel confident about it.
65 views
Submitted Apr 24, 2010
offers hostels world wide, tips on backpacking, safety, Eurail, travel stories, student tips, links, and backpacking message boards
433 views
Submitted Feb 26, 2010
If youve got that little tingling curiosity inside of you to travel then let us help you put it to rest. Although travel only ever lasts a limited time, its impact is with you for a lifetime.
53 views
Submitted Jun 12, 2014
Travel The World For Free is a website inspired by the adventures of a unique group of individuals. Though they may come from different backgrounds and cultures, they all have one shared passion. They love to travel. So much so that they have never let a lack of money stop them.
55 views
Submitted Mar 19, 2014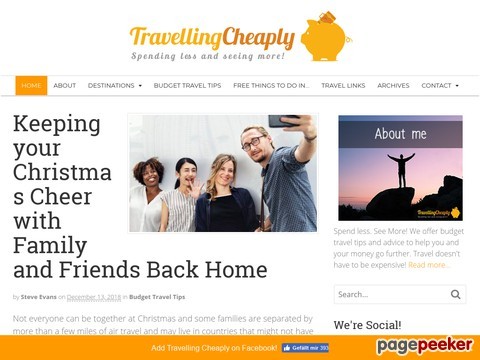 Spend less. See More! We offer budget travel tips and advice to help you and your money go further. Travel doesn't have to be expensive!
38 views
Submitted Feb 4, 2016
Guide for backpackers heading to Europe, Australia, New Zealand or Canada.
274 views
Submitted Feb 26, 2010
The aim of the TunaFish initiative is to help independent travellers (backpackers) find quality local tourism companies, like tour operators, travel agencies and hotels & hostels. First of all this will stimulate local economies. Next to that we believe this is the most interesting way to travel (and in most cases the cheapest way too :-)).
62 views
Submitted Jun 23, 2012

TwoBackpackers.com documents the experiences of Jason Castellani and Aracely Santos as they travel the world in a journey of discovery. This is not the typical gap year of backpacking after a recent college graduation. This is the journey of a couple that finished college years ago and have since spent most of their time and efforts becoming successful corporate professionals
64 views
Submitted Feb 26, 2010

backpacking and budget magazine, excellent content
78 views
Submitted Feb 26, 2010
The following is a comprehensive list of general travel advice specifically tailored to 20-30 something backpackers and hostelers. Our goal is to provide a comprehensive, but manageable, list to jump start your travel preparation.
64 views
Submitted Apr 23, 2010

Hello! I'm Adam Mayfield and I am the aurthor of this site. Currently I'm living a minimalist lifestyle. I've sold almost all of possessions and have a travel addiction I can't seem to shake!
59 views
Submitted Jul 21, 2012
Vagabond Journey Travel is an extreme budget travel project to provide maps of the road ahead for travelers on long term journeys with limited monetary resources. Our mission is to provide practical information, ideas, inspiration, and tips on how to travel the world. We have been traveling for a combined 14+ years through more than 50 countries, this site is meant to share a little of what we picked up along the way.
55 views
Submitted Apr 29, 2010

About Dave's Pick
Category Stats
Subcategories:
1
Listings:
171 (188 counting subcategories)
Regular:
170
Reciprocal:
1
Last listing added:
Sep 29, 2018