Backpackers & Budget
Backpacker resources. Budget Travel. See also our Student Travel and our huge Travel Blogger Directory for more info.
Flashpackers
(17)
Affluent backpacking. Often characterized by those who leave their jobs for a while and continue to travel in a backpackers style yet have bigger budgets.
the travelzine for today's vagabond
60 views
Submitted Feb 26, 2010

hungarys longest running backpacker
43 views
Submitted Sep 10, 2014
Velabas: A Travel Narrative and Drawings from Hitchhiking Around the World
56 views
Submitted Nov 19, 2012
VIP Backpackers launched in Australia more than 24 years ago when a group of independently owned and operated hostels formed a strategic alliance to help backpackers seek out value for money and quality products that offer special discounts
63 views
Submitted Jul 31, 2010

im a cruiser, a chooser, a globe trotter country hopper...roaming the world, writing my story, soaking up this earth and all its glory...
61 views
Submitted Jun 21, 2010
Wild Backpacker was started in July of 2007, under the name of Outdoor High Adventure. But two years later, we changed our name to Wild Backpacker and redesigned our website. We were also recently interviewed by Tracks and Trails and Ultimate Ultralight Backpacking. Based in Utah, we were founded to spread the love of backpacking around the world. We provide all the knowledge and information a backpacker could want in one easy place - WildBackpacker.com
60 views
Submitted May 3, 2010
Information on all of the working holiday visa options available to Canadian backpackers.
256 views
Submitted Feb 26, 2010
Working Nomad - working from anywhere
63 views
Submitted Apr 20, 2010
Guide to helping the backpacker prepare for his journey, including: backpacking information, destination guides, travel stories and a backpackers forum.
601 views
Submitted Feb 26, 2010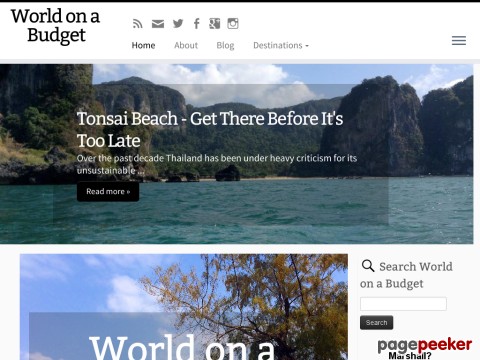 A travel blog/resource showcasing how to travel the world on a limited budget, whilst also offering an insight into my experience of each destination.
39 views
Submitted Dec 22, 2015
We write about inexpensive ways for people to get to places they had only dreamed of going. We hope to inspire others to travel – to infect them with a serious case of "wanderlust." Nothing pains us worse than hearing people say, "I'd love to travel, I just can't afford it."
56 views
Submitted May 25, 2012

About Dave's Pick
Category Stats
Subcategories:
1
Listings:
171 (188 counting subcategories)
Regular:
170
Reciprocal:
1
Last listing added:
Sep 29, 2018