Bicycle Travel
Bicycle Travel - Bike trips and bike travel. Enjoy a slower way of travel - make your next trip a tour on 2 wheels! Bicycle the roads of the world.
one man and his dog cycling around Europe by bike
42 views
Submitted May 27, 2015
Two fellow adventurers, Sarah Thomas and Dallas Jamme, are on a mission to cover as much of the world as possible by means of sustainable transportation: bicycles and sailboats.
47 views
Submitted Dec 12, 2013
The Path Less Pedaled is an exploration of what it means to live outside the lines. In March 2009, Laura Crawford and Russ Roca made the decision to drop out of the status quo and find others around the world who have done the same. Paring down their lives to just what will fit on two bicycles, Laura and Russ embarked on an extended bike tour throughout the US and beyond ? with the goal of connecting with and collecting the stories of people who followed a calling to live their lives in unique ways, while revitalizing the model of the traveling artisan and inspiring others to travel by bicycle
57 views
Submitted Mar 31, 2010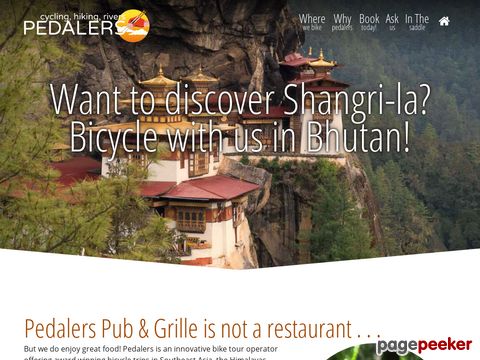 Unique bicycle tours in Asia and the Pacific Rim. Road bike trips in Thailand, Bhutan, New Zealand, Alaska, Bali, Vietnam India, Tahiti and more.
152 views
Submitted Feb 26, 2010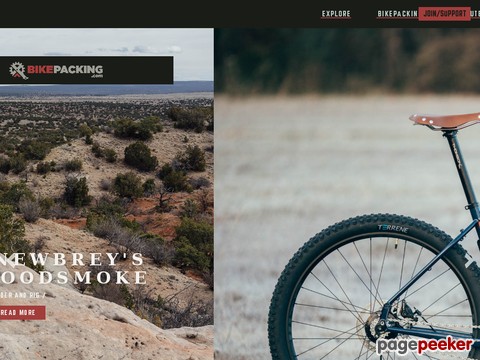 A pedal powered photo journal about bike travel, gear, beer and the bliss of adventure
50 views
Submitted Nov 4, 2013
bike and hiking adventure trips for Europe
214 views
Submitted Feb 26, 2010
a Nepalese man who is on a many-year round the world biking tour for peace
57 views
Submitted Apr 20, 2010
RollGlobal.org is our gift to you. In researching travel destinations, climbing areas and cycling routes we noticed that good information can be hard to come by. It is our mission to provide our readers with concrete tools to experience the places we go. From specific route beta to downloadable GPS tracks for cycling, RollGlobal.org aims to give you all of the information you need to step out your door and experience these amazing places for yourself. Come roll with us on our journey around the globe!
55 views
Submitted May 28, 2012
Challenging small-group singletrack holidays in Peru, Chile and British Columbia, with a focus on sustainable tourism.
226 views
Submitted Feb 26, 2010
I'm Sam, a guy who loves mountain biking, hiking and travelling. Follow my adventures as I travel the world in search of rad trails, wilderness surroundings and stunning views. It's going to be an epic journey!
28 views
Submitted Feb 28, 2017
solo female cycling around the world
60 views
Submitted Nov 7, 2011
sociable cycling holidays on the idyllic lanes of Wales and the Welsh Borders of England UK. Delicious vegetarian cuisine, mostly organic - lunchtime meat option available
571 views
Submitted Feb 26, 2010
Spinlister is a marketplace that lets you find the best bikes to rent online, whether from individuals or existing bike rental shops. Just type where you&#39
49 views
Submitted Jul 30, 2013
We are Annika Wachter (29) from Germany and Roberto Gallegos (32) from Mexico. We are founders of Tasting Travels, a project that seeks to promote: Bicycle Travel as a Model to Cultivate Empathy.
35 views
Submitted Jul 2, 2016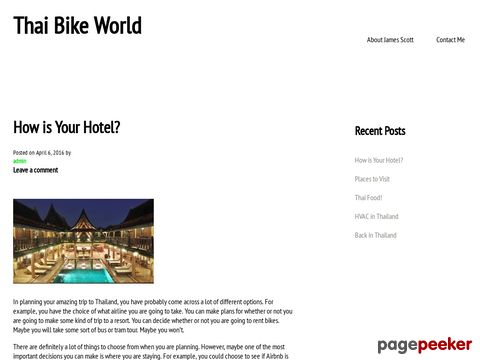 Wan & Mou's bicycle trip around the world
685 views
Submitted Feb 26, 2010
Hello – I'm Emily. On September the 1st 2011 I left to cycle around the world.
47 views
Submitted Jan 25, 2013
Biking tours round the most beautiful areas of France and Italy. Small, guided groups, with an emphasis on gourmet food and great cycling on quiet roads and tracks.
256 views
Submitted Feb 26, 2010
We are Pablo and Ilze, and we are cycling around the world! We are traveling on the cheap, wild camping and living with less than 4€ a day.
42 views
Submitted Nov 19, 2014
I'm Tom from England. (That's me with the silly ice-beard.) Since 2007 I've been going on bike adventures to places like Sudan, Iran, Yemen, Syria, Mongolia and Lapland. I have no fixed abode, have bases of sorts in England and Armenia, and I'm married to Tenny.
76 views
Submitted Jul 18, 2012
Specialist for bicycle tours in the Czech Republic and Slovakia with self-guided and guided biking vacations. Bike trips in Hungary, Austria, Germany and Poland. Tandem bicycle tours and cycling holidays. Trek bike rental in Central Europe.
281 views
Submitted Feb 26, 2010

About Dave's Pick
Category Stats
Listings:
75
Regular:
74
Reciprocal:
1
Last listing added:
Feb 28, 2017