Blogs of Travel
The creativity & desire to share experiences among those who have been blessed with the passion, opportunity & ability to wander & explore is a beautiful thing. This is the *ULTIMATE* updated travel blog list on the web with over 7,000 travel blogs listed! We spend *significant* time searching for travel blogs not yet in this list. Focus is on domain name sites in English in the format: www.###.xxx. More info about this list here
I am Bharadwaj Venkata, a researcher in bioenergy. I love travelling, cooking, reading, writing, sports and the idea behind this website is to share my experiences.
46 views
Submitted Nov 21, 2015
I left my design job in New York In August 2011 and moved into a camper. Since then, I have driven 80000 miles around the west, surfing and camping. These are some of my stories and photos.
85 views
Submitted Mar 16, 2014

We are John & Laurel Rodgers.
79 views
Submitted Apr 26, 2015
between the travel and the soul
36 views
Submitted Mar 4, 2017
In every spare minute I travel around the world and learn new things by reading and philosophising. Sometimes I am also physically active, most probably on a festival, a dark dance floor or in the mountains attached to a snowboard.
44 views
Submitted Apr 24, 2017
The musings of a new expat
62 views
Submitted May 31, 2015
I'm a 20-something art nerd, food dork, travel geek, and lover of Guinness. When I travel, I seek out great museums and amazing food. The architecture, art, and food of a city speak to me. When not traveling, I highlighted the art and food found in Nashville, where I lived for the last four years...
84 views
Submitted May 25, 2012
globetrotting, photography and creativity
72 views
Submitted Oct 1, 2013
A couple of traveling Texans. We love to travel, meet interesting people, see beautiful sights and try new beers! We started our adventure together about six years ago.
79 views
Submitted Jun 19, 2012
Travel stories and pictures from Indian writer
46 views
Submitted May 1, 2016
Im a 20 something who has decided to leave the stable, boring life behind in search of a life full of travel and adventure. Join me as I navigate through the next year of prepping for long term travel and being stuck at home.
77 views
Submitted Nov 2, 2013
I'm Jessica, A Southern Traveler. I was born and raised in Texas and call Fort Worth, Texas home. When not working full time, I travel.
39 views
Submitted Nov 2, 2016

Random Travels of an Average Guy
72 views
Submitted Sep 10, 2014
Let me share with you my experiences as I blog my way around castles, heritage sites, and take my nose out of my book long enough to explore the destinations that inspired the writing!
37 views
Submitted Nov 30, 2016
I love to travel! I love exploring the markets, trying new tastes and finding fabulous restaurants so this blog is also about food!
69 views
Submitted Feb 2, 2013
This travel photography blog features my photos and writings on my journeys through Southeast Asia, Europe, and the United States.
49 views
Submitted Dec 25, 2015
Life is the journey. Happiness is the destination. Follow my journey while I discover the beauty our world has to offer!
34 views
Submitted Dec 18, 2016
Im Jenny Marshall, a language and culture blogger based in Bilbao, Spain. I teach English to rowdy middle-schoolers, attempt that sexy Spanish lisp, and travel during every school holiday Spain throws my way.
70 views
Submitted Jun 11, 2014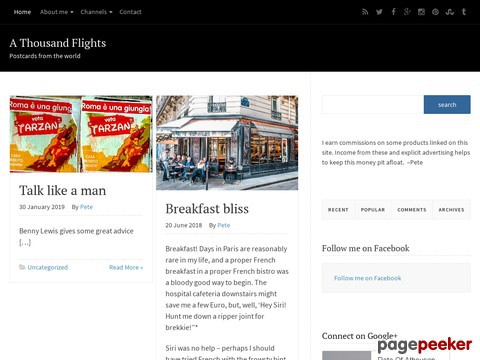 A Thousand Flights is my passion: to share the joy of travel which has been a big part of my life, and if I can, to make the process easier for others. Only through travel can we truly appreciate that humanity is much the same everywhere
35 views
Submitted Jan 31, 2017

Im a Sydneysider, planning to embark on a multi-year round the world trip from 2020. I love railways, Doctor Who, other sci-fi, and just wasting time on the Internet.
75 views
Submitted Dec 8, 2014

About Dave's Pick
Category Stats
Subcategories:
2
Listings:
7328 (7343 counting subcategories)
Regular:
7321
Dave's Pick:
7
Last listing added:
Aug 19, 2018