Blogs of Travel
The creativity & desire to share experiences among those who have been blessed with the passion, opportunity & ability to wander & explore is a beautiful thing. This is the *ULTIMATE* updated travel blog list on the web with over 7,000 travel blogs listed! We spend *significant* time searching for travel blogs not yet in this list. Focus is on domain name sites in English in the format: www.###.xxx. More info about this list here
Join me as I continue to explore our amazing planet, have unabashed enthusiasm eating and drinking my way through incredible cultures, and encourage acts of kindness whenever possible.
5 views
Submitted Apr 24, 2017

My primary focus on the blog will be backpacking on a shoestring as a solo female traveller.
36 views
Submitted Apr 30, 2015
Whenever I travel, I travel with my girlfriend. And if I had to give us a name, I'd call us the moaner and the traveller – me being the moaner.
4 views
Submitted May 24, 2017
We are mid-range travellers who love to experience the world in different ways. We stay in cheap hostels and eat street food but love to treat ourselves to meals at award-winning restaurants and nights in luxury hotels. As strong advocates for the outdoors, we spend our time swimming in the ocean, meandering forest paths and exploring mountain landscapes.
16 views
Submitted Nov 13, 2016
I am currently on a solo overland expedition which will initially cross North Africa, the Middle East and Asia. If all goes well, I will then sail across the South Pacific, ship the car to Chile and drive up through South and Central America to Alaska
65 views
Submitted Aug 8, 2010
Let's bring back the idea of travel as a search for inspiration and education. It's nothing more than changing the way we look at traveling and act a bit differently.
60 views
Submitted Jul 20, 2012
The active and adventurous way of living and travelling. New post every sunday! Blog by Veronika Ask Stuksrud
19 views
Submitted Feb 1, 2017
To backpack to all 7 continents by following my spiritual intuition and sharing my unique cultural experiences along the way.
53 views
Submitted Jun 7, 2012
My name is Vanessa and I love to travel. I started travelling in my 20's and I'm now in my 50's. My first real trip outside of Canada was to Cartagena, Colombia.
4 views
Submitted Nov 15, 2017
Hello and welcome to the Ad-lib Traveller blog founded by Colleen Williams. I started this blog as a way to share my travel experiences with like-minded people across the world. Ultimately, I see the blog as a way to share my own experience but also to learn and gain inspiration with others
48 views
Submitted Feb 7, 2013
I'm Addie, and welcome to Addie Abroad! Last year, I moved across the pond from small town Illinois to the UK to attend university. Now I'm doing my best to see as much of Europe as I can while I'm here.
6 views
Submitted May 24, 2017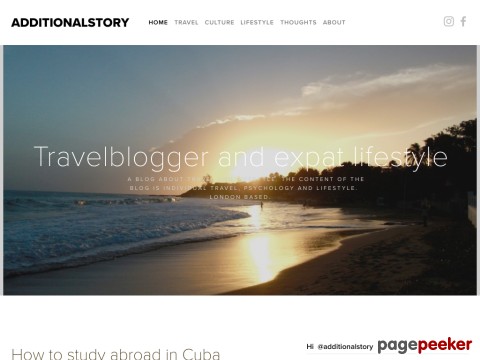 I discovered my passion for traveling very early due to my extreme curious mind. Naturally I am very keen to see how live is all over the world.
16 views
Submitted Dec 17, 2016
im Courtney, a Seattle native living in Madrid. Im an English teacher, tapas addict, wine enthusiast and shameless lover of siestas. Join me as I venture through Spain and beyond!
56 views
Submitted Nov 15, 2014
photographer, designer, blogger, traveler | animal + nature lover | wanderlust : chasing dreams + adventure
21 views
Submitted Jan 7, 2016
I am Chantell, a well-traveled Aussie currently based in Europe. It is my mission to inspire you to travel, go on adventures and follow your dreams!
20 views
Submitted Dec 20, 2015
I love to travel and this platform gives me the chance to mix 2 of my passions: Travelling and writing.
9 views
Submitted Nov 30, 2016
Adrian is a world traveler that quit her job at 27 and moved to Southeast Asia. After a few different jobs and 15 countries under her belt, she decided to live the life of a permanent traveler and does not regret it!
40 views
Submitted Oct 1, 2014
The names Adrienne. Im a corporate marketer and freelance writer by day, travel blogger by night. I started this blog as a way to share my experiences and love of travel.
34 views
Submitted Mar 7, 2014
travel stories and maybe occasional advice, traveler, teacher, spicy food eater, beach lover, fish, beer and wine enthusiast
18 views
Submitted Dec 23, 2015
A big misconception is that you need a lot of money or have a high paying job to travel and see the world. I have neither, yet I make traveling a priority.
41 views
Submitted Jun 16, 2014

About Dave's Pick
Category Stats
Subcategories:
2
Listings:
7319 (7334 counting subcategories)
Regular:
7312
Dave's Pick:
7
Last listing added:
Jun 20, 2018