Blogs of Travel
The creativity & desire to share experiences among those who have been blessed with the passion, opportunity & ability to wander & explore is a beautiful thing. This is the *ULTIMATE* updated travel blog list on the web with over 7,000 travel blogs listed! We spend *significant* time searching for travel blogs not yet in this list. Focus is on domain name sites in English in the format: www.###.xxx. More info about this list here
Adventitious Violet is where I share the stories, tips & photos of my many travels and the ups and downs of my life between cultures.
17 views
Submitted Dec 22, 2015
Patrick is an adventure seeker, traveler and writer
6 views
Submitted May 24, 2017
I'm sure by now if we were actually keeping count we would be well into the hundreds of our so called adventures, so we realized we should start a blog to start documenting it all. As we share our travel expeditions, can't miss tips and tricks, and other random ideas
21 views
Submitted Dec 23, 2016
I'm Deb and I try to escape Toronto as often as I can to seek far away adventures. Growing up, family vacations and playing Where in the World is Carmen San Diego piqued my passion for exploration. I learned to use an almanac at an early age and became oddly obsessed with reading maps – world and city maps decorated my bedroom walls.
23 views
Submitted Dec 20, 2015
I'm Claire, a American traveler with my head in the clouds and my feet as far around the world as they can take me. Follow me as I try to see as much of the world as I can!
35 views
Submitted Dec 25, 2015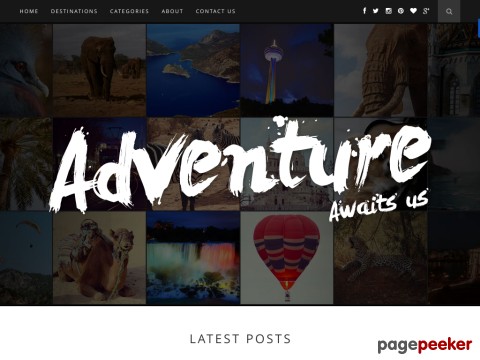 A travel blog about adventures, discovering new places, wildlife and food.
33 views
Submitted May 25, 2015
Spawned from wanting to document all the adventures we have done either locally or internationally. We want to share with everyone (or anyone who wants to know) our unique experiences.
18 views
Submitted Jul 27, 2016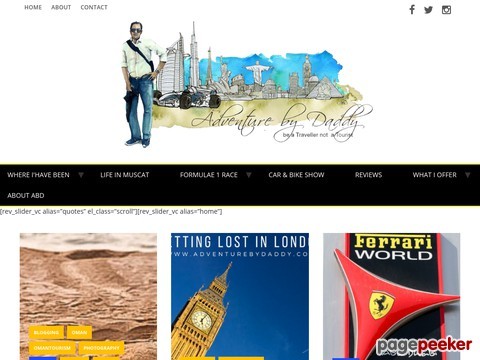 be a traveller not a tourist
23 views
Submitted Feb 15, 2016
We are Mike and Kristi. Our love for travel was instilled when we were just kids. We were always nomads in our hearts and luckily we found each other to travel together. Kristi and Mike are engineers whose jobs enable them to travel for work, both domestically and internationally. Mike and Kristi also travel often in their free time, exploring the area they live as well as the world.
9 views
Submitted May 24, 2017
I am Kinga, a girl from Poland who is the most normal individual with one exception, I love to travel. I ventured to leave my career in the corporate finance to travel the World.
6 views
Submitted Apr 24, 2017
A travel blog looking to inspire you to adventure, whether that's to your bedroom or the otheriside of the world. Follow our journey and inspire yours...
20 views
Submitted Dec 18, 2016
Our story begins in the hospital...where a girl without intestines dreams up befriends a kitten dragon with self-confidence issues (because she drew him with too short of legs). Bonded together by mutual dreams of seeing the world but living in bodies too small and weak to reach their true potential, the two form an unlikely pair and vow to help each other achieve what doctors fear the girl cannot. Together they (and a team of dragonriders) aspire to explore every continent and encourage all whom they encounter to never stop believing in their dreams.
12 views
Submitted Sep 23, 2016
Thanks for visiting adventureeditorial.com! My name is Danielle Taylor, and I'm a freelance writer, editor, blogger, budding photographer and full-time traveler currently roadtripping on a long-term journey to all 59 U.S. national parks for the National Park Service's 100th anniversary this year.
15 views
Submitted May 1, 2016
nomad adventurous living
26 views
Submitted Jul 16, 2015
Hi! Im Adriana and Im in love with travel. My boyfriend shares my love so we for something like a triangle.
45 views
Submitted Aug 30, 2013
We are happy that you've found our adventure blog page. We are Nate and Stephanie Yarbrough a couple of travelers and adventurers who, at just 27 years old, sold most of our stuff and quit our 'American Dream' jobs to buy an RV and travel North America.
16 views
Submitted Apr 3, 2016
Subscribe to our blog so we can share our love for travel and food, give you some useful travel tips, share our affinity for adventure as we let you in on some of our travel mishaps. Join the adventure. Tom, & Anna
41 views
Submitted Jun 1, 2015
Hi, Im Jill from AdventureJ and welcome to my travel blog! I hope you enjoy reading about my travel tales, adventure guides and more, as I discover this amazing world through adventure, exploration and curiosity.
42 views
Submitted Mar 18, 2014
Hi I'm Joel Duncan, the adventurer behind AdventureJo! Like many others, I have an insatiable appetite for travel and all the excitement that comes with it. I am currently traveling in Central and South America, writing, photographing and sharing tips to help you to plan your own crazy adventure.
63 views
Submitted Jun 18, 2012
My travel blog including everything to do with Melbourne, student travel and travel planning.
44 views
Submitted Dec 19, 2014

About Dave's Pick
Category Stats
Subcategories:
2
Listings:
7319 (7334 counting subcategories)
Regular:
7312
Dave's Pick:
7
Last listing added:
Jun 20, 2018