Blogs of Travel
The creativity & desire to share experiences among those who have been blessed with the passion, opportunity & ability to wander & explore is a beautiful thing. This is the *ULTIMATE* updated travel blog list on the web with over 7,000 travel blogs listed! We spend *significant* time searching for travel blogs not yet in this list. Focus is on domain name sites in English in the format: www.###.xxx. More info about this list here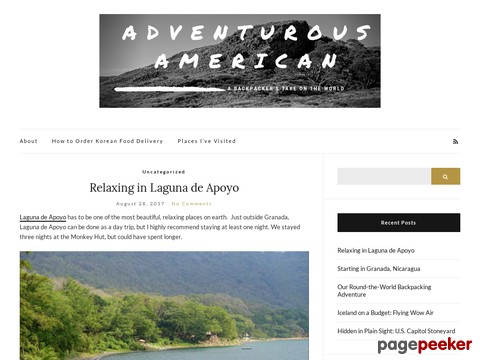 An American female backpacker's take on the world
11 views
Submitted Dec 19, 2016
I'm Jennifer, a native Floridian who left the Sunshine State in 2009 to travel the world as an international school teacher. I've since lived in Seoul, Bogota, and now Shanghai, eating my way through each city, and traveling as much as possible.
22 views
Submitted Sep 30, 2015
I am that girl who traded her high heels for hiking boots, that girl who stopped visiting haidresser cause she is always saving for her next trip.
31 views
Submitted May 31, 2015 When MG and her Mama aren't trying to be normal people, they're traveling, eating and wondering if they should hit the road again and take off to some remote place and never come back.
8 views
Submitted Dec 23, 2016
My name is Roberta and I'm from a small but beautiful country called Croatia. I absolutely looovee traveling! Every chance I get I take it and enjoy random weekend road trips or fully planned week vacations in different countries.
12 views
Submitted Feb 17, 2016
Im a Danish backpacker who writes about past and present travels. I love photography, cultures and thrill-seeking adventures from volcano boarding in Nicaragua to exploring the Darién Gap in Panama.
36 views
Submitted Jun 11, 2014
I love hiking and being in the outdoors as much as I've got a great passion for water and aquatic life. You can expect to be reading about diving, trekking, travelling, camping and climbing mountains with an occasional book review, a healthy recipe and of course leading a sustainable lifestyle on our planet.
17 views
Submitted Dec 22, 2016
I'm Jen. I am a thirty-something Canadian chocoholic with a passion for travel, photography and new adventures. I am currently preparing for a big change in my life. Come the summer of 2015 I am planning to lead a nomadic lifestyle, with the intention of bringing happiness and photography back in my life.
16 views
Submitted Nov 21, 2015
passion for travel and off the beaten path destinations
29 views
Submitted Dec 12, 2014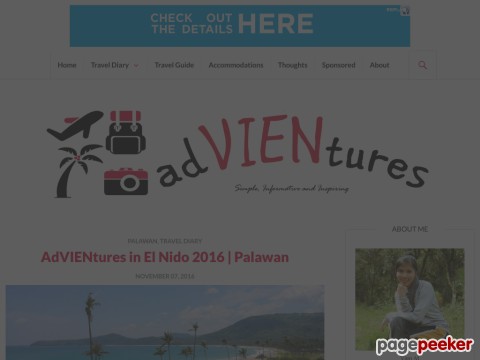 I'm Vien, @theadVIENturer and these are my travel adVIENtures. I hope they excite the wanderlust in you.
11 views
Submitted Dec 24, 2016
Aesthetic of Lostness is a collection of inspirations and observations from Canadian graphic designer Chelsea Watson&#39
36 views
Submitted Dec 5, 2014
Curt Gilman is an avid traveler who has been sharing his travel stories on the Internet since 1994 - he has had several travel related websites over the years - this is the latest one! Perhaps a HAM Radio Call sign, old school.
57 views
Submitted Nov 19, 2012
My name is Caroline Achieng Otieno, and I am a citizen of the Republic of Kenya currently resident in the Netherlands. A background in International Relations, and a graduate degree in International Law with a human rights specialization and a couple of years in communication, I chose to combine my love for travel with my experience in writing.
33 views
Submitted Dec 12, 2014
This is our story of how we quit the American Dream and went after our own to travel the world.
41 views
Submitted Jun 4, 2013
I am Shailender from India. I travel, I take photographs and I write this blog. Why I write this travel blog? Ummm….to share my travel experiences with you, to pass on some travel tips to you, or simply to inspire you to come out of your comfort zone and go out and see the world.
40 views
Submitted Sep 24, 2015
Off the Beaten Track Travel Guide & Blog
14 views
Submitted Nov 3, 2016
This is a travel website for those who are like me (and my hubby Jim) and really enjoy the adventure of traveling without the limits of an organized tour but certainly will take advantage of one when it is offered! With a little bit of planning and research we can be free to travel wherever our dreams take us. Most of time on our own, but sometimes with good friends or friendly strangers.
35 views
Submitted Jun 23, 2013
an excellent travel blog with tons of content - well worth a visit!
57 views
Submitted Feb 28, 2010
Having been stricken with an incurable case of wanderlust, I have travelled at every opportunity. And now, with a quarter life crisis in full swing, Ive packed it all in to set off around the world for a year, writing stories, filming documentaries with my other half, and searching for my next wonderland.
30 views
Submitted Jun 14, 2015
Efraín Villa, the Aimless Vagabond, is an optimist, cynic, and lover of contradiction. He's also a photographer, actor, and global wanderer whose endless quest for randomness has led him to a mixed bag of careers, including: tourism marketing director for the great state of New Mexico, pharmaceutical salesman of vaginal cream, med school professional fondling recipient (AKA standardized patient), trainer in police shooting simulations, and "pseudo intoxicated patron" in federal liquor licensing studies.
16 views
Submitted Jun 1, 2016

About Dave's Pick
Category Stats
Subcategories:
2
Listings:
7321 (7336 counting subcategories)
Regular:
7314
Dave's Pick:
7
Last listing added:
Jul 20, 2018