Blogs of Travel
The creativity & desire to share experiences among those who have been blessed with the passion, opportunity & ability to wander & explore is a beautiful thing. This is the *ULTIMATE* updated travel blog list on the web with over 8,500 travel blogs listed! We spend *significant* time searching for travel blogs not yet in this list. Focus is on domain name sites in English in the format: www.###.xxx. More info about this list here
A travel blog looking to inspire you to adventure, whether that's to your bedroom or the otheriside of the world. Follow our journey and inspire yours...
10 views
Submitted Dec 18, 2016
Our story begins in the hospital...where a girl without intestines dreams up befriends a kitten dragon with self-confidence issues (because she drew him with too short of legs). Bonded together by mutual dreams of seeing the world but living in bodies too small and weak to reach their true potential, the two form an unlikely pair and vow to help each other achieve what doctors fear the girl cannot. Together they (and a team of dragonriders) aspire to explore every continent and encourage all whom they encounter to never stop believing in their dreams.
10 views
Submitted Sep 23, 2016
Thanks for visiting adventureeditorial.com! My name is Danielle Taylor, and I'm a freelance writer, editor, blogger, budding photographer and full-time traveler currently roadtripping on a long-term journey to all 59 U.S. national parks for the National Park Service's 100th anniversary this year.
13 views
Submitted May 1, 2016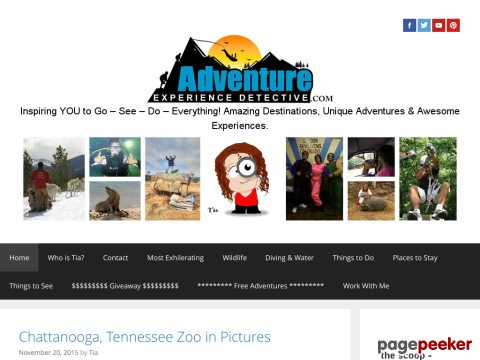 I'm a crazy fun-loving unique creature who wears many hats including but not limited to: Photographer, writer, filmmaker, diver, wildlife lover, explorer, adventure seeker, dancer, teacher, mother, daughter, wife, grandmother, friend and adventure experience detective.
15 views
Submitted Nov 22, 2015
nomad adventurous living
24 views
Submitted Jul 16, 2015
Hi! Im Adriana and Im in love with travel. My boyfriend shares my love so we for something like a triangle.
43 views
Submitted Aug 30, 2013

couple who have quit their jobs to travel the world
42 views
Submitted Apr 20, 2015
We are happy that you've found our adventure blog page. We are Nate and Stephanie Yarbrough a couple of travelers and adventurers who, at just 27 years old, sold most of our stuff and quit our 'American Dream' jobs to buy an RV and travel North America.
14 views
Submitted Apr 3, 2016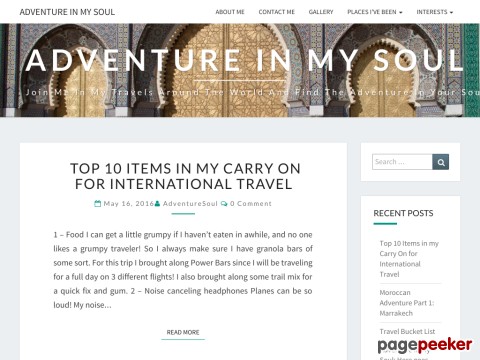 I'm Courtney and welcome to my travel blog, Adventure In My Soul. I wish to share my experiences with you all so that you can learn from them or become inspired.
16 views
Submitted Jul 3, 2016
Subscribe to our blog so we can share our love for travel and food, give you some useful travel tips, share our affinity for adventure as we let you in on some of our travel mishaps. Join the adventure. Tom, & Anna
35 views
Submitted Jun 1, 2015
Hi, Im Jill from AdventureJ and welcome to my travel blog! I hope you enjoy reading about my travel tales, adventure guides and more, as I discover this amazing world through adventure, exploration and curiosity.
39 views
Submitted Mar 18, 2014
Hi I'm Joel Duncan, the adventurer behind AdventureJo! Like many others, I have an insatiable appetite for travel and all the excitement that comes with it. I am currently traveling in Central and South America, writing, photographing and sharing tips to help you to plan your own crazy adventure.
51 views
Submitted Jun 18, 2012
My travel blog including everything to do with Melbourne, student travel and travel planning.
41 views
Submitted Dec 19, 2014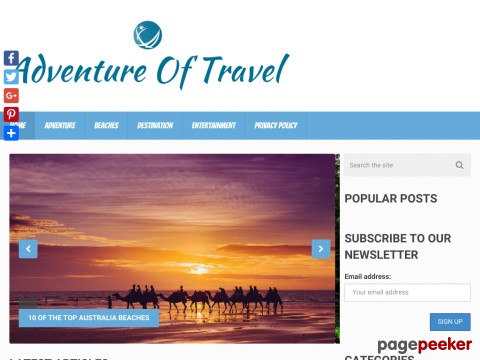 All Journeys Have Secret Destinations
3 views
Submitted Mar 26, 2017
from Rob: "personal blog documenting what I do, the places I visit, my thoughts, photography and advice on things as well as the odd random musing. I hope it inspires others to leave the rat race like I have and travel!"
88 views
Submitted Feb 26, 2010
From Winnipeg to Guatemala and all points in between...overland travel...Mother & Son
19 views
Submitted Aug 3, 2015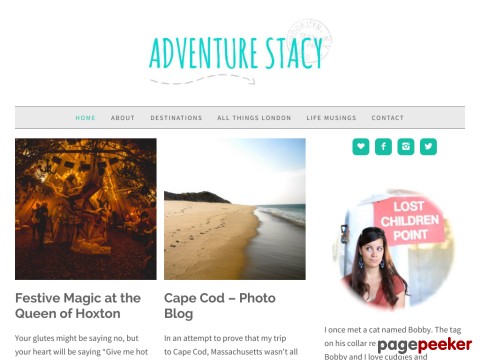 Adventure lover. Travel blogger. Cheese eater.
16 views
Submitted Dec 21, 2015
Our goal is to inspire people to explore outside of their comfort zone and experience the beauty of the world.
3 views
Submitted Apr 24, 2017 This Blog is a collection of my personal photos and journal-style entries about my experiences from my various adventures, as well as practical advice articles and travel tips. While I am certainly not a photographer, I do enjoy capturing and sharing my favourite moments, and I love seeing yours, too!
41 views
Submitted Nov 26, 2014
About two years ago I decided to dive head first into the world of adventure and travel. The more places I went, the hungrier I became. Photography being something I had loved in one form or another for as long as I can remember was an obvious complement to my new found love of travel and so It began, my quest to photograph the world and places I love.
6 views
Submitted Jan 1, 2017

About Dave's Pick
Category Stats
Subcategories:
2
Listings:
8847 (8862 counting subcategories)
Regular:
8840
Dave's Pick:
7
Last listing added:
Dec 8, 2017