Blogs of Travel
The creativity & desire to share experiences among those who have been blessed with the passion, opportunity & ability to wander & explore is a beautiful thing. This is the *ULTIMATE* updated travel blog list on the web with over 7,000 travel blogs listed! We spend *significant* time searching for travel blogs not yet in this list. Focus is on domain name sites in English in the format: www.###.xxx. More info about this list here
We quit our jobs, rented our house, sold our car, clothes, furniture, books, everything that would not fit into our backpacks. Now we just carry some clothes, electronics, lots of love and dreams... And Im pretty sure that it will be enough!
8 views
Submitted Oct 5, 2014
Im a pediatric nurse with an insatiable hunger to see the world. When Im not busy saving lives in the Cardiac ICU or strutting around in style in the streets of New York, Im usually out gallivanting around the globe.
10 views
Submitted Nov 3, 2013
On 4th March this year, we boarded a plane to Rio de Janeiro clutching our one-way tickets. From then on the plan has been flexible and, to be honest, incredibly terrifying.
4 views
Submitted Dec 22, 2016
Travel tales. Some good, some bad. Some happy, some sad.
11 views
Submitted Mar 16, 2015
Rick and I (Deb) are recent retirees who are living our dream of traveling the world. We are a Canadian couple who call London Ontario home. We don't have kids but we have a rambunctious Jack Russell Terrier named "Jack" who is living with my parents and surely enjoying extra attention.
0 views
Submitted Apr 24, 2017
A passionate traveller and amateur photographer who spent eight years working on cruise ships and has visited 60+ countries
11 views
Submitted Jun 15, 2014
We are Brigid and Adam - recently engaged, almost 30-somethings from Cape Town, South Africa about to set off on our first long-term travel adventure. We obviously love travel (who doesn't?) and each other and want to share our adventures with you here.
14 views
Submitted Nov 22, 2015

We are Hannah and Chris. We create businesses which we can run from anywhere in the world. We travel a lot and have tons of fun as we do it. We set up Love, Play, Work to share what we know wand help those of you who would love to do the same.
13 views
Submitted May 25, 2012

My name is Amy MacCulloch. Im a girl in my early twenties with a passion for travel. If I could afford it, I would travel all the time! At the moment I am a PR gal trying to save for my next trip and write a blog about my travels thus far.
13 views
Submitted Dec 4, 2014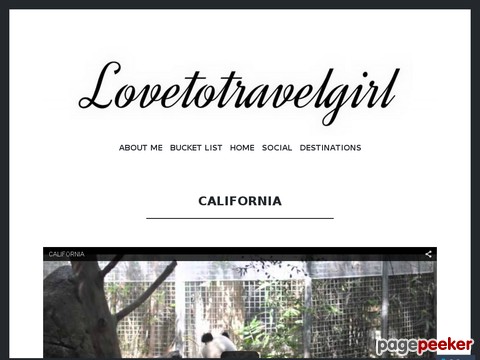 I decided to work part time doing what I love in order to be able to travel the World and experience new places. I am in school, and working towards my Bachelor's Degree in Animal Science. I enjoy seeing the differences between my culture and other cultures. One particular thing about culture is the food, and I love food! Traveling is a learning experience, and I`ve always had a passion for traveling, and a weakness for spontaneous adventures. I invite you to follow me around the World! I hope I can give you an inspiration for your next trip!
8 views
Submitted Dec 23, 2015
We started Love Your Trip so that we can share some of our passions with the world: traveling, our city, and food. In September, we went around the world on one ticket, to Australia (where Adam's brother lives), Bali, Hong Kong, Switzerland, and Iceland. We will be talking about all of our stops right here!
7 views
Submitted Sep 30, 2015
im a Filipina expat living in Singapore. a full time IT professional by trade. loves life, travel, faith, people, sunsets and sweets. enjoys making and collecting memories. welcome to my blog!
6 views
Submitted Jun 1, 2015
Beauty, charm and adventure – in Texas, in the United States, and Overseas!
7 views
Submitted Feb 18, 2017
I fell in love with traveling at the first time I went abroad. It was my trip to Canada by a student exchanged program when I was 16. After that I told myself that I want to travel around the world in my 20s.
9 views
Submitted Jun 12, 2014
a point of view from a father of three while traveling the world with his family
11 views
Submitted Jan 25, 2013
John and Sarah have always loved to travel and explore new places. In fact, one of their first adventures as a couple was a week long road trip to Canada. Thanks to the road trip and many other adventures, it turned out they also really love each other. On October 5, 2013, they said, I do to each other and to the greatest adventure of all.
13 views
Submitted Aug 2, 2015
I'm Val Pal! I'm about creating a life I LOVE. We all have a calling. I believe mine is to connect with others through uplifting messages, through stories of travel, dance, creative videos and food. These are some things that make me feel undeniably, completely ALIVE. I hope they will inspire you too.
0 views
Submitted Jul 9, 2017
I believe that life is way too short to be doing boring shit. Hahah! I live for adventures and laughs. Some have called me an adrenaline junkie, flower child, wanderer, a wild one, and while they may be 100% accurate, I would say that I am simply addicted to life.
6 views
Submitted Dec 1, 2016
A girl, her bike, a wee bit o wanderlust...a lust for life in general. And all things pretty. We cant forget the pretty.
19 views
Submitted Mar 23, 2013
I am a Carebear with skills akin to Cupid – which explains for the 2 big hearts on my tummy. But to be honest, have been bit lazy with these skills since living in Singapore from 2003 with my owner Y. Now i indulge in lots of travelling and eating, which are my 2 favourite passions. All I can say is I am so glad I met Y and her husband R, I couldn't wish for a better life
2 views
Submitted Dec 26, 2016

About Dave's Pick
Category Stats
Subcategories:
2
Listings:
8755 (8770 counting subcategories)
Regular:
8748
Dave's Pick:
7
Last listing added:
Jan 17, 2018