Blogs of Travel
The creativity & desire to share experiences among those who have been blessed with the passion, opportunity & ability to wander & explore is a beautiful thing. This is the *ULTIMATE* updated travel blog list on the web with over 8,500 travel blogs listed! We spend *significant* time searching for travel blogs not yet in this list. Focus is on domain name sites in English in the format: www.###.xxx. More info about this list here
Lisa Vogele is an Italophile, festival-lover, and travel-addict. Her blog "Lisa Loves to Travel" has been created to share her love of festivals with fellow travelers and enthusiasts. Originally from Connecticut, she and her husband Mark call Colorado home. She loves hearing suggestions, recommendations, and experiences around festival travel.
5 views
Submitted Dec 17, 2016
Little big traveler е блог за пътувания. Пътешествия, пътеписи, снимки и полезна информация за различни дестинации в Европа.
12 views
Submitted Feb 21, 2016
I also love to travel and am always looking forward to my next adventure. Thus far my adventures have taken me to China, Spain, Italy, Greece, Costa Rica, Argentina, and Chile. I am dedicating this blog to both my outdoor adventures in Colorado as well as my travels overseas. I hope you enjoy reading my stories.
15 views
Submitted Nov 23, 2015
I'm Adèle. I'm an all-purpose writer living in the Maldives. I'm insatiably curious, blunt and somewhat over-sensitive. I tend to write about travel, people, the ocean and (increasingly) Maldivian culture and folklore
19 views
Submitted Jan 7, 2016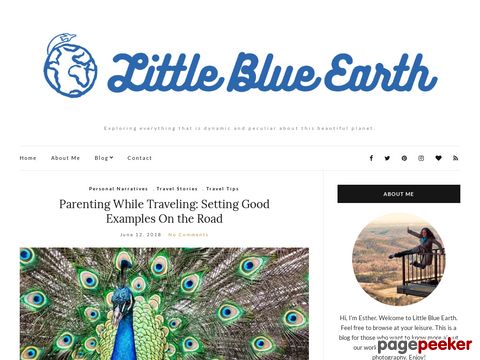 I'm Esther. Welcome to Little Blue Earth. Feel free to browse at your leisure. This is a blog for those who want to know more about our world through storytelling and photography.
4 views
Submitted Dec 24, 2016
People call me duckie and I'm a real short-arse, hence the name 'little duckie'. This blog is about me and all my adventures.
4 views
Submitted Dec 24, 2016
My first travel trip was in 2012 when I went on my first big adventure called 'my first job in England'. Four years later and the list of countries that I have visited keeps growing and growing. Some I visited by myself and others with some company but the curiosity and excitement to visit new countries only seems to grow stronger with every place I visit.
3 views
Submitted Dec 26, 2016
exploring the world via roads trips
5 views
Submitted Sep 25, 2015
Welcome to littlegreybox. Im Phoebe, a freelance writer and travel blogger based in Brisbane. I love the feelings of happiness and freedom I get from travel, which is why I changed my whole life to be about travel! I left my successful 9 to 5 career and took a chance on myself, to live a life that makes me happy.
9 views
Submitted Feb 5, 2015
discover hidden gems in the worlds best known locations
11 views
Submitted Mar 27, 2014
From a young age I was led to believe that in order to travel you needed to have a ton of money and almost as much luggage.
4 views
Submitted Dec 17, 2016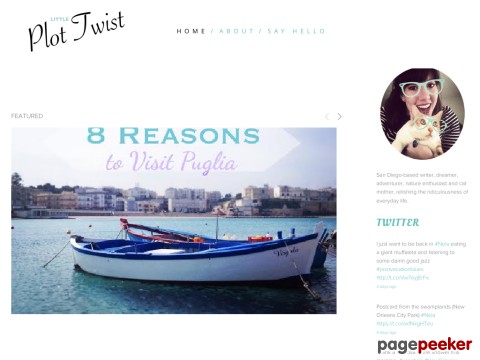 San Diego-based writer, dreamer, adventurer, nature enthusiast and cat mother, relishing the ridiculousness of everyday life.
6 views
Submitted May 30, 2015
I went on my first big vacation in 2011, and I haven't stopped since. 15 states, 6 countries, and still counting. I especially love learning the history of everywhere I travel to, and am excited to start sharing that experience [and of course the photos] with all of you!
2 views
Submitted Jan 31, 2017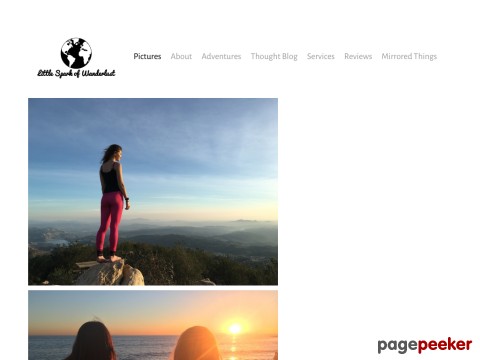 Only a few years ago I was living a life that wasn't my own. I thought my path was to take a corporate job at some company where I would really be no one, just a faceless number with my nose to the grindstone. Making money for money's sake. It was only recently that I came to the conclusion that I can't live my life for others. I can't be scared of what they think, especially my parents. Instead, I have my eyes set on traveling. I want to see the intricacies of the world. I want to wake up and know that I am truly living. That I am utilizing the breadth of my body and mind to its full potential. That's why I'm taking a leap of faith and not doing what's expected of me by taking a job in the corporate world. Instead I'm going to make my life an adventure.
8 views
Submitted Mar 13, 2016
Im Marissa and Little Things Travel Blog was created to share tips and stories of my adventures around the world, while ultimately focusing on appreciating the little things in life
8 views
Submitted Dec 3, 2014
Hello, my name is Laura and I am a bespoke travel planner and British travel blogger. I am based in London and whilst working full time I try and fit in as much travel as possible.
14 views
Submitted Oct 9, 2013
I want to share with you my journey around the world and hopefully I can make collecting the right information easier to get hold of. To get up to date with genuine advice, recommendations and tips. To show that travelling is a lot easier than you think.
20 views
Submitted Jun 24, 2015
Ive been traveling the world for over 30 years. I started as a budget traveler, though now luxury is more my style.
16 views
Submitted Aug 4, 2015

Call me CeCe. Im a SoCal Gal, Full Time Nurse, Amateur Photographer, Foodie, and Travel Addict.
32 views
Submitted Mar 9, 2013
travelling is my first love
6 views
Submitted May 1, 2016

About Dave's Pick
Category Stats
Subcategories:
2
Listings:
8841 (8856 counting subcategories)
Regular:
8834
Dave's Pick:
7
Last listing added:
Nov 15, 2017