Blogs of Travel
The creativity & desire to share experiences among those who have been blessed with the passion, opportunity & ability to wander & explore is a beautiful thing. This is the *ULTIMATE* updated travel blog list on the web with over 7,000 travel blogs listed! We spend *significant* time searching for travel blogs not yet in this list. Focus is on domain name sites in English in the format: www.###.xxx. More info about this list here
exploring the world in new and exciting ways
6 views
Submitted May 24, 2017
Archana and Eamans travel blog
17 views
Submitted Mar 9, 2013
Traveling regularly has become a part of our lifestyle and I believe that traveling should be an essential experience in ever person's life. So, I have developed this website to share the countless hours of research and travel to make the whole process more enjoyable for you! With a background in art and architectural studies, a flaming hot passion for good eats and the occasional flare for the dramatic, I think you will find something you love here!
7 views
Submitted Dec 26, 2016
Lifestyle and travel blog of a middle age married couple. We left the U.S in 2013 and have never looked back. We are slow traveling through Europe, and are currently based in Spain.
21 views
Submitted Dec 19, 2014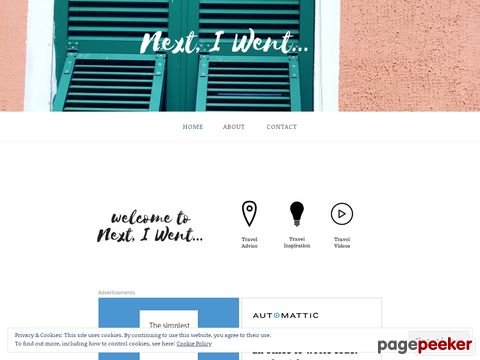 While abroad I was able to travel to many different cities and countries. When I was telling people about my experiences I would often say things like, "next, I went to Venice," or "next, I went to Switzerland." When I decided to finally make a travel Instagram account it was pretty clear to me what it should be called.
5 views
Submitted Jul 2, 2017
From a young age, exploring and living on all corners of the world has been central to my life
16 views
Submitted Mar 23, 2016
Hello! My name is Hilary, and I have a serious case of wanderlust.
14 views
Submitted Dec 24, 2015
Hi, My name is Carlo. Welcome to Next Stop Who Knows! Join me as I plant a few footsteps around the globe!
35 views
Submitted Mar 17, 2013
My name is Nic. I get a kick out of travelling, learning about new cultures, exploring new places and meeting people of the world.
22 views
Submitted Jun 3, 2012
With a Bachelors in Tourism Studies and a Masters in Tourism Management, this #TinyLady aka Nickolai Kinny has worked as a travel content writer for 5 years prior to getting involved in communication expertise and strategic marketing in the field of travel and tourism
13 views
Submitted May 25, 2015
Welcome to Nicks Travel Blog, where Ill be blogging about hotels, flights, road trips and more.
26 views
Submitted Mar 8, 2013
YOU ONLY LIVE ONCE, SO MAKE IT COUNT
25 views
Submitted Dec 12, 2012
Wanderings, travel, photographs and skiing...
18 views
Submitted Jun 1, 2015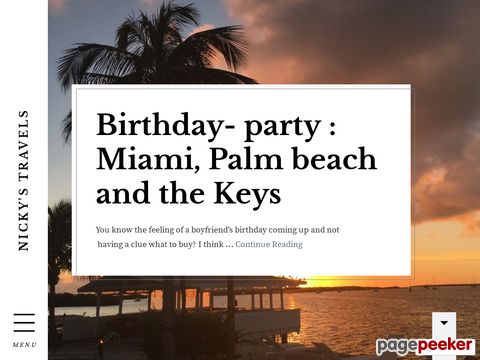 My name is Nicole and yes, you've guessed it right… I love traveling. From a young age my parents have taken me all around the world and in the recent years I have continued this trend. Traveling has expanded my horizon immensely.
7 views
Submitted Jan 31, 2017
Nicolas Travel Blog
50 views
Submitted Jun 12, 2014
Nicola is a freelance travel and lifestyle writer based on the south coast of England. From Brazil to Bangkok and everywhere in between, her love for exploring new climates has taken her to exciting places all over the world. Shopping for goodies in the markets of Mumbai and whale watching in Australia are a few of her favourite travel memories.
9 views
Submitted Dec 28, 2016
Welcome to My Travel Wildlife. Im an American Kiwi living in Wellington, New Zealand. Im originally from Wisconsin and have lived in London, Japan and have lived in NZ for the past ten years...
20 views
Submitted Nov 13, 2014
Nicole has lived outside of the United States since 2006 and has no intentions of turning back. She most likely inherited her migrating spirit from her grandmother, who emigrated from Jamaica to America shortly after Nicole was born. Nicole prides herself on being a world traveler, already visiting 23 countries on 5 different continents. She currently resides in Berlin, Germany, a city quickly identified as her kindred spirit.
19 views
Submitted Feb 17, 2012
My name is Nicole Bergstrom. I am a seasoned traveler and journalist. After many years in the corporate world, I started a new career path by combining two of my passions, writing and traveling. Follow me on my journeys as I discover new places, people and cultures.
6 views
Submitted May 27, 2017
While you'll see international blog posts on my page, as well, I wanted to dedicate this blog mostly to traveling the U.S.A.- AKA The Greatest Goddamn Country in the World!
10 views
Submitted Jun 6, 2016

About Dave's Pick
Category Stats
Subcategories:
2
Listings:
7312 (7327 counting subcategories)
Regular:
7305
Dave's Pick:
7
Last listing added:
Mar 14, 2018