Blogs of Travel
The creativity & desire to share experiences among those who have been blessed with the passion, opportunity & ability to wander & explore is a beautiful thing. This is the *ULTIMATE* updated travel blog list on the web with over 7,000 travel blogs listed! We spend *significant* time searching for travel blogs not yet in this list. Focus is on domain name sites in English in the format: www.###.xxx. More info about this list here
Hi were Chris and Danika, a couple of sarcastic, tech savvy, food loving thirty somethings, who left an awesome life in San Francisco for a life of traveling around the world...for the next few years anyway.
39 views
Submitted Mar 31, 2014
I will share with you the tips I pick up while living on three continents and yet still having an appetite to travel and explore more in the most organized, and stylish way possible

I hope you find my articles interesting and I would love your feedback and suggestions for future topics.
23 views
Submitted Jun 3, 2015
Travel forms the backbone of my family. My Filipino mother and British father met as penpals while he was working in Saudi Arabia, and they each had to travel thousands of miles to make their marriage work. After my sister and I were born, my parents - by this point living in Scotland - made sure to show us as much of the world as they could. They took us all over Europe and the Far East, to America and Australia.
6 views
Submitted Oct 3, 2017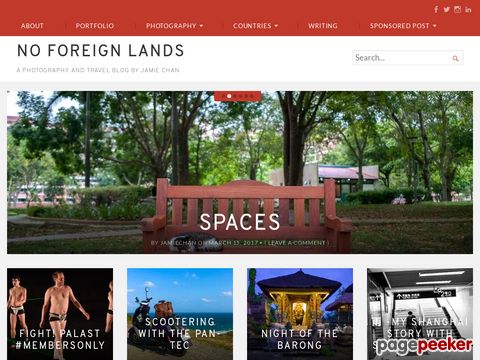 No Foreign Lands is a blog which somehow managed to win awards focusing on the Photography, Lifestyle and Travel genre and it is where I share the stories and images from my travels, life and the occasional media shoutouts.
17 views
Submitted Dec 23, 2016
I did actually quit my bank-job aged 26 to go travel but Im a little pissed now as turns out I wasn't the only one to do so. The journey lasted 2 years and took me all over the world but upon returning home I got a phone-call which would take me back down to Africa for another 18 months, this time to work as a Tour Leader.
19 views
Submitted Sep 28, 2013
This blog is for those who believe in life-long learning and movement. If you
25 views
Submitted Apr 29, 2010
We've always loved to travel, but with our recent move from LA to the UK, our dream destinations are now closer than ever. We're taking advantage of our new home base to discover Europe, keeping a keen eye out for trails, beaches and pastries in places no man (or at least not every man) has gone before. We hope our stories can help inspire your next travel adventure!
24 views
Submitted Sep 30, 2016
Travel, adventures and exploring the world
33 views
Submitted Mar 21, 2014
Were baby boomers who are currently in Central America and have been traveling since September, 2012 after opting out of the &#34
48 views
Submitted Jun 12, 2014
an English couple in their early 20
67 views
Submitted Apr 19, 2010 My aim? To show that travel is for everyone and is actually far more affordable than you may realise. Check out my travel guides and tips to help you get the best out of any destination by budgeting your money, not your experiences.
13 views
Submitted Aug 6, 2017
When we travel, we like to be as cheap as possible on most things, so we can enjoy what we really want to do. I will share our tips under "how to travel lightly". Our general philosophy is to just roll with whatever comes. We have taken MANY vacations where each day was planned and MANY where we had zero plans whatsoever. Both are great, but you get a different outcome with each.
25 views
Submitted Dec 20, 2015
The goal of this site is simple: Through our journey, we want to inspire you to quit deferring fulfillment – to stop saving your dreams for "later in life" and to live NOW. Whatever that means to you. Take it from us, it's the way to go. Oh, and it ain't always easy.
35 views
Submitted Jul 11, 2010
Originally from the UK, Jackie is now an adopted Australian. She grew up with horses in the UK until her world was shattered with a bereavement. Disillusioned with life she ran away to Australia and met and married Noel. They decided to buy a boat and set sail. So within her first year living in a foreign land she was getting used to a foreign husband and a foreign life on board!
13 views
Submitted Aug 5, 2016
My name is Noelle (if you didn't guess!). I grew up and lived in the Washington, DC area up to February 2016 when I moved "across the pond" to London, England – hence the name of this blog. I've always loved travel – I was nicknamed "Marco Polo" by my aunt – and after living all my life in one area, I was yearning for a new environment and new adventures.
7 views
Submitted Oct 2, 2016
An aspiring digital nomad, soon to make the leap into a location independent lifestyle, after a 10 year struggle.
24 views
Submitted Jun 12, 2014
Christian Skoda is a German Traveler with a 'Rat Race History' of 14 years in a big European ITC firm up to VP and Director level before finally calling it quits. He retired aged 34 to live his dream - a Nomadic Lifestyle in Asia - Singapore, Thailand, Goa/India and currently commuting between his favorite paradise locations in Bali/Indonesia and the Philippines
20 views
Submitted Mar 11, 2010
Alex and Alis, traveling the world
2 views
Submitted Mar 19, 2017
Two ladies, hardcore travelers. Travel stories with a twist. Somehow we always end up in Absurdistan. Now who told you that journey&#39
13 views
Submitted Oct 24, 2014
After spending the last 7 years of my life working in unfulfilling 9 – to – 5 office jobs, I decided that it was time for a change. I was tired of spending most of my time doing tasks that had no meaning for me while I daydreamed of a more exciting life. Like most of my friends and colleagues, I dreaded the feeling of apprehension that grew inside me every Sunday evening when the start of another week was looming ahead.
22 views
Submitted May 25, 2012

About Dave's Pick
Category Stats
Subcategories:
2
Listings:
7287 (7302 counting subcategories)
Regular:
7280
Dave's Pick:
7
Last listing added:
Jan 18, 2019