Blogs of Travel
The creativity & desire to share experiences among those who have been blessed with the passion, opportunity & ability to wander & explore is a beautiful thing. This is the *ULTIMATE* updated travel blog list on the web with over 8,500 travel blogs listed! We spend *significant* time searching for travel blogs not yet in this list. Focus is on domain name sites in English in the format: www.###.xxx. More info about this list here
Im a travel loving journalist and radio producer based in Sydney, Australia. From my own gorgeous city to those adventures that require a passport and visa, Adventures All Around is dedicated to the places I love to go, and the things I love to share.
71 views
Submitted Dec 16, 2012
My name is Neysha. I am currently living in Nashville, TN although I was born and raised in Buffalo, NY (Go Bills). I am here because I want more out of life! I am new to the travel world and am trying to figure it all out one trip at a time! I want to help all my new travelers out there and give you guys my favorite tips, guides, and adventures along the way. So come along on this crazy journey with me!
1 views
Submitted Aug 2, 2017
travel and photography
1 views
Submitted Apr 2, 2017
My name is Kimmie Conner, and I was born and raised in California to a pilot father and a flight attendant mother. I like to say that I've had travel in my blood from the start! In recent years I have found I have incurable fomo for adventures and sunsets (Fomo means fear of missing out… its a thing here in CA). In other words, I simply cannot ever say no to a good adventure, and must always watch a good sunset.
25 views
Submitted Feb 17, 2016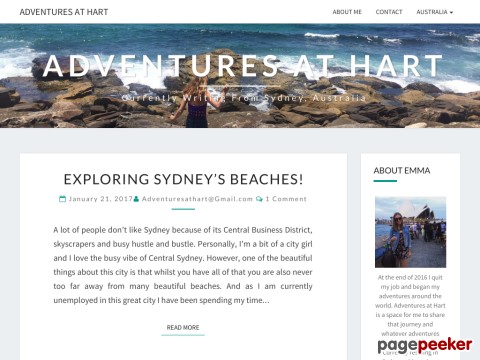 At the end of 2016 I quit my job and began my adventures around the world. Adventures at Hart is a space for me to share that journey and whatever adventures happen along the way. Currently residing in Sydney with my best friends from University.
5 views
Submitted Jan 26, 2017
My name is Claudia and I guess its pretty obvious that I am in love with travelling. I am based as a Vancouverite in British Columbia, Canada. Professionally, I work in the Child and Youth Care (CYC) field and love every moment of it but as the sign in my office says I "Will Work For Travel".
12 views
Submitted Apr 5, 2016
Just an American girl, living in an Aussie world. Come follow me on my many adventures in AUS and around the world!
5 views
Submitted Dec 24, 2016
Connecting to the world through travel and language.
11 views
Submitted Jan 30, 2016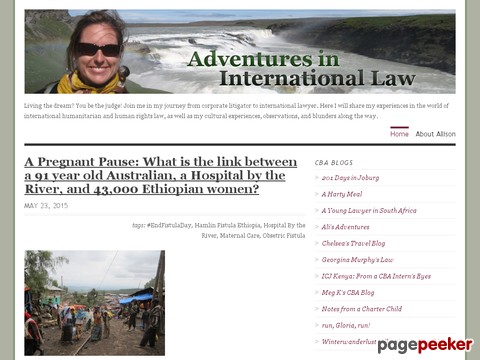 Living the dream? You be the judge! Join me in my journey from corporate litigator to international lawyer. Here I will share my experiences in the world of international humanitarian and human rights law, as well as my cultural experiences, observations, and blunders along the way.
33 views
Submitted Aug 2, 2013
I have always had a passion for travel, ever since my geography lessons at school opened my mind to how much more there was to the world than the caravan park in Brittany where I spent my most exotic family holidays. Since starting with Africa at a very naïve 22 (much to the despair of my poor terrified mother!), I have visited over 40 countries, seen some of the world's most amazing sights, experienced the best (& at times, worst) of human behaviour & had my fair share of scrapes & incidents along the way.
4 views
Submitted Feb 25, 2017

Im always asked, when is your next vacation, "where are you traveling to next"? So what better way to share my travel experiences than with a blog. Take a peek into my world and follow me on my journey of traveling the world (beaches and various locations) and living this beautiful thing called life. Pssst...Dont forget your passport!
23 views
Submitted Jun 15, 2014
A lover of lifelong learning, adventures and all things political, I share stories about my travels in Toronto and around the world through my blog, Adventures of a Blond White Girl
17 views
Submitted Aug 21, 2015
Traveling for me, is not only about seeing the sights and monuments. It's much more about connecting with the people, and understanding the culture. Small exchanges in a foreign language and, the joy that comes from being understood – this is what truly inspires me to travel.
37 views
Submitted Jul 20, 2012
Long-term expat and explorer, foodie, perma-tourist, photographer, restaurant reviewer, bookworm, brunch queen, flat white addict, wanderlusting wanderer and geek.
24 views
Submitted Dec 4, 2014
Hello my fellow Wild Things. Travel blogging has become an addiction. So grab a cup of tea or a beer and join me on my adventures.
3 views
Submitted Dec 26, 2016
You will often find him on an adventure into the heart of the Grand Canyon to capture Havasu Falls, into the mountains in the heart of Mexico to photograph the migration of the Monarch butterflies or spending a day wrestling alligators. Just as easily you could find him in New York City, San Francisco or the Riviera Maya photographing destination weddings. His life often ends up being a little bit like the movie Ferris Bueler's Day Off or Ground Hog's Day, and his bucket list just keeps on growing!
5 views
Submitted Sep 8, 2016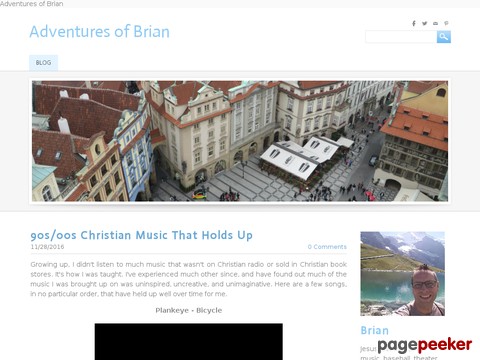 Jesus follower. Love music, baseball, theater, and traveling. Always up for a new adventure. Always ready to meet new friends.
9 views
Submitted Jun 15, 2016

It's hard not to have a sense of adventure when you grow up travelling.
5 views
Submitted Jan 31, 2017
I blog travel, life and the great outdoors! This year I reached the summit of Kilimanjaro.
3 views
Submitted Nov 30, 2016
I first created this blog as a way to communicate to friends and family back home about my travels to the United Kingdom back in 2011. As of June of 2014, I moved to Germany to start a new life and new job with my German boyfriend
25 views
Submitted Dec 5, 2014

About Dave's Pick
Category Stats
Subcategories:
2
Listings:
8764 (8779 counting subcategories)
Regular:
8757
Dave's Pick:
7
Last listing added:
Oct 8, 2017