Blogs of Travel
The creativity & desire to share experiences among those who have been blessed with the passion, opportunity & ability to wander & explore is a beautiful thing. This is the *ULTIMATE* updated travel blog list on the web with over 8,500 travel blogs listed! We spend *significant* time searching for travel blogs not yet in this list. Focus is on domain name sites in English in the format: www.###.xxx. More info about this list here
Thank you for reading our blog! We are Stacey and BeansVeikalas. I was born in California, raised in Colorado. I am married to Benas, a Lithuanian, and we currently live in Germany!
19 views
Submitted Aug 9, 2014
Travel tips & adventures from a man consumed by wanderlust
1 views
Submitted Apr 24, 2017
29 Countries and counting. Follow us as we travel, volunteer, and seek out new adventures around the world.
24 views
Submitted May 27, 2015
I'm a twenty-something primary school teacher living in the Middle East. I plan to squeeze as much travel and exploration out of this experience as possible.
34 views
Submitted Jul 20, 2012
On Bay Breezin we would like to take you travelling with us, share our anecdotes and photos as well as a little bit of advice. Our hope is that this blog will inspire you and help us connect with all of you who enjoy travel and photography
17 views
Submitted Jun 2, 2015
Canada's Favorite Interracial Couple - seeking adventure, cultural experiences, and just getting away from the grind of everyday life
23 views
Submitted Jul 27, 2013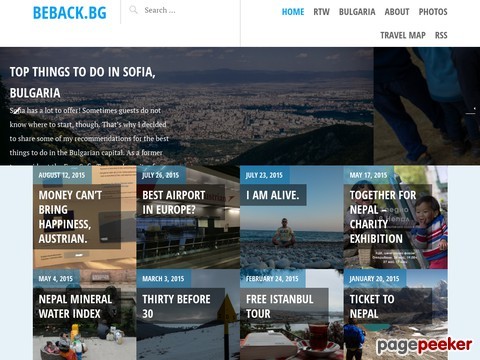 My name is Boyko and here I tell stories about some of my travels. Why? 'd like to share these with my friends so this is more like an open online diary. Of course, some might be used as travel advice. Also, I love taking photos and telling stories – I am a certified travel guide, after all.
31 views
Submitted May 30, 2015
Travel has always been my #1 addiction (although angry birds is a close second… just kidding… mostly), and most of my life decisions have revolved direclty around it. I studied international studies at UCSB and immediately moved to Taipei where I studied Mandarin.
41 views
Submitted May 25, 2012
This blog is created to help you before you travel somewhere. You will get to know what you can visit, what you need to have with you and what not to do in the country you will travel to. It will be a personal guide that can be helpful when you have a lot of questions about a new place.
22 views
Submitted Nov 14, 2014
I am a (mostly) solo traveller, who enjoys near and faraway places and big cities and the middle of nowhere. I am from Senja, an island in the beautiful Arctic Norway, but now I live in Oslo.
22 views
Submitted May 27, 2015
Thanks for stopping by Beachbums. Im an island girl at heart but traveling is in my blood. A more apt description would be: Im addicted to travel. When Im not actually traveling, Im planning a vacation or the next move. Luckily I have a husband and daughter who share my wandering spirit.
26 views
Submitted Dec 8, 2014
I'm Terry and this is my Travel blog! I've been to 6 continents, 35 countries and counting
18 views
Submitted Feb 21, 2016
because sometimes you have to get off the grid for a while…
26 views
Submitted Jun 12, 2014
A Euro-American Lifestyle of Travel, Wine and Food
16 views
Submitted Feb 17, 2016
my name is Conor and I'm a university student from Jersey (little old Jersey off the coast of France, not massive New Jersey in the US) who wants to see as much of the world as possible on a very limited budget.
19 views
Submitted Oct 31, 2015
I'm going to follow my heart and do what I love
7 views
Submitted Nov 30, 2016
Quirk. Perspective. Travel.
65 views
Submitted Jun 23, 2010
We are Timon and Yana. We both quit our jobs in December 2015 and have decided to go on the trip of a lifetime. We love to travel. We started on a 3 month road trip across the United States and Canada. Now we head to Africa for several months.
14 views
Submitted Mar 18, 2016
Im Kristen...west-obsessed hiker, blogger, & dance floor shredder. Are you ready for an adventure?
31 views
Submitted Jun 1, 2015
Living and Loving Life to a Nomadic Beat
25 views
Submitted Sep 23, 2014

About Dave's Pick
Category Stats
Subcategories:
2
Listings:
8847 (8862 counting subcategories)
Regular:
8840
Dave's Pick:
7
Last listing added:
Dec 8, 2017