Blogs of Travel
The creativity & desire to share experiences among those who have been blessed with the passion, opportunity & ability to wander & explore is a beautiful thing. This is the *ULTIMATE* updated travel blog list on the web with over 8,500 travel blogs listed! We spend *significant* time searching for travel blogs not yet in this list. Focus is on domain name sites in English in the format: www.###.xxx. More info about this list here
In December 2012, I walked out of a law firm in the City of London with a plane ticket to Bangkok, a backpack and a vague idea of travelling round the world. I planned to be away for three months, but three became four and four became six
34 views
Submitted Nov 8, 2014
Welcome to Beautiful Encounter! Here I hope to explore all the aspects of travel that the world has to offer – from gear reviews, bucket lists, inspirational quotes and travel stories! I hope to have a couple guest writers as well, as my blog expands.
5 views
Submitted Dec 23, 2016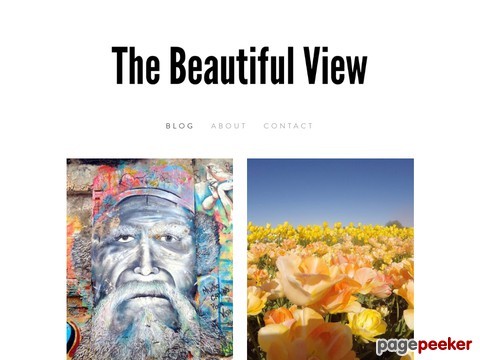 My name is Morgan. I write about my travels, dream about being something more, and lust for all the places I&#39
17 views
Submitted Oct 22, 2014
Welcome to a Life Beautifully Travelled, a lifestyle blog, dedicated to my adventures in London and abroad, with content ranging from Travel Guides for the UK and the whole World , to Travel Reviews, to advice on Travelling with Style and on Budget .
9 views
Submitted Nov 16, 2015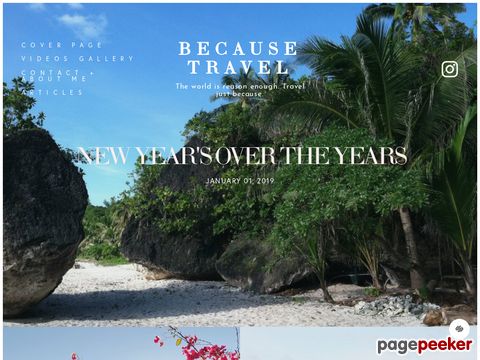 In 2013 I left my apartment, job, family and friends in New York City and travelled to Seoul, South Korea. I didn't come back for 17 months. In that time I traveled the world, met amazing people from all walks of life, tried some exquisite food I would never have tried otherwise, and changed who I was for the better. I came home to realize that I had become addicted to travel, and started refining the skills I needed to help make it a full-time reality.
8 views
Submitted Jan 29, 2016
On this website I will share my experiences and hope to encourage others to take the big step out to explore the world on your own. I believe that there is no need for registering with some travel agency who will plan every little detail of your journey for you – you can do it on your own! And you will learn so much more from it!
3 views
Submitted Nov 30, 2016
My biggest passion in life is travelling. Has I wander the globe I decided to scribble down my thoughts and experiences here. Welcome to my travel blog!!!
26 views
Submitted Dec 12, 2012
Im a 22 year old Florida based girl with a love for wandering around aimlessly, the sunshine, and taking life one adventure at a time!
13 views
Submitted Jul 31, 2015

After graduating from High School I had taken a year off, traveled Australia for a year and also spent some time in Asia. After coming home I moved to the Netherlands and started studying International Business Administration. However all I want to do is get back out there and see the world and take every opportunity I can get to see new places which is why I have decided to start this Blog.
0 views
Submitted Apr 22, 2017
Becky works full time in the UK
0 views
Submitted Mar 26, 2017
An avid traveler having explored over 50 countries, Becky is the Founder & Editor of popular travel site WeAreTravelGirls.com. Currently living in Bali she shares her adventures here and on We Are Travel Girls.
5 views
Submitted Dec 17, 2016
Create a nomad community. I hope that with time, a global nomad community will form itself in the blog, and become a meeting point for nomads. The process is underway.
24 views
Submitted Jun 12, 2014 Madison Giddens is a solo traveler, recent college graduate, aspiring adventurer, follower of Jesus and drinker of moderately priced wine.
0 views
Submitted Jul 10, 2017
To me, being a nomad is not about travel, working remotely or even escaping the rat race. It's really a state of mind. "Home" is my blog, which exists to chronicle my nomadic adventures and also encourage a community around the nomadic lifestyle.
14 views
Submitted May 23, 2016
Bonjour Y'all and welcome to my blog! My name is Megan Johnson, a 24 year old from Alabama who has a passion for travel, food, learning new cultures, and being all around adventurous! I currently live in Aix en Provence, France as an Au Pair.
5 views
Submitted Dec 23, 2016
I'm Rachael, the travel blogger behind Bee Anything But Boring. I'm a working professional striving to become a professional traveler.
7 views
Submitted Jan 29, 2017
Travel stories, helpful knowledge and tips, hopefully inspiring and maybe just venting a little bit along the way.
12 views
Submitted May 29, 2016
Been/Seen approaches travel from a creative and visually artistic point of view. We roam the world in search of places remote and beautiful, created with imagination and vision, and that reflect simple luxury
25 views
Submitted Feb 26, 2010
I sold my house & belongings, quit my job, and am preparing to leave my normal life in the United States behind to pursue one of adventure! Rather than just being another tourist or backpacker, I decided to make my journey more meaningful through volunteer work.
5 views
Submitted Dec 22, 2016
Hi and welcome to Beer and Croissants, my travel blog. I'm Kerri, one of the thousands of people who are continuously inspired by travel. I love thinking about it, planning for it, and of course ultimately putting it all into action.
7 views
Submitted Jun 19, 2016

About Dave's Pick
Category Stats
Subcategories:
2
Listings:
8718 (8733 counting subcategories)
Regular:
8711
Dave's Pick:
7
Last listing added:
Aug 13, 2017