Blogs of Travel
The creativity & desire to share experiences among those who have been blessed with the passion, opportunity & ability to wander & explore is a beautiful thing. This is the *ULTIMATE* updated travel blog list on the web with over 8,500 travel blogs listed! We spend *significant* time searching for travel blogs not yet in this list. Focus is on domain name sites in English in the format: www.###.xxx. More info about this list here
To me, being a nomad is not about travel, working remotely or even escaping the rat race. It's really a state of mind. "Home" is my blog, which exists to chronicle my nomadic adventures and also encourage a community around the nomadic lifestyle.
14 views
Submitted May 23, 2016
Bonjour Y'all and welcome to my blog! My name is Megan Johnson, a 24 year old from Alabama who has a passion for travel, food, learning new cultures, and being all around adventurous! I currently live in Aix en Provence, France as an Au Pair.
5 views
Submitted Dec 23, 2016
I'm Rachael, the travel blogger behind Bee Anything But Boring. I'm a working professional striving to become a professional traveler.
7 views
Submitted Jan 29, 2017
Travel stories, helpful knowledge and tips, hopefully inspiring and maybe just venting a little bit along the way.
11 views
Submitted May 29, 2016
Been/Seen approaches travel from a creative and visually artistic point of view. We roam the world in search of places remote and beautiful, created with imagination and vision, and that reflect simple luxury
25 views
Submitted Feb 26, 2010
I sold my house & belongings, quit my job, and am preparing to leave my normal life in the United States behind to pursue one of adventure! Rather than just being another tourist or backpacker, I decided to make my journey more meaningful through volunteer work.
5 views
Submitted Dec 22, 2016
Hi and welcome to Beer and Croissants, my travel blog. I'm Kerri, one of the thousands of people who are continuously inspired by travel. I love thinking about it, planning for it, and of course ultimately putting it all into action.
7 views
Submitted Jun 19, 2016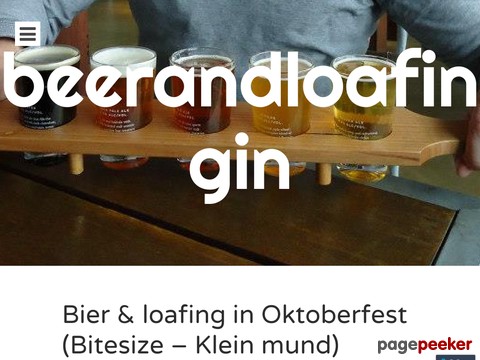 traveling the world drinking beer and sightseeing
12 views
Submitted Jun 15, 2015
Welcome to Beer Time With Wagner! Im Jordan, the writer/dreamer/traveler behind this blog. I started this blog back in September 2013 as a way to stay in contact with my family and friends when I moved to Europe for graduate school. Over this past year, my blog has evolved as a space for me to document my travel experiences.
15 views
Submitted Jun 6, 2015
My Mam is a retired teacher who has taught in Papua New Guinea, Canada and Ireland, she's also an avid walker, reader and green-thumbs extraordinaire! I'm a journalist, food writer and blogger, who wants to see more of the world with my Mam in the time we've got left.
6 views
Submitted Aug 7, 2016
Freddie here. I'm a self-proclaimed globetrotter, currently living and working in London. I'm also a bit of a sneakerhead.
9 views
Submitted Feb 10, 2017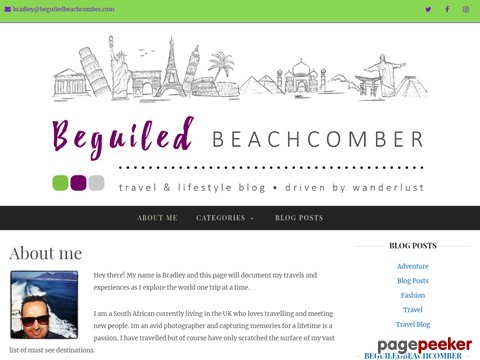 My name is Bradley and this page will document my travels and experiences as I explore the world one trip at a time.
3 views
Submitted Jan 16, 2017
My name is Sara and I'm the photographer behind QUEST FOR BEAUTY. I'm an Artist, a former dancer, a writer, a traveler, a Dreamer and I recently left my life in NYC to be on the road full time. Join me on my adventures around the world!
0 views
Submitted Mar 23, 2017
When I turned 30, I did not have a partner, I was not getting married or having children. Instead, I rented out my flat, moved into a shared house in central London, sold my car and gave up my job to go travelling.
11 views
Submitted Feb 18, 2016
Its Bilal Azam. I am a Travel addict and loves to capture moments, in short a Travel-o-grapher :-) Exploring the mother nature, adventuring and experiencing different cultures is the passion i have born with.
12 views
Submitted Mar 22, 2016
Whether youre flying to Rome for a romantic vacation with your partner or cruising to Cozumel for a girls' weekend, Being Abroad is your guide for inspired adventures, allowing you to feel at home while exploring new destinations.
25 views
Submitted Dec 4, 2014
mostly travel blog - but also lifestyle
5 views
Submitted Dec 23, 2016
Hi there! We are a couple, and we like to travel. We regard our selves as a "world citizens" and currently we live and explore in China. We've decided to start this blog to share our awe and adventures with friends, family and all the people who love to travel.
22 views
Submitted Mar 9, 2013
In 2015 I quit my job as a senior project manager, sold my appartement in Amsterdam and started traveling around Europe in a van. In the winter it is to cold for the van so I switch between houses in different places. In the meantime I am trying to figure out how to make this nomadic life sustainable.
13 views
Submitted Feb 15, 2016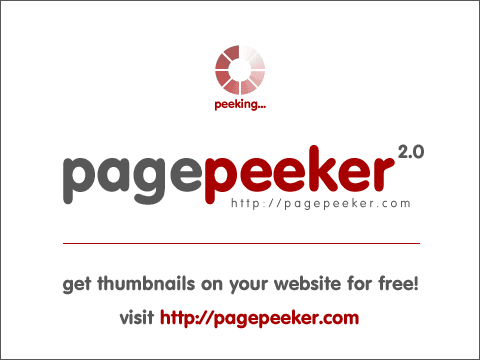 Im Tracy — Im the founder of WeddingLovely, and in my free time, I like to hike, backpack, camp, climb, bike, and travel the world.
20 views
Submitted Jun 13, 2014

About Dave's Pick
Category Stats
Subcategories:
2
Listings:
8536 (8551 counting subcategories)
Regular:
8529
Dave's Pick:
7
Last listing added:
Jun 26, 2017