Blogs of Travel
The creativity & desire to share experiences among those who have been blessed with the passion, opportunity & ability to wander & explore is a beautiful thing. This is the *ULTIMATE* updated travel blog list on the web with over 7,000 travel blogs listed! We spend *significant* time searching for travel blogs not yet in this list. Focus is on domain name sites in English in the format: www.###.xxx. More info about this list here
My name is Fabiano and I have been living in Vancouver since 2010. I am originally from one of the biggest cities in Latin America: Sao Paulo (Brazil). I am a workaholic, passionate about learning, traveling, languages, and food (specially sweets, chocolate and Italian food). Business, marketing, social media, customer relationship, and multiculturalism are topics I love. My favourite sports are biking, hiking, skiing and horseback riding. I have been always crazy about travelling. I don't know why! I just feel excited about knowing as many places as possible, learning about the culture, the people, and sometimes even the language.
9 views
Submitted Dec 26, 2016
This is my travel blog where I try to write you fascinating stories and adventures from around the world, accompanied with lots of pictures. So far Ive visited in 34 countries and more is coming all the time, so I think I do have some stories to tell you already. I was bitten hard by the travel bug back in 2004 when I set off on my first solo adventure ever, to travel via the Trans-Mongolian railway from Beijing via Ulaanbaatar all the way to Moscow.
36 views
Submitted Jun 16, 2014
I travel, write and take photographs, and I work while I think about travelling, writing and taking photographs. And I collect travel sickness bags. I guess that's pretty much me in a nutshell.
40 views
Submitted Aug 8, 2010
We are Ashray and Zara. Best friends, travel companions, musicians, partners in crime and much more! Less than a year ago we lived in a far away land called Dubai. It was where we met and fell in love. We are travelers with a mission. Our mission is to circle the globe and TAKE YOU WITH US! That's what Backpack Me is all about. Through technology and our knowledge of how to use it, we want you to come with us on a magical trip, around the world – for free.
29 views
Submitted Apr 26, 2012
We travel We write We photograph
20 views
Submitted Jun 17, 2014
love to go places…often. It's as simple as that. I'm a regular person who likes to do regular things, with an occasional splash of adventure. Regular things for me means, visiting museums, checking out historical sites, and recuperating on a sunny beach or on a cruise ship lounge chair with a chilled drink. The splash of adventure includes activities such as snorkeling, zip-lining or racecar driving. I also enjoy the odd tourist activity such as an urban Big Bus Tour, climbing ancient jungle pyramids or hanging in the seedy side of town where the locals congregate.
33 views
Submitted Jul 30, 2012
From where to go and what to wear, Wanda Mann aka The Black Dress Traveler is committed to helping all women add a dash of glamour and fun to all of their travels, near or far. "I believe that we have the power to make everyday an adventure whether we are riding the subway to work or jet-setting across the globe," says Wanda. A self-proclaimed
35 views
Submitted Jun 17, 2010
I'm Agnes -- traveler, food lover and crazy dog mum. I'm always on the hunt for pet friendly places to visit in Australia and new activities to try.
3 views
Submitted Feb 3, 2018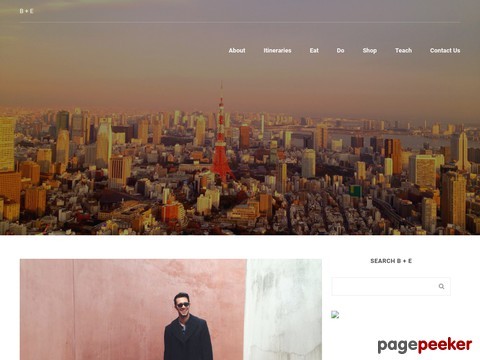 Weve realized that the world is much too large and amazing to stay stuck behind desks. So come with us as we try to make it through the world doing anything but working in an office 9-5.
32 views
Submitted Jan 15, 2014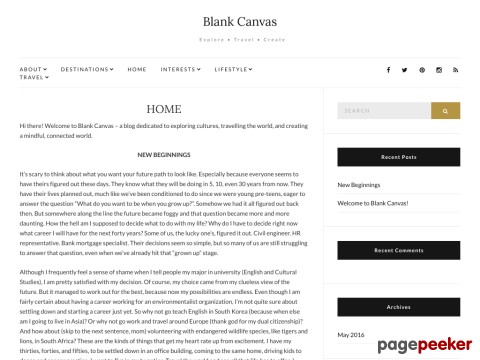 Welcome to Blank Canvas – a blog dedicated to exploring cultures, travelling the world, and creating a mindful, connected world.
15 views
Submitted May 12, 2016
Blank Canvas Voyage was created by us while planning our travels around the world. Together we are on a mission to travel around from one country to the next one as we focus on writing and filming about Adventure, Discovery, Local Living and the Deaf Community.
10 views
Submitted Sep 4, 2016

In 2011 I was off on my travels again for 1 year around the world for the second time. I returned from this trip which you can read about in this very blog.
71 views
Submitted Jun 29, 2014
Michael Blinkhoff's travel blog and photography
6 views
Submitted Dec 24, 2016
I dream of quitting my desk job and do this instead
21 views
Submitted Jun 11, 2014
free travel blogs
36 views
Submitted Jun 17, 2010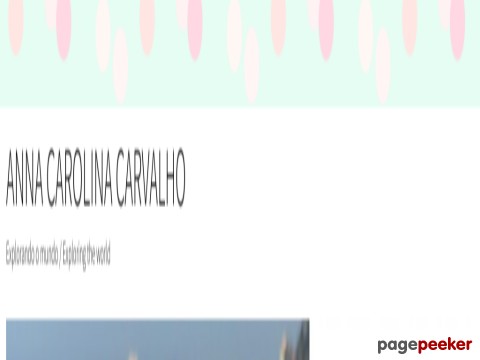 If I had to define myself in one word it would be dreamer. I am a Brazilian who always dreamed about traveling the world! I'm graduated in International Relations and currently living and working in Turkey, but I left a piece of my heart at every country I've ever visited.
14 views
Submitted Nov 18, 2015

first I love to write and second I love to share. So, I decided to share what I love to do. Though I do not have that great writing skill, I can still play around some words and click a few amateurish photographs – sufficient to cook up something for a blog!
25 views
Submitted Jun 15, 2014
Welcome to BlogGoing.com, your resource for all things travel and living a location independent lifestyle. Check back regularly for fresh travel content to get you wanderlusting!
7 views
Submitted Dec 1, 2016
I am a travel enthusiast, who was born in South Africa but grew up on a small Mediterranean island called Cyprus. You're probably familiar with it for its halloumi and Ayia Napa (well, there is definitely way more to it). I created Blog of Travels because I want everyone to enjoy their lives by travelling and exploring new cultures, because there is nothing better than enriching yourself with different languages, different societies, and meeting new people. For me, travelling is everything!
3 views
Submitted Jun 10, 2017
I'm Josh and my Wife is Megan and we are travel-holics! We have been all over the world together and we have the pictures to prove it! After talking for years, we have finally decided to create a travel blog.
12 views
Submitted Dec 21, 2015

About Dave's Pick
Category Stats
Subcategories:
2
Listings:
7316 (7331 counting subcategories)
Regular:
7309
Dave's Pick:
7
Last listing added:
May 10, 2018