Blogs of Travel
The creativity & desire to share experiences among those who have been blessed with the passion, opportunity & ability to wander & explore is a beautiful thing. This is the *ULTIMATE* updated travel blog list on the web with over 8,500 travel blogs listed! We spend *significant* time searching for travel blogs not yet in this list. Focus is on domain name sites in English in the format: www.###.xxx. More info about this list here
Wide-Eyed Wanderer is a newly-created online community where anyone can share their world&#92
16 views
Submitted Apr 26, 2015
WIDE SEA | NO ANCHOR unites my love for the world, photography and writing. Travel blogging is my career number three, following a two-year stint in investment banking and a spell in the art world.
26 views
Submitted Oct 5, 2014
Fitting Travel Into Your Life – Even with a 9 to 5
26 views
Submitted Jun 14, 2014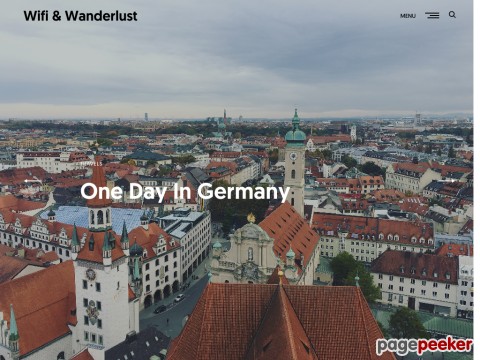 I'm Jessica. Blogger, Traveler, Passionate wanderlust. After graduating college with a very broad degree and still no idea "what i wanted to be when i grow up", i decided to take a different route. Instead of taking the next job offer, I set off to make the world my office one city at a time. Fueled by lattes and just a little wifi…
5 views
Submitted Jan 5, 2017
meandering all over the map
10 views
Submitted Dec 23, 2015
We met in Florence, Italy in 2008 and quickly discovered that we shared a fiery passion for travel, food and adventure. People constantly ask us for advice on where to go and where to eat, and we're always giddy to divulge. So sit back and enjoy the journey with us as we take on the world.
6 views
Submitted Nov 25, 2016
Travel blog about the amazing places I have been and those that I would still love to visit.
16 views
Submitted May 27, 2015
Travel addict and social media enthusiast. My philosophy: never lose sense of humor and self-irony to give a pinch of salt to life. Come and visit www.wild-about-travel.com for your daily dose of travel dreams.
19 views
Submitted Dec 18, 2014
In an attempt to organize all of my adventures and misadventures, photos, ideas, etc., I am creating a travel blog. Though I have a Masters degree in Tourism and Event Management, I'm not claiming to be an expert at anything, I'm not doing this for a living, like many travel bloggers. I have a full-time job and don't travel as much as I want or should. This is a hobby, and I have others. This blog is a dedication to my passion for travel.
13 views
Submitted Dec 20, 2015
This is the story of our life: a wild-hearted California girl and a reformed Argentinean ski bachelor giving up everything to redesign the way we live, save our marriage, and start following our curiosity at every turn possible.
5 views
Submitted Dec 24, 2016
I'm Elena, from Italy but now living in New York. I'm a person with always new ideas and new dreams to chase, like this new blog.
0 views
Submitted Mar 26, 2017
Back to those dusty roads, and the uncertainty of a travellers everyday life. Back to the romantic solitude of deciding everything for yourself. back to knowing that your next big adventure could be just around the corner. So i quit my job and packed my bag. And I left again.
11 views
Submitted Nov 30, 2015
I'm Lottie! I was lucky enough to be raised by two adventurers, so by the time I hit my twenties I had already seen a lot of the world. But it was only when I studied 'The Impact Of Tourism On The Developing World' at University I started to see the dark side of the industry. And realised that a lot of the trips I had been on, and loved, were actually exploiting people and animals.
3 views
Submitted Dec 16, 2016
Were Ben and Jenna Thomas, writers, photographers and creators of Wild Imagining. When it comes to seeking adventure on a budget, this blog is the place to be for inspiration and practical advice.
21 views
Submitted Aug 3, 2014
Nellie Huang is an atypical Asian who surprises herself with a crazy passion for travelling ? from dipping in the Caribbean sea to venturing on Wildlife safaris in Africa. With an insatiable thirst for changes, she loves Life with a vengance and is always ready to take the plunge. WildJunket is the birthchild of all her adventures (and misadventures) around the world.
28 views
Submitted Feb 26, 2010
I'm an adventure traveler in search of new experiences, wild and rugged areas and major culture shocks. In the last 5 years I have gone from the icebergs of Antarctica to the sand dunes of the Sahara to the crazy streets of Asia.
4 views
Submitted Jan 31, 2017
wild and adventurous travel blog
10 views
Submitted Nov 23, 2015
Ive been traveling the world to study animals for almost 20 years. The amazing things that Ive seen and done inspired me to combine animals and travel in a different way – one that could be shared with others.
19 views
Submitted May 30, 2015
We're Livia and Andres - an adventurous expat couple from Austria and Mexico. After spending almost a decade in the Americas, we packed our bags and moved to Europe. Along the way, we've developed our love for the outdoors, we just can't get enough of the great outdoors and love taking the road less traveled.
9 views
Submitted Mar 21, 2016
I'm Claudia, a third-cultured child who grew up flying across the world and have not stopped since. I have lived in Chile, Brazil, South Africa, Venice, Salisbury, London and Edinburgh (where I am currently based).
2 views
Submitted Jul 11, 2017

About Dave's Pick
Category Stats
Subcategories:
2
Listings:
8847 (8862 counting subcategories)
Regular:
8840
Dave's Pick:
7
Last listing added:
Dec 8, 2017