Blogs of Travel
The creativity & desire to share experiences among those who have been blessed with the passion, opportunity & ability to wander & explore is a beautiful thing. This is the *ULTIMATE* updated travel blog list on the web with over 7,000 travel blogs listed! We spend *significant* time searching for travel blogs not yet in this list. Focus is on domain name sites in English in the format: www.###.xxx. More info about this list here
I'm Dan, a Canadian backpacker and world traveler! It all started with an epic two-month solo backpacking trip through South America. 11 years later I quit my job and said goodbye to the comforts of home to travel the world!!!
9 views
Submitted Dec 24, 2016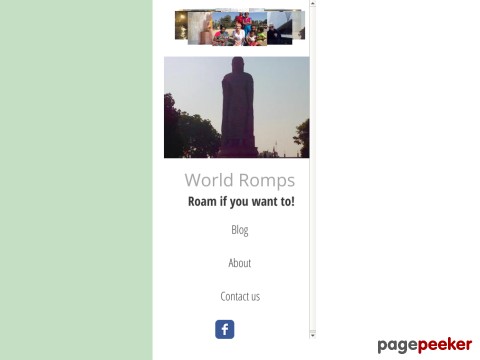 I took to travel late in life. I never thought much beyond survival while I was young, raising three sons, going to college. Dreams were deferred, life was about getting by, not many journeys either outward or truthfully, even inward were made. I made lunches, broke promises, folded laundry, nagged and tried to stave off bitterness.
23 views
Submitted May 27, 2015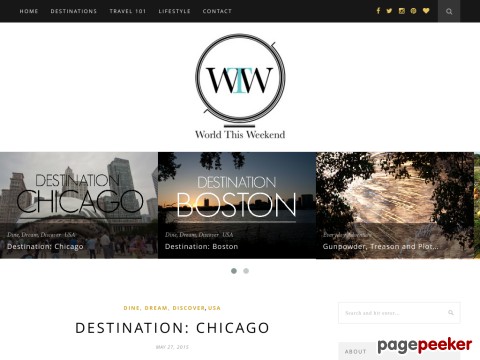 Two Brits who caught the travel bug and spend every waking minute eating, dreaming, blogging travel! Follow on Instagram @worldthisweekend
22 views
Submitted May 27, 2015
We are originally from the US (via North Carolina, New York, & New Jersey) and are currently expats living in Germany in the Rhineland-Palatinate (wine)
14 views
Submitted Nov 22, 2015
Welcome to our travel blog. We are Bertaut and Alexis T (BAT), and traveling is a passion we share. I know it's cliché, but it's true. We have been eager to meet people from all walks of life and all corners of the Earth since teenagers.
6 views
Submitted Dec 8, 2016
the world travel blog
23 views
Submitted Jun 13, 2014
A photography & travel guide for the stylish traveller
13 views
Submitted Dec 16, 2015
An Inspirational Travel Blog To Make Your Feet Itchy
6 views
Submitted Dec 24, 2016
My name is Suki Fujimoto. Im a Japanese solo female traveler who is passionate about exploring around the world.
30 views
Submitted Dec 5, 2014
Roam if you want to, roam around the world
27 views
Submitted Dec 17, 2013
We're Annette and Kevin, travel junkies currently living in Brisbane, Australia. We love helping people create moments that make a difference in their lives.
12 views
Submitted Dec 20, 2015
traveling the world with miles
7 views
Submitted Dec 1, 2016
One of my biggest passions in life is being able to travel and experience new things. Though I am only 26 years old, I have already visited many of the U.S. states as well as 13 countries. I have been zip-lining, wild caving, and backpacking around for years. Of course, for someone like me, it seems I have only scratched the surface of the possibilities that are out there… and I want more!
27 views
Submitted Dec 4, 2014

journeys to over 80 countries
29 views
Submitted Apr 22, 2012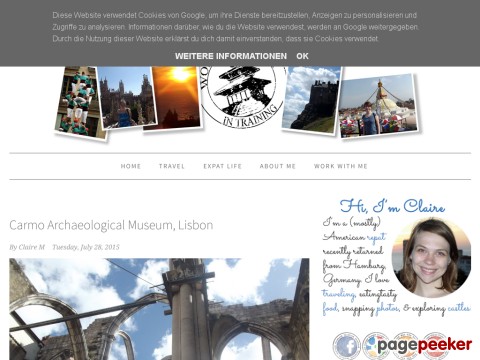 I'm a 3rd culture kid (US and UK), physical scientist, traveler and blogger. Halfway through grad school I got a job offer to work for a university in Germany, a job that would send me around the world (Kathmandu, Venice, Stockholm...). I couldn't say no. I'm a pescatarian (like a vegetarian, but I eat fish as well, preferably as sushi), video game player and amateur photographer with a love of castles, new foods and exploring new cities.
13 views
Submitted Dec 22, 2015
Joe has traveled the most remote places in the world, the big cities, the villages, and the jungles. He has won and lost fortunes in Las Vegas, swam with the sharks in Mexico, dived the El Garafon reef, petted the Sting Rays in Grand Cayman, gambled in Monaco, shot pool in Berlin, dined in Eiffel Tower, prayed in the Vatican, and taught chef's the fine art of the crawfish boil New Orleans.
6 views
Submitted Dec 17, 2016
a family traveling with the military - personal perspective
21 views
Submitted Dec 20, 2014
I'm James and this blog is all about the adventures I get up to whilst travelling the world. There is no real plan at all, just taking things as they come.
7 views
Submitted Dec 24, 2016
international blog post entries
24 views
Submitted Feb 18, 2013
he adventures of a sassy, often defiant, not quite fearless pilot's wife, explorer, and photographer. Join me as I globe trot the world using my travel benefits. Here I will share photographs of my travels, chronicle my journeys, and provide useful tips and information
30 views
Submitted May 25, 2012

About Dave's Pick
Category Stats
Subcategories:
2
Listings:
8755 (8770 counting subcategories)
Regular:
8748
Dave's Pick:
7
Last listing added:
Jan 17, 2018