Blogs of Travel
The creativity & desire to share experiences among those who have been blessed with the passion, opportunity & ability to wander & explore is a beautiful thing. This is the *ULTIMATE* updated travel blog list on the web with over 8,500 travel blogs listed! We spend *significant* time searching for travel blogs not yet in this list. Focus is on domain name sites in English in the format: www.###.xxx. More info about this list here
I'm a Travel Blogger, Visual Journalist and Bikram Yoga Teacher. A native of Bulgaria, I moved to the United States and have traveled to over 25 countries
2 views
Submitted Feb 7, 2017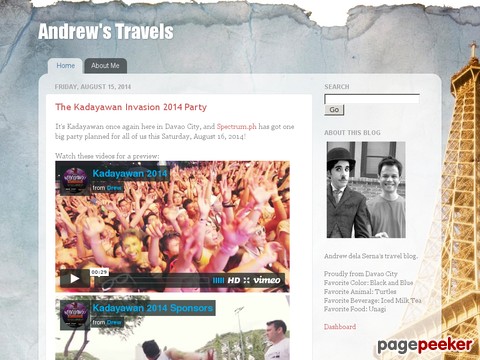 Andrews travels
4 views
Submitted Dec 24, 2016
Hi, were Rob and Lindsay. Were obsessed with durian. We also like to travel.
20 views
Submitted Dec 20, 2014
Likes: traveling…duh! and inspire people to do the same : ) But also: Writing, reading, photography (but I'm far from being a professional!), outdoor activities, learn and try new things
5 views
Submitted Dec 15, 2016
As we set out on another exciting journey we decided to write a Travel Blog so we can share the fun as we go along. Thus "Yen for Travel" is born. We hope you enjoy our experiences as we report in.
20 views
Submitted Aug 27, 2013
Stephanie's travel and life adventures
11 views
Submitted May 1, 2016
yesihaveablog.com is run by Phoebe and documents the life, adventures and travels of a wandering wordsmith sincerely seeking inspiration… and a career!
5 views
Submitted Dec 17, 2016
We are Paul & Kristin and are living a nomadic lifestyle by choice.
28 views
Submitted Aug 8, 2013
Making the decision to travel long term was a long road. Before starting off, I passed many an unhappy hour in a windowless cubicle, working on someone else's dream and using my meager income to pay rent, buy business clothes, and commute in an expensive city. I eventually escaped- read about my adventures, past and present, here.
12 views
Submitted May 1, 2016
My name is Flo. This is where I write and share my experiences with a few of my favorite things – yoga, wine (won't say no to a good white sangria), and wanderlusting my way around the world.
14 views
Submitted Sep 27, 2015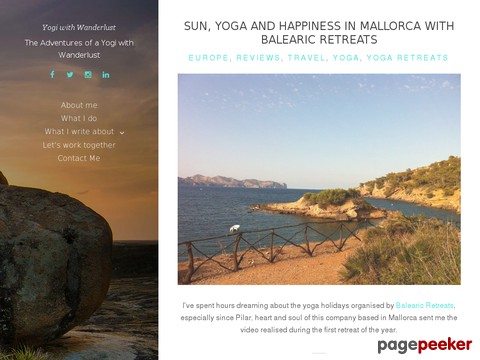 My name is Milla, I was born in Italy 30-something years ago but left the country in 2012 when the wanderlust "sickness" infected me, and I felt the urge to start exploring the world.
5 views
Submitted Dec 17, 2016
My hope for this blog is to share my passion for the world and travelling with people who may not have thought about seeing the world this way before
10 views
Submitted Nov 30, 2015
Hi. I'm Nate. A travelling writer, photographer, and hand model, with a lust for BBQ pork. And bacon. I've been mixing with the locals, in 35 countries so far. We have at least one thing in common - we both want to see the world.
29 views
Submitted Jun 3, 2012
It all began six years ago, on a balmy summers evening in a small town in Oxfordshire, England. Two people, meeting for the first time, discovered they had gone to the same school without ever having noticed one another, shared a mutual devotion to Macs and agreed that to travel the world one day would indeed be a wonderful thing. Several continents and 14 countries later, Mark and Molly are slowly, but surely, finding themselves in various corners of the globe.
24 views
Submitted Dec 12, 2012
Thanks for checking out our blog and I'm very happy you want to know more about us. I'm Janieke, a Dutch girl who made her dreams come through by leaving the Netherlands to work on the other side of the world.
11 views
Submitted Jan 4, 2016

Personal trip tips, ideas, advice to help you see the world!
20 views
Submitted Mar 3, 2014
I'm Cory, avid traveler, blogger and user experience designer. My goal is to help you become an informed traveler who makes smart decisions. Find all the tools you need, go explore the world and follow your dreams.
11 views
Submitted May 12, 2016

I love to TRAVEL and I created this blog as my edge outlet to my wanderlust soul.
31 views
Submitted Jun 24, 2014
You're probably on my website because you're a traveller or a dreamer, or both! Well, I'm definitely both. I spend all my spare time at work dreaming of travelling, and then all my free time away from work travelling. And so here we are.
4 views
Submitted Dec 31, 2016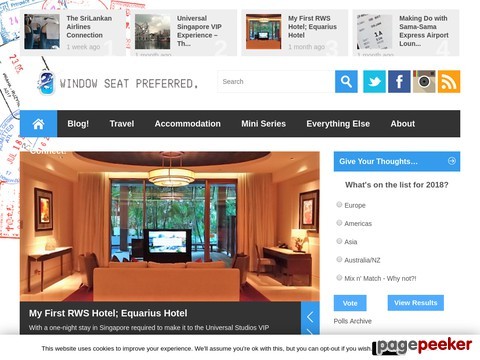 Round-the-world #traveller, renowned cheapskate, #tech & #internet addict
24 views
Submitted Jun 17, 2014

About Dave's Pick
Category Stats
Subcategories:
2
Listings:
8764 (8779 counting subcategories)
Regular:
8757
Dave's Pick:
7
Last listing added:
Oct 8, 2017