Blogs of Travel
The creativity & desire to share experiences among those who have been blessed with the passion, opportunity & ability to wander & explore is a beautiful thing. This is the *ULTIMATE* updated travel blog list on the web with over 7,000 travel blogs listed! We spend *significant* time searching for travel blogs not yet in this list. Focus is on domain name sites in English in the format: www.###.xxx. More info about this list here
Likes: traveling…duh! and inspire people to do the same : ) But also: Writing, reading, photography (but I'm far from being a professional!), outdoor activities, learn and try new things
7 views
Submitted Dec 15, 2016
As we set out on another exciting journey we decided to write a Travel Blog so we can share the fun as we go along. Thus "Yen for Travel" is born. We hope you enjoy our experiences as we report in.
22 views
Submitted Aug 27, 2013
Stephanie's travel and life adventures
16 views
Submitted May 1, 2016
yesihaveablog.com is run by Phoebe and documents the life, adventures and travels of a wandering wordsmith sincerely seeking inspiration… and a career!
7 views
Submitted Dec 17, 2016
We are Paul & Kristin and are living a nomadic lifestyle by choice.
31 views
Submitted Aug 8, 2013
My name is Flo. This is where I write and share my experiences with a few of my favorite things – yoga, wine (won't say no to a good white sangria), and wanderlusting my way around the world.
17 views
Submitted Sep 27, 2015
My hope for this blog is to share my passion for the world and travelling with people who may not have thought about seeing the world this way before
13 views
Submitted Nov 30, 2015
Hi. I'm Nate. A travelling writer, photographer, and hand model, with a lust for BBQ pork. And bacon. I've been mixing with the locals, in 35 countries so far. We have at least one thing in common - we both want to see the world.
33 views
Submitted Jun 3, 2012
It all began six years ago, on a balmy summers evening in a small town in Oxfordshire, England. Two people, meeting for the first time, discovered they had gone to the same school without ever having noticed one another, shared a mutual devotion to Macs and agreed that to travel the world one day would indeed be a wonderful thing. Several continents and 14 countries later, Mark and Molly are slowly, but surely, finding themselves in various corners of the globe.
26 views
Submitted Dec 12, 2012
Thanks for checking out our blog and I'm very happy you want to know more about us. I'm Janieke, a Dutch girl who made her dreams come through by leaving the Netherlands to work on the other side of the world.
13 views
Submitted Jan 4, 2016
I'm Cory, avid traveler, blogger and user experience designer. My goal is to help you become an informed traveler who makes smart decisions. Find all the tools you need, go explore the world and follow your dreams.
13 views
Submitted May 12, 2016
You're probably on my website because you're a traveller or a dreamer, or both! Well, I'm definitely both. I spend all my spare time at work dreaming of travelling, and then all my free time away from work travelling. And so here we are.
6 views
Submitted Dec 31, 2016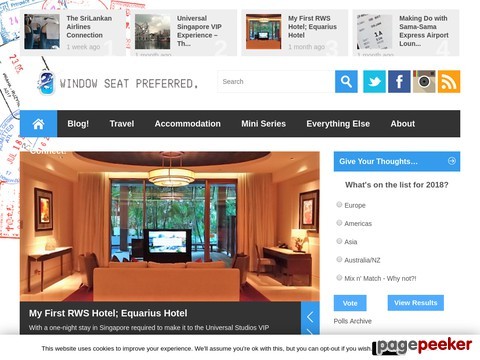 Round-the-world #traveller, renowned cheapskate, #tech & #internet addict
26 views
Submitted Jun 17, 2014
We love to travel and write about our adventures in hopes that it will encourage others to do the same. We also like to hear about others traveling experiences. It might assist beginners - as well as the seasoned traveler - decide where they to go next or start their new adventure.
20 views
Submitted Apr 15, 2015
YoumiTrip is a project that has been on my mind for quiet a while before I decided to actually go for it. At first, it was just a bucket list item of the dream trip I would like to do. Whenever I had time I would read books, travel guides, visit websites and blogs of other travelers.
26 views
Submitted Dec 24, 2014
The purpose of this site is to just present, humbly, an edited view of the world. At least mine. Sounds pretentious, but its not intended to be. Traveling is what I love to do and whenever my friends are heading somewhere, they ask Im going here, what should I do? Where should I stay? Where should I eat? After sending hundreds of cut-and-paste emails of suggestions, I just decided to create this site.
23 views
Submitted May 27, 2015
Welcome to You Should GoToo! We look forward to sharing our travel experiences with you and giving you our honest and sincere reviews and thoughts on locations we have traveled to as well as including posts from experienced travel bloggers.
24 views
Submitted Jul 8, 2013
Im hoping to share a little slice of the world with the people out there and am hoping to inspire people from all countries and of all ages to experience more of this truly amazing world we live in.
25 views
Submitted Dec 5, 2014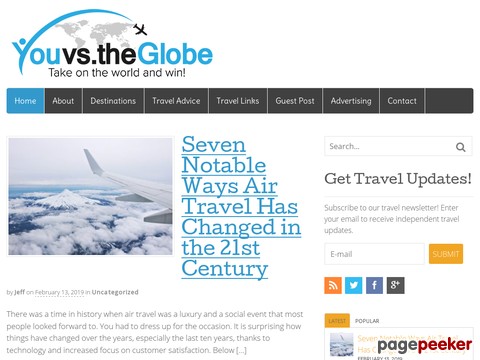 You vs the Globe shares global travel advice, insights and detailed information about popular destinations around our amazing globe!
31 views
Submitted Dec 31, 2013
I first fell in love with Spain (and Europe) and discovered my love of wandering 5 years ago when I studied abroad for a year in Salamanca, and during which time I backpacked around most of Europe (minus Finland and Liechtenstein). Since that glorious year I have done everything in my power to come back.
44 views
Submitted Jun 24, 2012

About Dave's Pick
Category Stats
Subcategories:
2
Listings:
8754 (8769 counting subcategories)
Regular:
8747
Dave's Pick:
7
Last listing added:
Jan 15, 2018