Blogs of Travel
The creativity & desire to share experiences among those who have been blessed with the passion, opportunity & ability to wander & explore is a beautiful thing. This is the *ULTIMATE* updated travel blog list on the web with over 8,500 travel blogs listed! We spend *significant* time searching for travel blogs not yet in this list. Focus is on domain name sites in English in the format: www.###.xxx. More info about this list here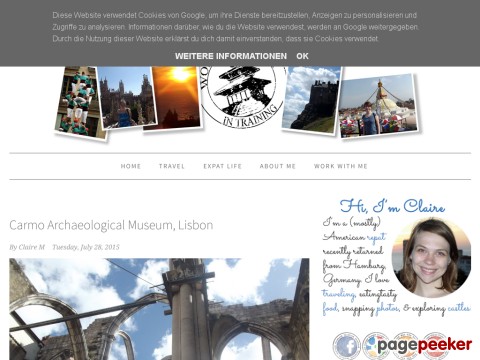 I'm a 3rd culture kid (US and UK), physical scientist, traveler and blogger. Halfway through grad school I got a job offer to work for a university in Germany, a job that would send me around the world (Kathmandu, Venice, Stockholm...). I couldn't say no. I'm a pescatarian (like a vegetarian, but I eat fish as well, preferably as sushi), video game player and amateur photographer with a love of castles, new foods and exploring new cities.
12 views
Submitted Dec 22, 2015
Joe has traveled the most remote places in the world, the big cities, the villages, and the jungles. He has won and lost fortunes in Las Vegas, swam with the sharks in Mexico, dived the El Garafon reef, petted the Sting Rays in Grand Cayman, gambled in Monaco, shot pool in Berlin, dined in Eiffel Tower, prayed in the Vatican, and taught chef's the fine art of the crawfish boil New Orleans.
5 views
Submitted Dec 17, 2016
a family traveling with the military - personal perspective
20 views
Submitted Dec 20, 2014
I'm James and this blog is all about the adventures I get up to whilst travelling the world. There is no real plan at all, just taking things as they come.
6 views
Submitted Dec 24, 2016
international blog post entries
23 views
Submitted Feb 18, 2013
he adventures of a sassy, often defiant, not quite fearless pilot's wife, explorer, and photographer. Join me as I globe trot the world using my travel benefits. Here I will share photographs of my travels, chronicle my journeys, and provide useful tips and information
29 views
Submitted May 25, 2012
Some months ago we decided to take a break, quit our well-paid, but extremely stressful jobs, say goodbye to family and friends and do something completely different for a while. Make a BIG change, experience NEW things, recharge.
7 views
Submitted Nov 2, 2016
Andrea is a writer, filmmaker, wannabe photographer and digital media enthusiast. She has a degree in journalism and a masters of communication in digital media, and this blog is her pet project! She spends her free time stalking travel and fashion blogs, taking pictures, reading every book she can get her hands on, obsessively checking plane ticket prices to anywhere and everywhere, and trying really hard not to shop online.
31 views
Submitted Jun 3, 2012
Hi I'm Natasha the Wandering Kiwi, trying to make the pages of the atlas real (to paraphrase Evelyn Waugh) one trip at a time.
28 views
Submitted Jun 20, 2012
Your window to the world!
21 views
Submitted Dec 6, 2014
I am Sandra a travel blogger who grew up in the east part of Germany (GDR). For me back then the world was just this big mysterious place. Little did I know if I would ever explore it.
1 views
Submitted Aug 6, 2017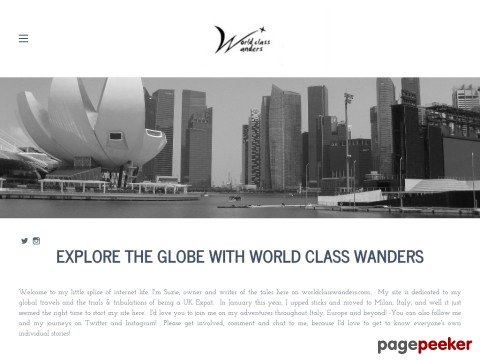 I'll be writing about my expat lifestyle, European and Global travel tips and travel hacks in general, providing me somewhere that allows me to capture every single moment and experience I have, because life is all about living in the present! Then, in my future, I will be able to reminisce remembering my adventures, just like they were yesterday.
15 views
Submitted Apr 2, 2016
Dreamer, adventurous travel lover and my own way seeker, who visited 45 countries. Join me in my travels through the off the beaten path places, jungles and mountains to discover the best destinations and adventures around the world – let's meet!
1 views
Submitted Aug 6, 2017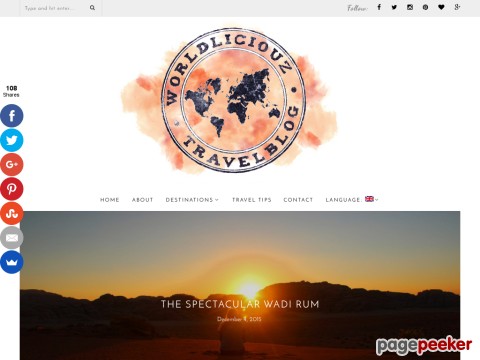 I'm Finnish with a love for traveling and writing, Worldliciouz was created. I've always loved stories and when I travel, I gather all
11 views
Submitted Dec 21, 2015
I'm Steph, and in 2014, I quit my job as an English teacher in the UK and jumped on a plane to Bolivia, South America. I've never looked back.
14 views
Submitted Dec 22, 2015
Curious minded traveller from Tasmania, Australia. Trying to figure out the best way to spend the one life we each have.
14 views
Submitted Dec 24, 2015
follow Olivia around the world, one muse at a time
21 views
Submitted Jan 14, 2015
We love to travel, to see and experience new cultures and of course sample the local delicacies on offer from guinea pig to sashimi and everything in between! Oh and to sample the local beers as well, it would be rude not too. Right now we're on an adventure around the world, with no firm end point in mind. We go where we want, when we want, and love to take photos and write about our adventures. Thus the Worldly Nomads was born! We're writing this blog for posterity, as a place for us to organise and share our memories, but also a resource for others who pine for adventure and travel.
33 views
Submitted Dec 11, 2012
Most of my travels have been with my family and most trips made before I ever graduated from college. Now that I live in the real world and have a full-time job, I do not get to travel like I used to or like I want to. I said before that I wish I could sell all of my belongings and up and leave. I know a lot of people that have done so, and I am sure I could too, and make it work. There's just a little thing called 'fear' in my way (well, also my pets).
2 views
Submitted Oct 3, 2017
You can call me Tobi.

About icon smile A few years past I decided to quit my job and go travelling. That was when I started my first blog together with my friend when we did our trip around the world in 2010/2011.
9 views
Submitted Mar 28, 2016

About Dave's Pick
Category Stats
Subcategories:
2
Listings:
8847 (8862 counting subcategories)
Regular:
8840
Dave's Pick:
7
Last listing added:
Dec 8, 2017