Blogs of Travel
The creativity & desire to share experiences among those who have been blessed with the passion, opportunity & ability to wander & explore is a beautiful thing. This is the *ULTIMATE* updated travel blog list on the web with over 7,000 travel blogs listed! We spend *significant* time searching for travel blogs not yet in this list. Focus is on domain name sites in English in the format: www.###.xxx. More info about this list here
Hike, Kite, Dive – Adventure Travel With A French Twist
18 views
Submitted Dec 16, 2015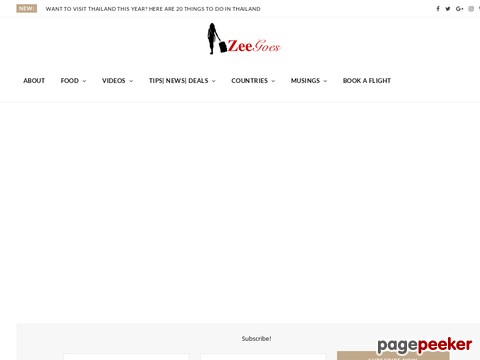 My name is Zainob Fashola aka Zee and I'm from Lagos, Nigeria (I also live here). Welcome to ZeeGoes, my little hub where I share my adventures within Nigeria, Africa and around the world.
10 views
Submitted Dec 22, 2016
I'm a mom, yogi and travel lover. Join me on this journey to live a more peaceful and well traveled life!
7 views
Submitted Dec 22, 2016
We're two DIY adventure travellers and outdoor enthusiasts finding our Zen through exploring this big, beautiful world, whether home or abroad. Hobbies include: hiking, biking, skiing, paddling, yoga and scuba diving.
10 views
Submitted Apr 24, 2017
stories form the road and short travel films
4 views
Submitted Jun 25, 2017
My love of travel is a constant but how I travel is relentlessly changing, because just like you, my life is always different.
40 views
Submitted Jun 12, 2014
I am CLAIRE, TRAVELER and PHOTOGRAPHER whenever I can, which turned me into a TRAVEL PHOTO-BLOGGER. I want to get people out of their own little world to discover the beauty of Earth
45 views
Submitted Jun 15, 2014
We're David and Zena Bjorgen, a couple who love travel, culture, photography, and each other. We each started traveling with our families as kids and just never stopped once we became adults. Our travels merged together once we were married and we've been enjoying traveling as a couple ever since.
13 views
Submitted Jan 30, 2016
ZIPPERTRAVEL is the newest venture by the creators of Zipper, Steven Saden and Elizabeth Cashour. During the last 20 years, Zipper was a retail store with locations in Los Angeles, Brooklyn, and Sonoma as well as the website, zippergifts.com. Wondering what could be next, on April 30, 2013, Zippers founders took the bold step to close up shop and hit the road on their No Regrets Tour.
39 views
Submitted Aug 18, 2014
to live, to laugh to travel
35 views
Submitted Apr 26, 2015
Notes from the middle of nowhere
32 views
Submitted Jun 1, 2015
Since 2012, I have travelled to over 20 countries within 3 continents. 'Zo Around The World' is a collection of my travel experiences – focusing on providing budget travel advice plus off the beaten path locations and itineraries.
7 views
Submitted Nov 30, 2016
Ones destination is never a place, but a new way of seeing things
36 views
Submitted Jun 15, 2014
This non-American Life - adventures in expattery
52 views
Submitted Jun 22, 2010
By Easter 2015 I'd negotiated a career break from my job so ZZ & I could take a year out and embark on a Round the World adventure ! I wanted to create a blog to document our world adventures and hence…. ZZZ World Ninjas was born. Also out of over 8,500 travel blogs listed in this directory, this is the last in our list (alphabetically).
30 views
Submitted Dec 26, 2015

About Dave's Pick
Category Stats
Subcategories:
2
Listings:
8755 (8770 counting subcategories)
Regular:
8748
Dave's Pick:
7
Last listing added:
Jan 17, 2018