Blogs of Travel
The creativity & desire to share experiences among those who have been blessed with the passion, opportunity & ability to wander & explore is a beautiful thing. This is the *ULTIMATE* updated travel blog list on the web with over 8,500 travel blogs listed! We spend *significant* time searching for travel blogs not yet in this list. Focus is on domain name sites in English in the format: www.###.xxx. More info about this list here
the main reason I decided to create 7 Continents 1 Passport is because I want to share my trips with you, plus I want to inspire and motivate you and show you how easy it is to travel.
22 views
Submitted Apr 2, 2016
I'm navigating my way through being a full time uni student with a heart that aches to travel, and I'd love for you to join the journey!
17 views
Submitted Jun 5, 2016
I'm Jeremy Larsen, a Type 1 diabetic and world traveler. 70-130.com is my way to inspire diabetics and others to get out and see the world more. I have had T1D for over thirty years, and I've traveled to over thirty countries, insulin and blood glucose meter at my side. You can go anywhere with diabetes.
25 views
Submitted Apr 3, 2016

A Man, Woman and Dog seeking happiness through adventure. Sacha, Jmayel & Eden packed up their lives in the UK to create Cinematic Travel Videos about their experiences and digitally capture the world in their own unique style.
46 views
Submitted Feb 7, 2013
I love to travel. To discover new places, to experience new adventures.
21 views
Submitted Jan 7, 2016
As of today, I am working towards making my dream of exploring the world a reality. My plan, if you can even call it that this early on, is to embark on a solo around-the-world adventure. How do I plan on doing so? With a little bit of creativity, a sh*t ton of motivation and one penny saved at a time
8 views
Submitted Nov 2, 2016
Hey, thanks for visiting what will always be a work in progress! Im Andrew and I wanted to create something to document the travels of my wife and I.
47 views
Submitted Jan 4, 2015
Working a 9-to-5 job, but living to travel the world!
8 views
Submitted Dec 30, 2016
I am an Australian named Brenden who has given up his job as a manager in a call centre to travel and experience other cultures and customs.
43 views
Submitted Feb 23, 2013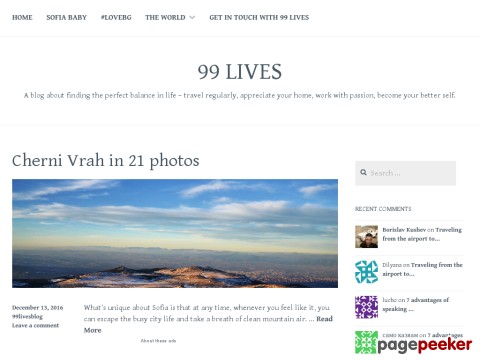 A blog about finding the perfect balance in life – travel regularly, appreciate your home, work with passion, become your better self.
8 views
Submitted Dec 22, 2016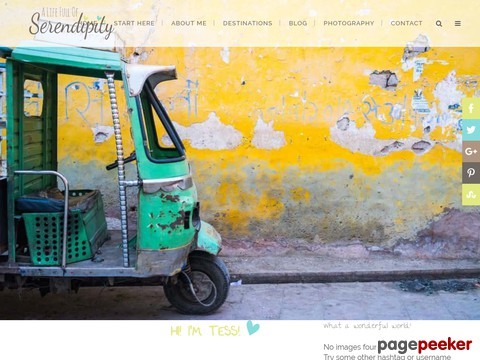 Like the princes, Ill be traveling led by serendipity and see what happens. I have left the Corporate world to fill up my life with what Im passionate about. With a one-way ticket in hand, I am going to travel the world on a budget and document my journey
69 views
Submitted Dec 4, 2014

If you stumbled across my blog seeking a fellow traveler, I'm thrilled and hope you stay to share your adventures with me. Either way, I appreciate you taking the time to read and comment and I hope you do so often. Best, Megan
42 views
Submitted Nov 8, 2013
I am a 30 something solo traveler who is absolutely in love with traveling. In 2012 I gave up my job and began traveling. Since then I have visited 37 countries and 7 continents. In the journey I have found a huge amount of healing and transformation. I have overcome grief and fear to discover how amazing life is. I hope to encourage others to pursue their dreams and reach their potential.
17 views
Submitted Mar 21, 2016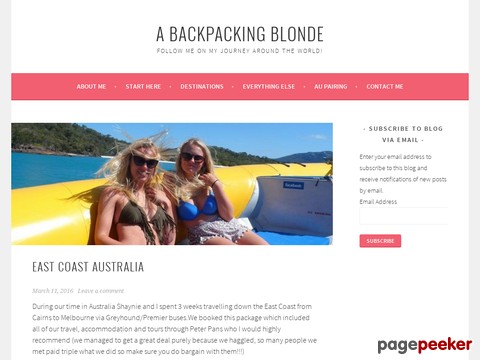 Ever since I was young I've always had a massive interest in travel, I remember my family holidays around the UK being the highlight of my year and although I was slightly jealous of my friends going abroad I never once felt I was missing out. Then when I was 13 my parents saved up and took us to Florida which was my first ever time on an aeroplane, I remember being so excited for the whole year before we went and still to this day Florida is my favourite holiday destination.
16 views
Submitted Mar 13, 2016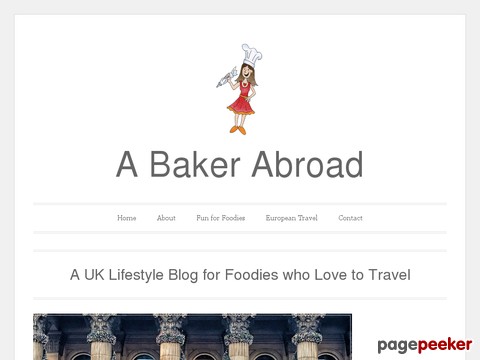 Welcome to A Baker Abroad, a blog for the sweet-toothed traveler. If you love to travel and consider yourself a foodie, this is definitely the blog for you! I'm filling the blog with lots of great travel tips and destination information to help inspire your travels.
8 views
Submitted Dec 24, 2016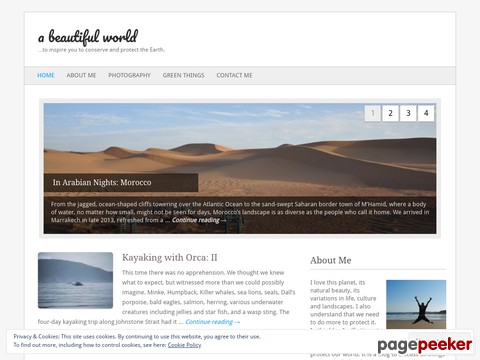 I love photography, history, culture, food and travel. I also love the earth, its natural beauty and understand that we need to do more to protect it. I have traveled, but not enough. This blog is my attempt to capture my travels, and to share those travels with you to inspire you to visit, and to protect, our world.
46 views
Submitted Jun 23, 2012
We are a husband and wife that realized we should put to good use or loves of travel, photography, dining, exploring and picky-ness (we like to think of it as discerning taste)! We have our unique take on life, and that translates into discovery. Our core skill is searching beyond fad, to the underlying truth of the world. In metaphor we are into Books, not Covers (though an exciting cover can be part of a wonderful book!)
65 views
Submitted Jun 7, 2012
We are Jenna (The Blonde) and Gary (The Beard), we are a newly married South African couple who love exploring new places, good food, great wine and traveling.
10 views
Submitted Dec 22, 2016
Currently based in my home town Trieste, a cute little town in Northeastern Italy, I work full time as a port agent while trying to be a part-time world traveler, using every single hour of vacation I get to explore our beautiful world.
40 views
Submitted Dec 19, 2014
My travel tales from places I explore. It is all about food, places, people, culture & every other wonder of being a vagabond.
39 views
Submitted May 27, 2015

About Dave's Pick
Category Stats
Subcategories:
2
Listings:
8841 (8856 counting subcategories)
Regular:
8834
Dave's Pick:
7
Last listing added:
Nov 15, 2017