Blogs of Travel
The creativity & desire to share experiences among those who have been blessed with the passion, opportunity & ability to wander & explore is a beautiful thing. This is the *ULTIMATE* updated travel blog list on the web with over 6,000 travel blogs listed! We spend *significant* time searching for travel blogs not yet in this list. Focus is on domain name sites in English in the format: www.###.xxx. More info about this list here
We are Alex and Liana, a couple from Seattle, Washington USA. Liana moved here from Russia when she was 3 years old and Alex also came here at the age of 3 from Ukraine. We both grew up in Washington, Liana in Bow and Alex in Federal Way. We met at some of our best friends wedding and were married in 2012. Since then we have had the opportunity to travel to lots of places. You could say we caught the travel bug, which is what has brought us to the point of where we are now.
139 views
Submitted Jun 10, 2017
I'm a Canadian living in the UK, discovering new things daily. I'm a traveller and I live to learn! I like to make things. Cooking, baking, sewing, crochet, painting, photography, etc, etc.
186 views
Submitted Jun 3, 2012
Were Dan and Casey, young newlyweds with big plans to see and experience as much of the world as possible before the ever-so-ominous need to settle down takes over.
184 views
Submitted Mar 9, 2013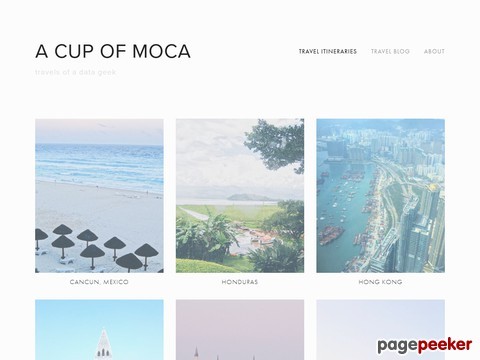 Marketing analytics professional by day. Travel blogger by night. Native New Yorker, wanderluster & wannabe yogi.
164 views
Submitted Aug 22, 2015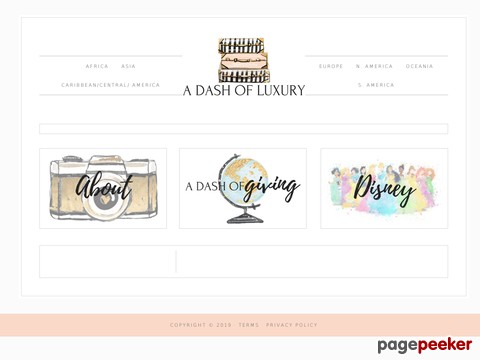 Travel Reviews, Tips & Recaps - My name is Lauren, and I run A Dash Of Luxury. I'm a born and raised New Yorker, where I currently reside with my husband, …
172 views
Submitted Nov 30, 2015
Hi! I'm Craig...and I love to explore. My love of exploration has brought me all over the world.
200 views
Submitted Dec 12, 2012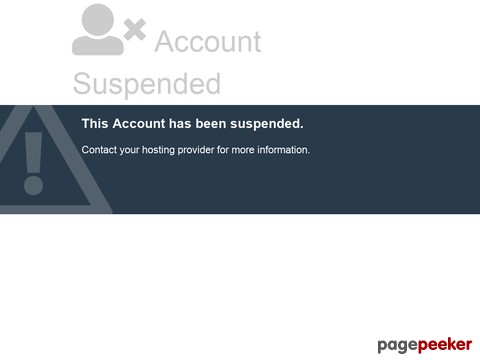 Im Denise Diamond and Im leaving my career of 12 years for new adventures abroad. I hope to be an example of how you can redefine your life over 30 and travel the world.
183 views
Submitted Nov 13, 2013
my quest for a better life in my 30's: entrepreneurship, wine and travel
153 views
Submitted Mar 19, 2016
Two years ago i made the decision to leave a "successful" career in the corporate world to go and do the things that i had always wanted to do. 6 long years of making and unmaking that decision had preceded this moment. I was young with no real commitments in the UK, aside a house that could be rented out. I finally rejected the fear that had stopped me from travelling, i finally stopped wasting precious time.
156 views
Submitted Jun 19, 2016
I love good food and I love to travel: this blog is a celebration of the correlation between my two loves.
190 views
Submitted Jan 24, 2014
our lives have been shaped by our travels and we know yours have to. join us for inspiration, expert tips and great stories
175 views
Submitted Jun 2, 2015
a tale of love and travel
175 views
Submitted May 30, 2015
My name is Jennifer and I am budget traveler. Photographer. Marketing Assistant. Dreamer.
179 views
Submitted Nov 19, 2014
Im a mid-20s Aussie girl who has decided it's finally time to ditch the corporate life and explore the world.
182 views
Submitted Apr 26, 2015
The adventures of a Singaporean couple who attempt to travel the world without breaking the bank or quitting their jobs.
186 views
Submitted Feb 18, 2016
a DIY & adventure blog
140 views
Submitted Oct 3, 2017
I'm Tiffany. Thank you for your interest in A Girl and Her Passport, a growing travel blog. I am an American expat living in Qatar. From here, I travel the world exploring countries' culture, art, history, and food and to share it with my readers through stories and photography. My focus is on independent travel with an eye for finding the uniqueness of each place I visit. I also blog a little about things to do in Qatar.
158 views
Submitted Dec 22, 2015
Im Polly, a would-be world traveler who traveled to Moscow, Russia in 2010 and never quite managed to leave. A Girl and Her Travels is a collection of stories about my life as an expat, my job as ESL teacher, and tips and tricks for getting the most out of Moscow!
183 views
Submitted Mar 5, 2014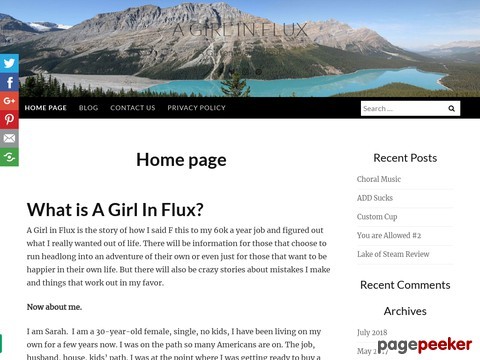 A girl in flux is the story of how I said F this to my 60k a year job, and sold everything and hit the road to see the world. There will be information for those that choose to run headlong into an adventure of their own or even just for those that want to be a traveler and not a tourist.
135 views
Submitted May 24, 2017
Thanks for stopping by! Im Marta, a girl with itchy feet and the love for adventure. I left my day job 4 years ago and Ive been living the life of a digital nomad ever since. Follow me on my adventures as I eat and travel my way around the world!
181 views
Submitted Jan 26, 2015

About Dave's Pick
Category Stats
Subcategories:
2
Listings:
6299 (6314 counting subcategories)
Regular:
6292
Dave's Pick:
7
Last listing added:
Oct 25, 2019