Blogs of Travel
The creativity & desire to share experiences among those who have been blessed with the passion, opportunity & ability to wander & explore is a beautiful thing. This is the *ULTIMATE* updated travel blog list on the web with over 6,000 travel blogs listed! We spend *significant* time searching for travel blogs not yet in this list. Focus is on domain name sites in English in the format: www.###.xxx. More info about this list here
I'm Erica, just a twenty-something Aussie traveller exploring the world! I have an appreciation for anything different to the norm, experiencing culture and making the most of every moment.
148 views
Submitted Dec 21, 2016
travel and life with lee mylne
174 views
Submitted Jun 1, 2015
Aloha! We're Tasha and Jarden – a pair of travel bug infected Hawaiians that don't know what to do with our lives. (Besides traveling. and Netflixing. And spending time with our beagle, Buddy.)
163 views
Submitted Nov 22, 2015
im Ashlea, a 26-year-old colourfully clothed and excitable vegetarian who loves photography, cooking, and exploring the world. A Globe Well Travelled is my travel blog, a haven of destination inspiration and planning tips from both myself and a community of like-minded frugal travellers.
180 views
Submitted Sep 16, 2014
I started this site as a guide for young and broke travelers like myself. Every traveler has their own style: adventurer, off the beaten path, luxury, adrenaline junkie, etc. My blog is designed to support the cultural, historical, and somewhat traditional traveler.
153 views
Submitted Jun 5, 2016
My journey begins May 2nd, 2014 in Paris, France and is projected to end back in the states in November of 2014. I will be traveling through France, Spain, Portugal, Corsica, Sardinia, Southern Italy, Greece, South Africa, Thailand, Vietnam, Bali, Australia, New Zealand and Fiji before returning to California and then eventually back to my home town - Baltimore, Maryland .... maybe
194 views
Submitted Sep 21, 2014
We are Lyn and Steve, a couple from Perth, Western Australia who married and began to travel at 50. Were putting our relationship to the test, travelling, adventuring and eating our way through life... We have travelled to 16 countries in 2 years and plan on seeing as much as we can of this beautiful world we live in.
186 views
Submitted Jun 15, 2014
I'm Joy, a California transplant with a passion for adventure and wildlife. So far, I have traveled to 25+ countries and have lived in 9 states. Follow along for tips and information on destinations, animal encounters, and getting into nature!
158 views
Submitted May 1, 2016
In this blog, we will tell you about our stories, our discoveries, how we organize our trips and especially our 10-month journey step by step. We want to keep in touch with you, make you dream with us and maybe inspire those of you who are thinking about become full time backpackers for a little while.
150 views
Submitted Nov 2, 2016
I'm Kevin, ever since I finished school at 18, the dream was always to go travelling and see the world. After finishing 3 years at university as an Economics Major, bumming around for a year and then working for 6+ years, becoming a Professional Accountant, I quit my career, booked a one way ticket and never looked back.I want to share my travel experience in where to go, what to see and how to do it.
149 views
Submitted Nov 25, 2016
We believe that life need not be mundane, even while doing things like going to work and cleaning the house. Of course, we also love to travel (by using points and other travel hacking tools), spending time with our fur-baby Rosie, and preparing for our wedding next year.
158 views
Submitted Apr 2, 2016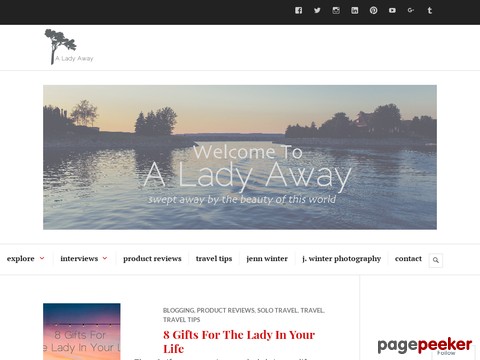 Exploring the world in ladylike fashion
183 views
Submitted Nov 10, 2014
Hi and welcome to a Land of Marvels, thanks for stopping by! This is me. Camilla. Mum of two with a gypsy soul. The love of travel has been with me for as long as I can remember, and I hope this website ignites the wanderlust in you too.
141 views
Submitted Jan 31, 2017
Im Julie - thanks for visiting my blog! Im a grad student living in London by way of New York, New Zealand, and the Outer Banks of NC. I love to travel, drink coffee, jump in the ocean, and write about it all here.
188 views
Submitted Jun 13, 2014
Since being old enough to travel on my own, most of my money has been spent on exploring the world and most of my time as been spent on planning on where to go next!
144 views
Submitted Feb 1, 2017
My name is Hebe Barlow. Im from England. I am currently in my second year of studying Ancient History at the University of Birmingham. I set up this blog because I love travelling, writing and photography – and this seems to be the best place to make the most of all of those things! I hope you enjoy having a read, or at least looking at my photos – enjoy!
163 views
Submitted Aug 19, 2015
round the world trip blog and travel advice, post trip
254 views
Submitted Feb 26, 2010
I am 11 years old and my aunt is homeschooling me through the sixth grade so we can travel through Asia until summer 2012! Right now we are living in Thailand, no idea where we'll go after

184 views
Submitted Jun 22, 2012
World traveler, adventurer, runner, and blogger. Aiming to inspire and empower women of ALL ages to explore the world.
145 views
Submitted Dec 22, 2016
My name is Christina Holthuis1 and I'm a long-term solo female traveler from Germany. I'm an Online Marketing & Photography freelancer currently staying in Dahab, Egypt. A Little Nomad wants to be a source of information & inspiration for every woman (and man!) who wants to travel more, better, cheaper and safer!
142 views
Submitted Jul 11, 2017

About Dave's Pick
Category Stats
Subcategories:
2
Listings:
6302 (6317 counting subcategories)
Regular:
6295
Dave's Pick:
7
Last listing added:
Nov 14, 2019