Blogs of Travel
The creativity & desire to share experiences among those who have been blessed with the passion, opportunity & ability to wander & explore is a beautiful thing. This is the *ULTIMATE* updated travel blog list on the web with over 8,500 travel blogs listed! We spend *significant* time searching for travel blogs not yet in this list. Focus is on domain name sites in English in the format: www.###.xxx. More info about this list here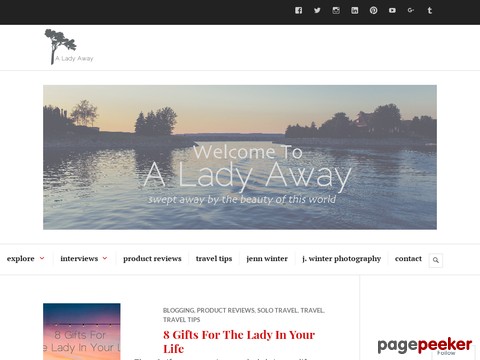 Exploring the world in ladylike fashion
41 views
Submitted Nov 10, 2014
Hi and welcome to a Land of Marvels, thanks for stopping by! This is me. Camilla. Mum of two with a gypsy soul. The love of travel has been with me for as long as I can remember, and I hope this website ignites the wanderlust in you too.
8 views
Submitted Jan 31, 2017 We are Richmond locals with a love of travel outside of our 9-5s. Alli is a middle school teacher, who can often be found waking up at the crack of dawn, repeating directions over and over to middle schoolers, and never having enough planning time. Ausha is a message therapist and small business owner, who can be found making clients fall asleep with her magic hands.
8 views
Submitted Dec 17, 2016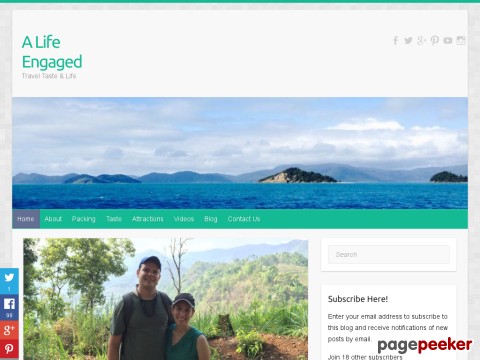 Travel Taste & Life
37 views
Submitted May 27, 2015
Im Julie - thanks for visiting my blog! Im a grad student living in London by way of New York, New Zealand, and the Outer Banks of NC. I love to travel, drink coffee, jump in the ocean, and write about it all here.
49 views
Submitted Jun 13, 2014
Im Nicole Bass. A girl with big dreams on a mission to live my best life and make a difference in the world. I want to inspire and empower others to believe in themselves and realise how extraordinary they are
44 views
Submitted Oct 27, 2013
Since being old enough to travel on my own, most of my money has been spent on exploring the world and most of my time as been spent on planning on where to go next!
9 views
Submitted Feb 1, 2017

January 2007 was a major turning point in my life. My husband and I sold our house, quit our jobs, pulled our kids (then 6 and 10) out of a school they loved, and sailed off on an adventure
50 views
Submitted Jun 20, 2013
My name is Hebe Barlow. Im from England. I am currently in my second year of studying Ancient History at the University of Birmingham. I set up this blog because I love travelling, writing and photography – and this seems to be the best place to make the most of all of those things! I hope you enjoy having a read, or at least looking at my photos – enjoy!
29 views
Submitted Aug 19, 2015
round the world trip blog and travel advice, post trip
116 views
Submitted Feb 26, 2010
I am 11 years old and my aunt is homeschooling me through the sixth grade so we can travel through Asia until summer 2012! Right now we are living in Thailand, no idea where we'll go after

48 views
Submitted Jun 22, 2012
World traveler, adventurer, runner, and blogger. Aiming to inspire and empower women of ALL ages to explore the world.
11 views
Submitted Dec 22, 2016
My name is Christina Holthuis1 and I'm a long-term solo female traveler from Germany. I'm an Online Marketing & Photography freelancer currently staying in Dahab, Egypt. A Little Nomad wants to be a source of information & inspiration for every woman (and man!) who wants to travel more, better, cheaper and safer!
4 views
Submitted Jul 11, 2017
I want my soul to be destroyed and then spiritually enlightened in India. I want to eat glorious food on the streets of Seoul, I want to relax on a beach in the Fiji, I want to drink tea in Morocco, I want to stand marveled at the views looking over Machu Picchu in Peru. I want to take photos of dinosaurs chasing me along Salar de Uyani in Bolivia. I want to learn to Tango in Argentina. I want to skydive in Australia. I want to help those in need in Nepal. I want to hear peoples stories in Myanmar.
12 views
Submitted Jan 26, 2017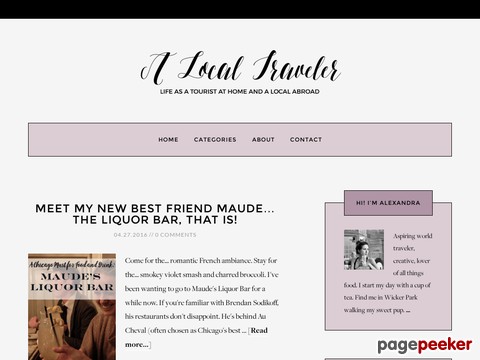 Aspiring world traveler, creative, lover of all things food. I start my day with a cup of tea. Find me in Wicker Park walking my sweet pup. ...
19 views
Submitted May 1, 2016
My name is Michelle and I hope youre excited to join me on a little travel adventure (or two or three).
49 views
Submitted Jul 6, 2013
Exploring the world – one trip at a time
21 views
Submitted Nov 22, 2015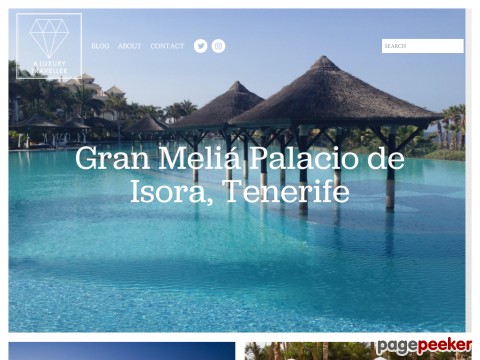 The earliest I trip I can remember is Saudi Arabia at the tender age of four, my father had been working out there and we had gone to visit. I loved that it was so exotic, not only just to me but also to anyone that I had told I had been there. Which is where it all began.
14 views
Submitted Aug 24, 2016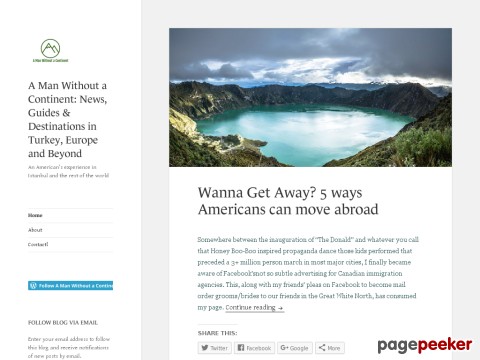 I'm an internationally published writer and editor who has lived in 3 continents. In the hopes of capturing the experience and passing it along to those who are interested in hearing about it.
7 views
Submitted Feb 6, 2017
My Name is Dale, I am a 20-something from Manchester. I decided to write this blog as a way to keep track on all my trips over the years and to give my thoughts on things I enjoyed (and those I didn't). I hope the blog inspires you to follow your own dreams and travel plans.
11 views
Submitted Jan 26, 2017

About Dave's Pick
Category Stats
Subcategories:
2
Listings:
8841 (8856 counting subcategories)
Regular:
8834
Dave's Pick:
7
Last listing added:
Nov 15, 2017