Boomer Travel
Great resources for the Boomer or mature traveler - offering specific trips, travel tips and more!

Boomer Women Travelers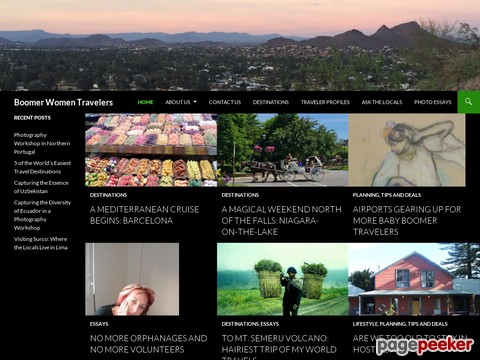 This new blog is for you, the vibrant community of international women of the baby boomer generation who love to travel. Here you share experiences, ideas and inspiration. Our content is provided by professional travel bloggers and writers as well as boomer women travelers from all walks of life.
340 views
Submitted Feb 13, 2013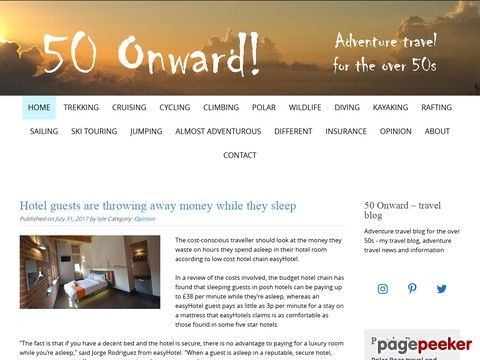 Adventure travel blog for the over 50s - my travel blog, adventure travel news and information
248 views
Submitted May 27, 2017
a light hearted blog for the fifty somethings
294 views
Submitted Jun 1, 2015
Home exchange 50plus is specifically for the older traveller. Swap your home with other like minded seniors for holidays in your own country or worldwide. Home & Hospitality Exchange lets you vacation and save money at the same time. Stay free - travel more. Free to join!




182 views
Submitted Aug 17, 2010
I created this website to help bring together a community of Empty Nesters, Almost Empty Nesters and anything in between. As we grow older we experience different stages in our lives... being an Empty Nester is a really big one! The kids have moved out of the house and we are ready for the next step. Arent we?
293 views
Submitted May 25, 2015
Welcome to the Fabulous Side of Fifty! Baby Boomers are fun, active and anything but traditional..
273 views
Submitted May 1, 2016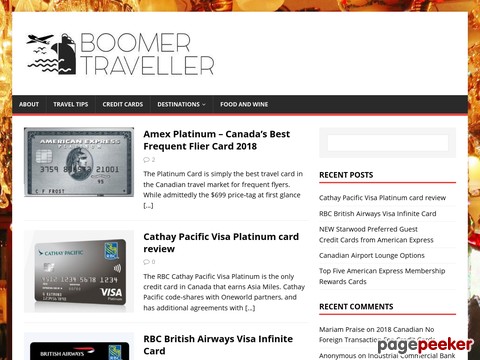 We are a life-team of two travel hacking Canadian Boomers on a mission to help other Canadian Boomers maximize their joy of travel. Over the last few years our intrepid travel cabal has learned the basics of the fine art of "travel hacking". It has been a life altering journey.
265 views
Submitted Dec 18, 2016
baby boomer travels for the body and mind
320 views
Submitted Jan 24, 2013
Calling all Baby Boomers! Get your passports ready because the Boomers Travel Club wants to show you the world through travel. Join us as we journey to urban spaces, exotic places, and everything in between. Your travel wishes are our command — we want to help you fulfill your dreams and check off your bucket list.
264 views
Submitted Dec 17, 2016

we are destinationboomers.com – a place to share our travel successes but for those of us who also not only "live to travel" – but enjoy design, gardening, cooking – please jump in here as well!
325 views
Submitted Sep 3, 2013
www.eldertreks.com
1560 views
Submitted Feb 26, 2010
An empty nesters journey of rediscovering life after the kids have flown the coop through travel and adventure
267 views
Submitted Apr 2, 2016
I'm Yvonne, and this is my blog.
266 views
Submitted Jun 5, 2016 In 2009, we began Fab Placez, a Suzy spin-off, our focus is the 50+ traveler. Use our Weekend Escapes to find and plan your next get-away. Travel tools include short videos, suggested agendas and maps.
326 views
Submitted Dec 12, 2012
Flying Companions LLC offers a service to help seniors -- or persons who need a little extra assistance -- remain independent and traveling by air. Flying Companions provides an experienced and insured companion to travel with the client from any national or international commercial airport and helps the senior through the entire airport process and the flight.
542 views
Submitted Feb 26, 2010
Gen X Traveler is about regional and global travel and focuses on active adventures. The mission of this website is to encourage Generation X to get out and explore the world around you, now rather than later and to show you the many possible ways of achieving your travel dreams. My promise is to educate, entice and encourage readers to travel for a day a week, a month or even a year.
295 views
Submitted Aug 20, 2015
I spend my time writing web content and travel articles as I move from country to country visiting friends and family
321 views
Submitted Jun 23, 2010
David & Veronica are experiencing the collision of Baby Boomer and Empty Nester. We decided to grab life by the horns, sell the nest and become GypsyNesters!
308 views
Submitted Jul 25, 2014
Welcome to Travels Through Midlife, a blog where I share traveling, writing, and navigating the changes that come with getting older.
212 views
Submitted Dec 21, 2015
advice on travel after 50
269 views
Submitted Jul 17, 2012

About Dave's Pick
Category Stats
Listings:
35
Regular:
34
Dave's Pick:
1
Last listing added:
Sep 10, 2018