Boomer Travel
Great resources for the Boomer or mature traveler - offering specific trips, travel tips and more!
Welcome to Travels Through Midlife, a blog where I share traveling, writing, and navigating the changes that come with getting older.
54 views
Submitted Dec 21, 2015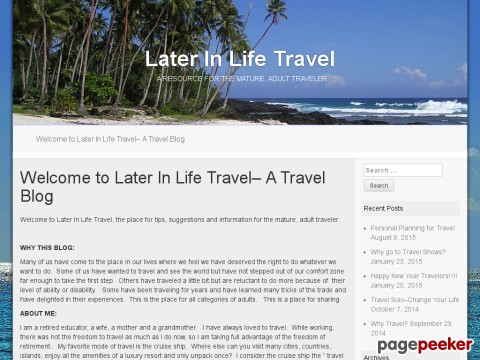 Welcome to Later In Life Travel, the place for tips, suggestions and information for the mature, adult traveler.
26 views
Submitted Dec 26, 2016
advice on travel after 50
112 views
Submitted Jul 17, 2012
The travels of an old(er), solo, female traveler
116 views
Submitted Mar 9, 2010
the source for travelers 50+ beyond the typical
99 views
Submitted Feb 17, 2012
I'm a daydreamer with an insatiable wanderlust and an affinity for all things quirky – which is what inspired me to start blogging in the first place. It's not all about jetsetting and being a free spirit though, I have my fair share of commitments with a full-time job, house and mortgage but, together with my husband, I always endeavour to make the most of my hard-earned money and vacation time by seeing as much of the world as I can… and I hope that this blog will inspire others to do the same.
46 views
Submitted Dec 26, 2015
Ill be sharing how Im stepping out of my comfort zone to enjoy life to the fullest.
55 views
Submitted May 31, 2015
Retired-Nomads – A site for travellers, not just retired ones.
22 views
Submitted Apr 2, 2017
We've always loved to travel and now that we're retired we travel even more. We love cities, outdoor activities, adventure, geocaching, and meeting new people. We travel by plane, train, automobile and cruise ship…whatever takes us where we want to go. We don't always go the cheapest route but we do try to be frugal using any means possible to get the lowest price on whatever we do.
37 views
Submitted Jan 30, 2016
directory of travel sites for seniors interested in traveling
166 views
Submitted Jun 3, 2012

Insure For All specialise in arranging travel insurance policies for the over 65's. Also provides travel tips and guidelines for the older traveller.
583 views
Submitted Feb 26, 2010

earning points for boomer travelers
53 views
Submitted Sep 10, 2014
After twenty incredibly wonderful and busy years of life centered around my kids, they've flown the coop. These are my tales from the empty nest.
59 views
Submitted Mar 30, 2014
For the Senior Traveller
37 views
Submitted Dec 22, 2015
Were Shelley and Darrell – graphic designers, empty nesters, and travel addicts.
50 views
Submitted Aug 11, 2014

New to travel? Do you want to travel more but haven't figured out a way to keep it affordable? Perhaps you finally have the time to travel, so you want to be prepared and do it right. The Boomers at Travel For Boomers are here to help. Our contributors offer many years of experience with all different types of travel. And we want to help you enjoy traveling where you want, when you want, how you want, and as inexpensively as possible.
75 views
Submitted May 25, 2012
Were Kristin Henning and Tom Bartel. In 2010, we sold our business, our home, our possessions, and gave away our dog (to a good home.) We&#39
70 views
Submitted Jun 28, 2013
travel the world for mature travelers
33 views
Submitted Apr 2, 2016
website dedicated to the elderly traveler
1310 views
Submitted Feb 26, 2010
Im Paul Marshman, a writer, photographer and traveller living in Toronto, Canada. At age 62, Im semi-retired from my 30-year career as a reporter, editor and photographer on Canadian newspapers and magazines
72 views
Submitted Oct 9, 2013

About Dave's Pick
Category Stats
Listings:
42
Regular:
41
Dave's Pick:
1
Last listing added:
Sep 10, 2018