Calling Cards
Calling Cards & Prepaid Cards. Services for when you are on the road or at home. Also visit our: Mobile Phones page
Vox Call is a high-quality prepaid international calling service you can use with any phone. There are no hidden fees, no contracts, and it works automatically with your current carrier. Save up to 95% off traditional long distance plans.
162 views
Submitted Feb 26, 2010
Save your money and time! Our shop brings you a wide variety of Cards and provides Automatic Search for the Best calling Rates. Buy a card Online!
494 views
Submitted Feb 26, 2010
rent or purchase a cell phone for an abroad trip, also country specific SIM cards available
112 views
Submitted Mar 27, 2010
Low cost international calling from over 150 countries. Great calling rates plus voicemail, 24/7 customer service and online recharge ensures travelers can stay in touch with family and friends
507 views
Submitted Feb 26, 2010
Reverse any phone number instantly. Run a free reverse cell phone number lookup and search our reverse phone directory. Find the owner of any cell phone or unlisted number within minutes. Results include name, current address, carrier, and location details when available.
336 views
Submitted Feb 26, 2010

ZS Comm Phone Cards, offering online calling cards to call international destinations since 2002.
169 views
Submitted Feb 26, 2010

call for very reasonable rates
371 views
Submitted Feb 26, 2010

We offer quality low rate phone cards to call from USA to anywhere in the world. Our prepaid phone cards and calling cards are cheap, clear, and easy to use. Buy phone cards here and save big on international calls.
823 views
Submitted Feb 26, 2010
Great local access rechargeable phone card that can be used from the US, Canada, Central America, and Europe.

Great low rates and top tier quality!
837 views
Submitted Feb 26, 2010
We carry over 900 Products for calling international and domestic from different carriers & network with instant PINs delivery at discounted price
793 views
Submitted Feb 26, 2010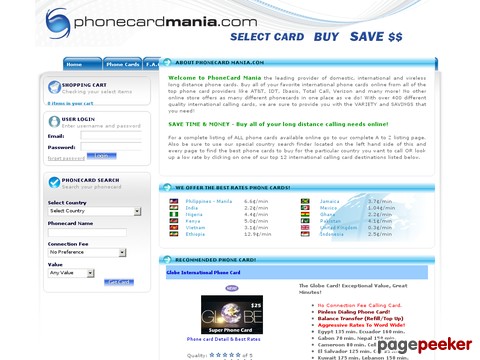 Prepaid Phone cards with great rates! Ideal for travelers and we feature a number of prdcuts which can be used from overseas and from South America!
663 views
Submitted Feb 26, 2010
Pingo is a pre-paid calling card service that offers great rates on international and domestic long distance, along with unbeatable quality, simplicity and convenience. And unlike some other calling cards, there are no hidden charges or fees with Pingo international phone cards—just a nominal monthly maintenance fee.
83 views
Submitted Feb 27, 2012

Prepaid phone cards are the cheapest international prepaid calling cards provider.Order cards online with low calling rates and use it at home without any connection fee.Get a PIN by Email and make a International Phone Calls from the comfort of your Home.
369 views
Submitted Feb 26, 2010

Provides with domestic phone card and international phone cards and prepaid calling cards for over 300 countries.
404 views
Submitted Feb 26, 2010

Mycellworld Offers accessories for your favorite Mobiles, PDA?s like Blackberry Accessories, Treo Accessories, Motorola Q Accessories, Bluetooth Accessories, cases, batteries, Headsets etc.
238 views
Submitted Feb 26, 2010
Unlock ANY iPhone (1G,3G,3GS) easily and safely with our unique 1 click software, all versions guaranteed. Unlocking the iPhone takes 2 minutes, no computer knowledge required. Includes lifetime support and software updates
88 views
Submitted Feb 26, 2010

About Dave's Pick
Category Stats
Listings:
16
Regular:
16
Last listing added:
Feb 27, 2012