Albania
Albania Travel
Albania Holidays a leading Destination Management Company invites you to be part of a unique experience, discovering an unknown but fascinating country.
33 views
Submitted Jul 18, 2012
an excellent resource from Travel Notes
277 views
Submitted Feb 26, 2010
the home of Albanians online
111 views
Submitted Feb 26, 2010
Ensure a unique and safe travel experience. Book your dependable Tour Guide today WITH US..
24 views
Submitted Jul 18, 2012
Visit now Albania and you see a country in the bright, gurgling throes of adolescence. Capital Tirana is petulant and precocious, wants to wear make-up and stay up late at night. The übercool Bllok district is now a grid of bars, restaurants and clubs but 20 years ago it used to be a sealed zone for party bosses only.
36 views
Submitted Jul 18, 2012
offering a variety of tours for all of Albania
23 views
Submitted Jul 18, 2012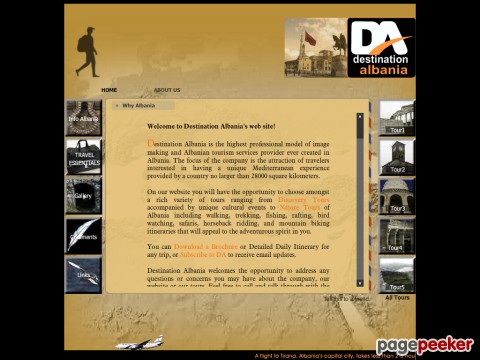 focuses on holidays of exploration and discovery
25 views
Submitted Jul 18, 2012
ECOTOURALBANIA is composed by a professional team, who loved nature and their country. The common goal for the development of ecotourism in Albania has made possible the creation of a network of associates as professionals in the field of tourism, local guides, inhabitants, local government representatives and national and international NGOs.
33 views
Submitted Jul 18, 2012
Welcome to Freddy's Hostel, or at least welcome to the website advertising Freddy's Hostel. You can virtually sleep here but we recommend you book a bed and stay at the actual hostel to enjoy a peek at what Tirana has to offer.
25 views
Submitted Jul 18, 2012
Go Albania Travel & Tour is a tour operator based in Korca. We are a dynamic company, passionate about our work, and dedicated to our clients.
24 views
Submitted Jul 18, 2012
Built in 2001, the four-star Hotel is located in the heart of Tirana, on the most beautiful green area, just a few meters distance walking from the main boulevard, the Presidential Palace and all major embassies.
30 views
Submitted Jul 18, 2012
Experience City Hotel Tirana, a pleasant family-owned hotel, offering exquisite service, located in the very excellent and confidential heart of Tirana.
25 views
Submitted Jul 18, 2012
The location directly on Boulevard Dëshmorët e Kombit and the international standards regarding security and comfort, makes the business hotel Europapark the meeting place of the economy, diplomacy, culture and Albanian lifestyle. The seat of Parliament, President's Office, Prime Minister's Office and many important embassies are within walking distance.
27 views
Submitted Jul 18, 2012
Make your visit to Tirana, Albania an enjoyable experience by staying at the Hotel Mondial. At the Mondial you will find the right combination of comfort and convenience. Take a look around our web site and get a glimpse of what awaits you at the Hotel Mondial.
40 views
Submitted Jul 18, 2012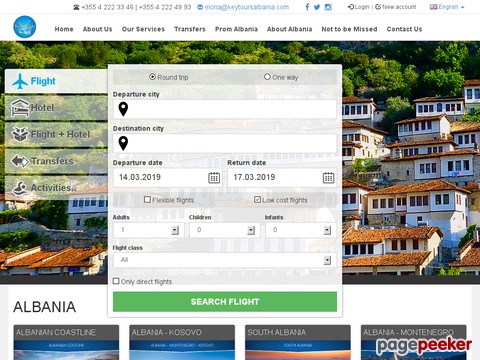 To make it happen, Key Tours Albania delivers to all customers first hand knowledge, a wealth of timely service information, full attention to every detail, insistence on quality and uncompromising commitment to total customer satisfaction. We will offer you the very best in the Albanian market and in the area. That's a promise that we will keep.
29 views
Submitted Jul 18, 2012
Introducing Loreni Hostel, Tirana's freshest hostel in one of new Europe's up and coming capitals.
25 views
Submitted Jul 18, 2012
We are a specialist travel agency/tour operator, located in Tirana, Albania. We were found in 1992 by travelers who pioneered sustainable tourism (eco travel) in Albania. We love our country and we love to show our guests, who come from all over the world, the wonderful beauty, culture and traditions of this little known corner of the Mediterranean.
34 views
Submitted Jul 18, 2012
Discover the unexploited world of Albania.... experience a unique magical journey to a place where time appears to have stopped long ago. Albania is one of the few countries that combine an unspoiled environment of long diversified beaches, extensive wild and mountainous forests, isolated picturesque villages, and forgotten realms of ancient civilizations whose marks spring up glorified throughout the country.
24 views
Submitted Jul 18, 2012
Theranda is an elegant hotel in a central position
17 views
Submitted Jul 18, 2012
Tirana International Hotel & Conference Center is located in Tirana City Center
14 views
Submitted Jul 18, 2012

About Dave's Pick
Category Stats
Listings:
23
Regular:
23
Last listing added:
Jul 17, 2012