Belgium
Belgium Travel
Flanders, the Dutch-speaking part of Belgium, became infamous in World War I to the soldiers in the trenches. John McCrae wrote his most famous poem in Flanders near Ypres: "In Flanders Fields the poppies blow, between the crosses row on row... "
19 views
Submitted Jul 19, 2012
The Albion Hotel offers its hospitality in a handsome accommodation in Ypres, a city in Flanders (Belgium). The building has been entirely renovated and turned into a hotel
17 views
Submitted Jul 19, 2012
Anselmus Hotel is one of the most beautiful family run hotels in Brugge - Bruges.
17 views
Submitted Jul 19, 2012
Over the last 30 years, this coach tour has proved the most popular and well-known of ARAU's tours. The tour helps participants to understand the place of Art Nouveau in Brussels, its origins, its technical and stylistic characteristics, and the personalities of its most well-known architects
17 views
Submitted Jul 19, 2012
Ariane hotel offers you different types of rooms: most of our rooms are for 2 persons but we also do have triple rooms and prestige rooms which are spacious enough to put extra beds for children.
20 views
Submitted Jul 19, 2012
A seminal totem in the Brussels skyline
17 views
Submitted Jul 19, 2012
We are looking forward to welcome you in our bed&breakfast in the historical "Unesco world heritage" centre of Bruges. Our guesthouse is located in a quiet and historic quarter near the 14th Century St.-Gillis Church. A romantic walk of 7 minutes along the different canals will lead you towards the Grand'Place, the chocolate museum or the lace centre.
17 views
Submitted Jun 24, 2012
The Belfort Hotels of Bruges wear their three or four stars with pride. These unique boutique hotels bring a smile to their guests' faces.
19 views
Submitted Jun 24, 2012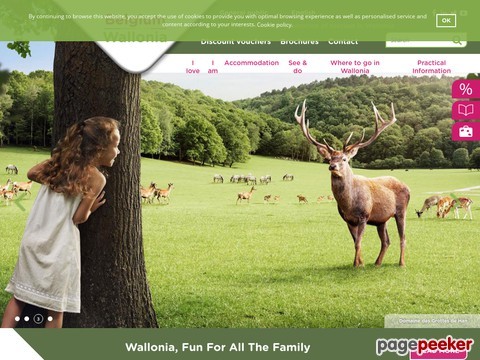 a very clever play on their domain name country extension of .be - this is the official tourism guide for Brussels and Wallonia
86 views
Submitted Feb 26, 2010
An enthralling historical passage through Medieval Ghent admiring its wide
31 views
Submitted Jul 19, 2012
we welcome you in our Guesthouse Bonifacius. The B&B Bonifacius dates from the 16th century. It has a location overlooking the canal and its situated in the centre of Bruges.
21 views
Submitted Jun 24, 2012 info on Bruges about hotels, bed and breakfasts, travel, history, getting there, maps, news, weather, tours, restaurants, chat, newsletters, events and over 500 photos
291 views
Submitted Feb 26, 2010
all about the main International airport in Brussels
21 views
Submitted Jun 24, 2012
Come join us at the "Capital of Europe" for a fun and easy bike tour of Brussels. We will show you the city in a unique way. Our tours will let you discover the most remarkable places in town at a gentle pace.
38 views
Submitted Jul 19, 2012
Our guides are very professional, competent and multilingual and ready to answer all your questions. Our drivers are very experienced and are driving you comfortable and safely on our roads. We are confident that this team will make your stay in Belgium unforgettable.
23 views
Submitted Jun 24, 2012
If you are planning to come and visit Belgium, the best place to be is in the center of Brussels. Our beautiful guesthouse is close to the center and you are welcome to come and stay with us. You need at least 2 nights and we have a limit of 10 people. The house has an interesting history and is located at around 15 minutes on foot from the Brussels Grand Place and the European Commission Offices or conveniently for railways, trams and metro . Our guesthouse has a free wireless internet connection for guests who'd like to use their notebook and an internal parking space is also for free at your disposal.
25 views
Submitted Jun 24, 2012
Brussels Walks is a spin-off of Klare Lijn, an organisation that started developing guided tours in Brussels in the magical year 2000.
21 views
Submitted Jun 24, 2012
Camalou: B&B in Ypres provide accommodation in a stylish guesthouse located in Flanders. Camalou build in the 19th century is one of the few properties from the Ypres Salient who survived the destruction caused by the Great War.
18 views
Submitted Jul 19, 2012
Here on CheeseWeb you will find all of the things I am passionate about
18 views
Submitted May 4, 2010
Hotel Cordoeanier is centrally located in a quiet side street close to the market square, at the heart of the medieval town of Bruges, which is also called the Venice of the North.
18 views
Submitted Jul 19, 2012

About Dave's Pick
Category Stats
Listings:
58
Regular:
58
Last listing added:
Sep 29, 2013