Bhutan
Bhutan Travel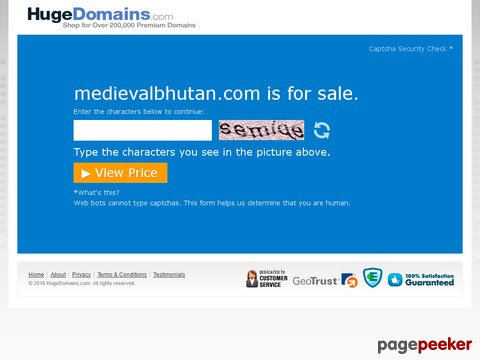 Medieval Bhutan Tours, your Bhutan travel Partner is a government registered tour agency that fulfils all the needs of our guests and provides the best service in a Bhutanese way. We do make an extra effort to help our guests in all areas of trip arrangement. Our travel packages of Bhutan can be customized to suit every taste of our clients.We promise unfailing commitment to offer you an experiences that go beyond your expectations when you travel to Bhutan.
29 views
Submitted May 15, 2010
Naksel, a community-based project that is eco friendly and Energy Saver efficient, blends the heritage of traditional Bhutanese architecture and the comfort of modern amenities. Main construction materials for Nak-Sel are indigenous and locally purchased. Traditional windows, mud-bricks, framework and even furniture were locally crafted here in Ngoba Village, connecting Naksel to the surrounding forest.
11 views
Submitted Jul 20, 2012
www.pbs.org/edens/bhutan
199 views
Submitted Feb 26, 2010
Retty Tours and Treks is a registered tour company with the Tourism Council of Bhutan (TCB) and it is also a member of The Association of Bhutanese Tour Operators (ABTO). We organize and offer customised trips to Bhutan , tour packages to Bhutan, trekking packages to Bhutan and travel information related to Bhutan Tourism.
68 views
Submitted Jul 20, 2012 Karma Dorji offers treks to Bhutan - based in Central California
216 views
Submitted Feb 26, 2010
Snow White Treks and Tours is a Bhutanese culture and nature tour company. It is based in Thimphu, the capital of Bhutan. The tour company is registered with the Tourism council of Bhutan and is a member of Association of Bhutanese Tour operators (ABTO).
62 views
Submitted Jul 20, 2012
Terma linca is a sleek, minimalistic resort nestled on the bank of a glacier fed river that ethereally snakes through the heart of the capital, Thimphu.Sunning mountain landscape and pristine environment surround the resort, making it a favored destination for many who visit our country. The location, together with tis elegant architecture and refined simplicity, gives Terma Linca an understated magic lull to it. It is a perfect getaway. So peaceful, one can simply sit by the river banks and watch the world go by.
43 views
Submitted Jul 20, 2012
Silver Dragon Tours and Treks (SDTT) is one of the few successful tour companies which was started with a genuine interest on the part of the management to give all the guests, who come through SDTT, a true Bhutanese experience and holiday.
34 views
Submitted Jul 20, 2012
official government tourism burea
99 views
Submitted Jul 20, 2012
an unforgettable journey of a lifetime
36 views
Submitted Jul 20, 2012
offering cultural tours, trekking adventures, bird-watching trips, and biking tours to Bhutan, a kingdom in the Himalayas. Also includes travel and country information
285 views
Submitted Feb 26, 2010
Dhenzang Travel invites you to Bhutan and feed your senses with the wonders and surprises this Himalayan Kingdom is bountiful with. Dhenzang Travels cares for your satisfaction as much as this exotic country does!
71 views
Submitted Jul 20, 2012
Bhutan Men-Lha Adventures is a government licensed Tour and Travel operator based in Thimphu Bhutan. We are the local based tour and travel operator with an experienced in arranging all kind of tours and travel packages in Bhutan.
30 views
Submitted Jul 20, 2012
Travel Agents In Bhutan: Bhutan Visa, air ticket and necessary land arrangement for travel to Bhutan
51 views
Submitted Jul 20, 2012
Tired of the Pell-mell of city life? Here's your chance to enjoy the serene gaiety and carefree and Luxury of the lovely woods. And the best part of it is that this ultimate escape is just a stone's throw(6 Km) from the capital. Wangchuk Resort is an extension of the seven acres of pristine forest where the past an the present blend seamlessly to give you an experience like no other. The setting embodies the best of Bhutan's traditional intimacy with the environment while the service keeps abreast with the best in the business.
16 views
Submitted Jul 20, 2012
The flagship company of Wangchuk Tours & Treks has been in the tourism business for 15 years and currently has 3 hotels in Bhutan and a handicraft business
13 views
Submitted Jul 20, 2012
Yeoong Travels, a Bhutan tour operator, has the insight and understanding of what your Bhutan holiday means. We will guide you to the finest that Bhutan offers. We do so by being flexible and offering tailor-made Bhutan Travel Packages to our valued guests.
15 views
Submitted Jul 20, 2012
Yu-Druk Tours and Treks is among the oldest travel agencies in Bhutan established when the tourism industry was privitized in 1991. From the start we specialized in personalized services catering to the individual needs of our guests. Over the years we have honed our skills in personalized services and have moved away from quantity to quality. While other travel agencies favor catering to large groups, we prefer to serve smaller groups - at the same rates as the larger groups.
10 views
Submitted Jul 20, 2012

About Dave's Pick
Category Stats
Listings:
78
Regular:
78
Last listing added:
Oct 7, 2018