Canada
Canada Travel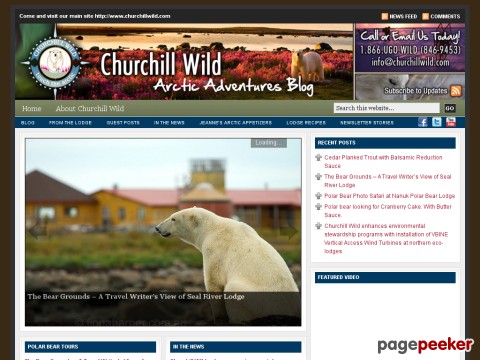 Churchill Wild boasts two luxury wilderness eco-lodges on the Hudson Bay Coast. Ideally situated to access and watch a great variety of wildlife, our location is part of what makes ours the most unique polar bear, beluga whale and northern lights viewing adventures on the planet.
25 views
Submitted Jul 31, 2010
Backpackers Hostels Canada (Auberges Backpackers Canada) represents most of the private (non-HI ) hostels across Canada. Backpacking and hostelling are synonymous terms in theindustry, and we have over 120 facilities from coast to coast
259 views
Submitted Feb 26, 2010
Canada Cool is produced by award-winning Canadian travel journalist Lucy Izon. Her travel stories & reports have appeared in numerous leading North American publications
14 views
Submitted Sep 13, 2014
Essential Information for Canadians abroad
57 views
Submitted Mar 11, 2010
the Canadian tourism commission
126 views
Submitted Feb 26, 2010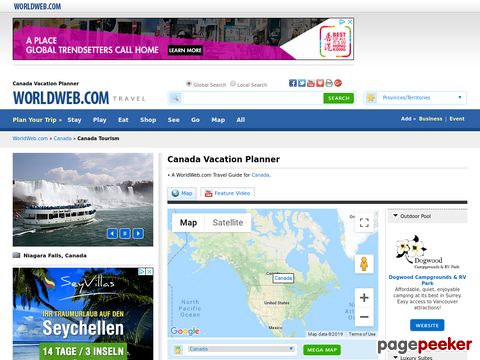 Canada Worldweb
214 views
Submitted Feb 26, 2010
Building on renowned travel writer and TV host Robin Esrocks groundbreaking new book, The Great Canadian Bucket List helps you discover Canada's ultimate activities and destinations.
53 views
Submitted Oct 18, 2013
Sue Frause is an American journalist. She's had a major crush on Canada ever since she visited British Columbia as a young girl. Even if your heart doesn't pitter patter over all things Canadian, read on. You'll find photos, travel tips, road notes and the latest news and thoughts about our friends north of the 49th parallel. Cool idea, eh?
32 views
Submitted Jun 20, 2010
The Day Trips Canada website is a massive undertaking to provide Canadians and those visiting Canada with the ultimate resource for discovering all that Canada has to offer.
52 views
Submitted Jun 20, 2010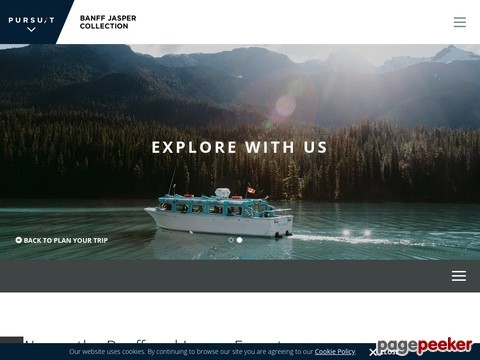 Welcome to the Canadian Rockies. ExploreRockies.com, a division of Brewster Inc. offers a collection of the ultimate activities, attractions and tours in the Canadian Rockies. Plan and book your activities, airport shuttles, attractions and Brewster sightseeing tours in Banff, Lake Louise, Jasper, and Calgary from here or visit our new activity centers in Banff National Park. This is the official site of the renowned Banff attractions in the Rockies like the Banff Gondola, the Columbia Icefield Glacier Experience and Minnewanka Lake Cruise in Banff National Park.
31 views
Submitted Jun 18, 2010
over 3000 images of over 60 parks, gardens and feature areas of Greater Vancouver, Fraser Valley and the Sea to Sky Highway to Whistler/Blackcomb
195 views
Submitted Feb 26, 2010
located on the beautiful wooded shoreline of Harrison Lake in Harrison Hot Springs, British Columbia
169 views
Submitted Feb 26, 2010
a Backpackers Travel Guide to Canada - incidentally this was the 8000th link submitted to this site. Crazy eh!!!

~ Dave
44 views
Submitted Feb 27, 2010
Travel guide to Canada, tourist information and holidays
95 views
Submitted Feb 26, 2010
This website
34 views
Submitted Jun 20, 2010
discover the Canada you don't know
26 views
Submitted Jun 22, 2010
Absolute MUST DO Adventures across the country
49 views
Submitted Aug 29, 2013
This blog is maintained by Glenn Cameron and Judy Hammond (aka Canada's Boomergirl), with contributions and guest posts by a handful of fellow Canada-lovers. It serves as an outlet for some of our Canadian photography and ideas and allows us to share our love of this gigantic piece of geography and the people who call her "home".
21 views
Submitted Nov 8, 2013
travel talk Canada
27 views
Submitted Aug 29, 2013
official site of Canadian tourism
116 views
Submitted Feb 26, 2010

About Dave's Pick
Category Stats
Listings:
21
Regular:
21
Last listing added:
Sep 12, 2014