China
China Travel
small groups, guaranteed departures, quality accommodations
254 views
Submitted Feb 26, 2010
China Mainland, Tibet, Yunnan, Central Asia, Pakistan, Desert trekking, Biking tour, Jeep Safari, Mountain Expedition & Trekking, Classic Silk Road tours...
225 views
Submitted Feb 26, 2010
I am a freelance writer and cooking instructor who is somewhat obsessed with Chinese food around the world. My childhood is partly to blame
111 views
Submitted Jun 23, 2010
China has 1.3 billion people and 5.4 million mops. This is their story
69 views
Submitted Nov 9, 2012
Beijing Discovery Tours is an American and Chinese operated company offering exceptional tourism services to the Great Wall, the Forbidden City, the Temple of Heaven and all of Beijing as well as fantastic journeys across the untamed and relatively unexplored frontiers of China. Beijing Discovery Tours also offers specialized tours to immerse yourself in the amazing 5,000 year-old Chinese culture. EXCLUSIVE tours of Tibetan villages in Southwest China are coming soon.
131 views
Submitted Feb 26, 2010
Where to stay in Beijing? Best Beijing hotels from luxury accomodations of international 5-star hotels, to budget hostels in hutongs; find your best places to stay in Beijing.
48 views
Submitted Aug 8, 2010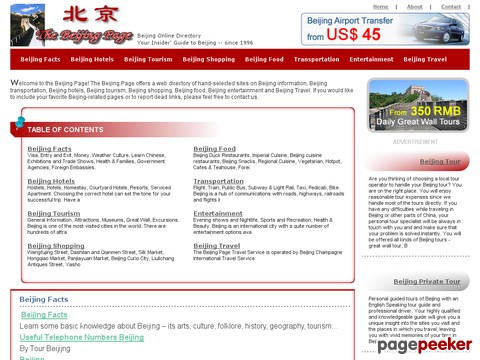 Beijing Online Directory - Your Insider' Guide to Beijing -- since 1996
43 views
Submitted Apr 20, 2010
This site aims to help visitors, both short term and long term get acquainted with Beijing. We are a fairly recently established travel guide (July 2003) and welcome your comments, suggestions and questions. Our mission is to be the best Beijing guide available on the web.
52 views
Submitted Apr 3, 2010
Beijing Trip provides extensive Beijing travel information on hotels, attractions, dining, shopping and Beijing tour packages as well as China tours.
69 views
Submitted Apr 28, 2010

Lanterns in Lijiang. Zen gardens and waterways. Teddy bears and tea houses. Putuoshan... the island that time forgot. Sailing through karst mountains. Build your own China adventure.
125 views
Submitted Feb 26, 2010
China Culture Center (CCC) is the premier cultural education organization & licensed cultural tour travel agency for anyone (expatriates and foreign visitors) in Beijing and China looking to deepen their understanding of Chinese culture.
40 views
Submitted Apr 25, 2010
offering customized tours, culture tours, overland, hiking, adventure in Tibet and rest of China
150 views
Submitted Feb 26, 2010
highlights of China
165 views
Submitted Feb 26, 2010
Stories from trekking across China
92 views
Submitted May 17, 2013
bilingual guides, fully escorted - well designed itineraries
245 views
Submitted Feb 26, 2010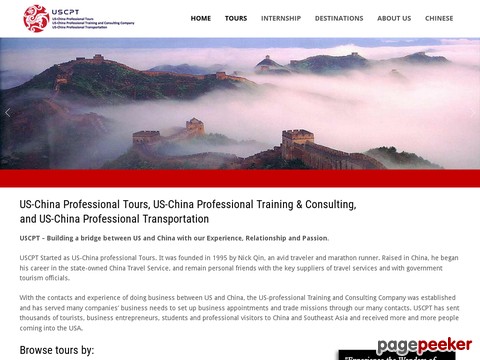 We at China Professional Tours are proud to offer a variety of whole-sale tour packages as well as specialized programs for travelers to China and the rest of Asia
178 views
Submitted Feb 26, 2010
first class travel at bargain prices, China tours and trips
102 views
Submitted Feb 26, 2010
the world's highest train - bottled oxygen is provided for passengers!
138 views
Submitted Feb 26, 2010
China tour operator offers customized individual china tours and Yangtze River Cruise with great value and services
138 views
Submitted Feb 26, 2010

China Tour Center offers China tour packages at economical prices. They are specialized in customizing China tours for you, families and group travelers.
40 views
Submitted Jan 28, 2014

About Dave's Pick
Category Stats
Listings:
61
Regular:
61
Last listing added:
Jun 28, 2016