Cyprus
Cyprus Travel
To encourage universal understanding of individual wellness and health both by motivating and educating members, potential members, government and the consumer as to the many social and economic benefits to be gained from the development of the Cyprus Spa Association.
13 views
Submitted Aug 3, 2012
Feel like a local with our journey to some of the island's hidden food establishments, away from the tourist hot-spots. You'll be sampling all kinds of authentic snacks and dishes whilst exploring the backstreets of Cypriot towns and sharing the experience with new faces. When it comes to food, Cypriot cuisine is guaranteed to please your taste buds!
11 views
Submitted Aug 3, 2012
Cyprus Taxi - Airport Transfer Services & Tours is Cyprus' leading and best taxi company, with a dedicated team of operators and drivers on-call 24 hours a day, seven days a week.
26 views
Submitted Aug 3, 2012
Cyprus taxi cabs provides professional and cheap taxi services in Cyprus 24/7. Book now your taxi service to Larnaca airport, Limassol, Nicosia, Paphos.
5 views
Submitted May 19, 2017
CyprusTravelAgencies.com is a Vertical Portal that aims to feature all the major Travel Agencies and Tour Operators in Cyprus. Our directory includes travel agents that provide high quality services and from whom you can buy travel packages for Cyprus and abroad, airline tickets, hotel reservations, cruises in Mediterranean locations, safari trips and everything that you may ever need for your holidays.
9 views
Submitted Aug 3, 2012
Cyprus Underwater Explorers offer a complete range of Introductory courses, PADI courses, daily diving, night dives and dive packages.
11 views
Submitted Aug 3, 2012
Cyprus villa for rent, Cyprus golfing holiday. Beautiful stone cottage for rent in the most tranquil village in Cyprus. Stunning customer reviews.
106 views
Submitted Feb 26, 2010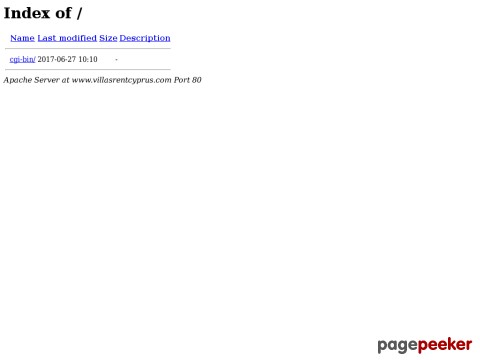 Cyprus holiday villas for Rent. Luxury villa in Paphos. Accommodation rentals in self Catering Villas.
91 views
Submitted Feb 26, 2010
General information about Cyprus island - General information about the main areas and resorts of Ayia Napa, Larnaca, Limassol, Nicosia, Paphos, Protaras and Troodos Mountains
9 views
Submitted Aug 3, 2012
Crewed luxury motor yachts, superyachts and mega yachts for every vacation.We create the finest private charter vacation holidays.
17 views
Submitted Aug 3, 2012
The only resource on the net covering the whole island, includes information such as hotels, holiday and tourist information, car hire, properties, real estates, construction, education, etc.
124 views
Submitted Feb 26, 2010
Join us on the best fishing experience from Protaras or Ayia Napa. Our expertise ensures that you will have the most memorable sea fishing trip that is available.
4 views
Submitted Aug 3, 2012
Relaxed, patient tuition with a native English speaker from Belfast, Northern Ireland.
15 views
Submitted Aug 3, 2012
Direct Traveller's sustained growth as a North Cyprus specialist holiday tour operator is a result of comprehensive levels of service in Northern Cyprus, with informative travel consultants in the UK, and a leading representative service throughout Northern Cyprus, both in Kyrenia resort and Famagusta resort
104 views
Submitted Mar 31, 2010
easy divers dive shop
14 views
Submitted Aug 3, 2012
Our Larnaca Dive Centre offers a full range of Technical and Recreational diving and courses. We have our own TDI Instructor Trainer and a team of Technical Instructors and guides. We are able to offer custom built courses to suit all needs. We are the Zenobia experts with the wreck lying just 1500m from our door!
11 views
Submitted Aug 3, 2012
DiveZenobia.com is a group of enthusiastic dive pros who love to scuba dive the Zenobia and all the dive sites around Cyprus.
8 views
Submitted Aug 3, 2012
Dragon Divers are able to organize your complete diving experience. We cater for all standards and can provide PADI Training with IDC Staff Instructor, Mick Smith to meet your requirements. We specialize in guided dives both shore and boat entry on sites in the Larnaca, Protarus and Ayia Napa area's.
17 views
Submitted Aug 3, 2012
Offshore fishing in North Cyprus is a fun and relaxing trip at sunrise or sunset, for those who enjoy fishing. Our boat leaves from Girne harbour. Allow five hours for the trip.
15 views
Submitted Aug 3, 2012
At the most distinguished street, Dereboyu, which is the heart of Nicosia
17 views
Submitted Aug 3, 2012

About Dave's Pick
Category Stats
Listings:
102
Regular:
102
Last listing added:
May 18, 2017