Dominican Republic
Dominican Republic Travel
Welcome to the Twenty Seven Waterfalls of Rio Damajagua and the best adventure tourism site in the Dominican Republic! Nestled in the rolling hills of the Northern Corridor mountain range and behind the long stalks of sugar cane lays a treasure you won't find anywhere else in the world.
20 views
Submitted Aug 3, 2012
Living the life on a beautiful tropical island offers endless summers and sunshine where our passion lies in the experience of the ocean and the vibrant people of Cabarete and the Dominican Republic!
19 views
Submitted Aug 3, 2012
Cabarete is a small, laid-back Caribbean beach village located only 20 minutes away from the Puerto Plata International Airport on the northern shore of the Dominican Republic. It's a perfect tropical vacation spot. With its charming, hip ambience and a combination of relaxed and adventurous lifestyles, most visitors can barely resist the spontaneous temptation of extending their stay and just hang around the place for another while, and even move here permanently.
45 views
Submitted Aug 3, 2012
Ali's Surfcamp is perfectly located next to a quiet lagoon in Cabarete on the North Shore of Atlantic Ocean in Dominican Republic. The town center and the beautiful beach of Cabarete are only a two minutes walk from our place. We are just 30 min. away from the International airport of Puerto Plata.
18 views
Submitted Aug 3, 2012
Welcome to the Bobo's Surf's Up, the professional surfing school in Cabarete, on the north coast of the Dominican Republic. We are located directly at the surfing beach called 'Encuentro', one of the most famous surf spots of the Dominican Republic, where the Atlantic Ocean hits the north coast, creating good beach breaks, point breaks and reef breaks.
17 views
Submitted Aug 3, 2012
Affordable ocean front accommodation in Cabarete/ Cheap beach rooms in Cabarete/ Summer surf packages/ Backpackers in Cabarete/ Activities and tours in Cabarete/ Learn surfing and kitesurfing in Cabarete/ Caribbean beach vacation in the Dominican Republic in Cabarete
21 views
Submitted Aug 3, 2012
Cabarete Hostel is a very affordable and friendly place that welcomes travellers from all over the world, who are looking for a cheap and nice rooms in Cabarete. Whether your visit to Cabarete is for its world-famous watersports
19 views
Submitted Aug 3, 2012
Located in the heart of downtown Cabarete, Dominican Republic, N Day Spa is here to bring you a Caribbean experience with an International flavor. Whether you are coming to enjoy a deep tissue sports massage, an apple almond facial, or a body wax, a few of our many treatments, we are sure you will enjoy our relaxing spa atmosphere
21 views
Submitted Aug 3, 2012
Cheap and affordable lodging / Budget accommodations in Cabarete at our surf camp Hotel in the beach town Cabarete – Caribbean surf camp with surf school on site,
37 views
Submitted Aug 3, 2012
Finally, the most exhilarating tour available in the Dominican Republic is the new Canopy Adventure Tour opened recently in Anamuya, Bavaro, just a short distance from Punta Cana for an excellent half day tour. You already know about or have been to zip lines or similar sites, but this attraction has the broadest course with cables up to 700 meters long that are built within the canopies of the trees and provide the best jungle view!
18 views
Submitted Aug 3, 2012
Located on the exotic north coast of the Dominican Republic and directly on the crystal water, Casa Colonial Beach & Spa is the ultimate, world-class resort. This tastefully intimate resort, thoughtfully designed by Sarah Garcia, features an exceptional fusion of old-world elegance with distinctly contemporary style.
18 views
Submitted Aug 3, 2012
Casa Dorado offers a small hotel experience in the small fishing village of Las Galeras. Clear Caribbean waters, dramatic cliffs and extensive white sand beaches make Las Galeras an ideal destination for adventurous tourists and anyone see king to get away from it all. A small fishing community at the eastern end of the Samana Peninsula, Las Galeras boasts a quiet and serene atmosphere.
19 views
Submitted Aug 3, 2012
Cocotours, established in 1994, offers Dominican airport transfers, tours and excursions and hotel reservations. Headquartered in Punta Cana with a branch office in Puerto Plata, we cover the whole country. For a quotation, please fill out the form on the left of this page
21 views
Submitted Aug 3, 2012
We are Colonial Tour and Travel, Incoming and Wholesale Tour Operator and Travel Agency IATA in Dominican Republic. We are a reliable and experienced company with more than 10 years in the market
18 views
Submitted Aug 3, 2012
Your #1 source for Dominican Republic Resort Reviews and All Inclusive Vacations
18 views
Submitted Aug 3, 2012
Here on the north coast of the Dominican Republic we are fortunate to have some wonderful and very accessible dive sites in crystal clear, warm tropical waters in the beautiful Sosua Bay. Our many dive sites boast some of the most beautiful soft corals in the Atlantic Ocean as well as a wide variety of marine life.
39 views
Submitted Aug 3, 2012
Scuba Diving Dominican Republic – PADI certified dive boat operation located in Bayahibe, a small fishing village on the south coast of Dominican Republic. A place that offers some of the best dive spots for scuba diving on the Caribbean side of this beautiful island.
23 views
Submitted Aug 3, 2012
Dominican Republic News
176 views
Submitted Feb 26, 2010
Come visit us and discover the unspoiled beauty of the Caribbean, the North Coast of the Dominican Republic
21 views
Submitted Aug 3, 2012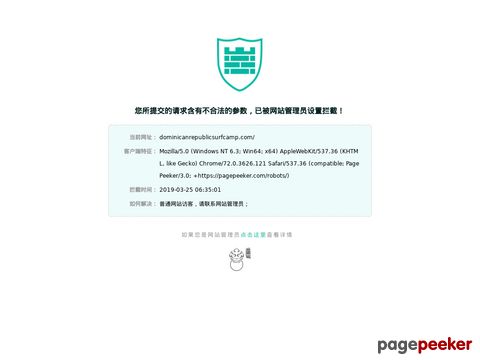 Dominican Republic Surf Camp is a new surf & kite surfing camp developed in Cabarete Beach located in the North coast of Dominican Republic. We have created the premier Dominican Republic Surf Camp. With care and technique, we'll immerse you self in the surfing & kite surfing world. We are selling a concept of learning vacations, which includes surfing, Kite surf, yoga and spanish. We have flexible programs (daily, weekly, monthly) to best suit your needs.
24 views
Submitted Aug 3, 2012

About Dave's Pick
Category Stats
Listings:
61
Regular:
61
Last listing added:
Nov 11, 2015