El Salvador
El Salvador Travel
The team of Eco Mayan Tours DMC our experience organizing events has been successful too. Our team puts its heart in each event with the commitment to offer Excellencies in the services. Your guarantee is our first hand knowledge of El Salvador as a destination. Our challenge becomes your success.
19 views
Submitted Oct 14, 2012
Hotel Miraflores is located at playa Las Flores, El Cuco at the east coast of El Salvador. Hotel Miraflores joins the warmth of home with the charm of a tropical getaway
12 views
Submitted Oct 14, 2012
Welcome to guesthouse El Balsamo. A friendly and comfortable place to stay in the Central American country El Salvador. Situated in the town of El Sunzal at only a three minute walk from one of the best and consisted point breaks of the country. With more then fifteen world class spots nearby El Balsamo is the ideal place to stay for your surfing holiday. El Balsamo is hosted by Gijs and Veronica and they will make sure you have a perfect holiday.
11 views
Submitted Oct 14, 2012
Welcome to one of Suchitoto's newest restaurants, art gallery hostel and tour company. We opened our restaurant, gallery and small tour company in October of 2007 and since opening to the public, our restaurant and gallery have gained a reputation for good food, low prices and an artsy atmosphere.
15 views
Submitted Oct 14, 2012
El Salvador news, in Spanish
205 views
Submitted Feb 26, 2010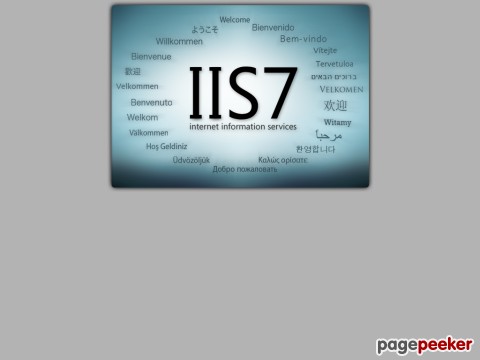 Our experience in the field of Service and Surfing is over 40 yrs this includes our guides here in El Salvador, which we can say are the best in the field, and we have the testimonials from our guest to prove it. Our main goal is to offer our clients a Dream Holiday with a totally safe and stress free during their time here with us.
11 views
Submitted Oct 14, 2012
An exclusive hotel with historic charm & style in colonial Suchitoto with : Suites with air conditioning, Gourmet restaurant & bar, Tropical gardens & pool
14 views
Submitted Oct 14, 2012
Imposible tours, started in 2000, is a family business that offers tours in the highest part of the mountains of El Imposible National Park.
12 views
Submitted Oct 14, 2012
small posada located in Suchitoto
13 views
Submitted Oct 14, 2012
Las Flores is a dramatic, natural cove, hemmed in by severe topography and dense tropical flora, a playful black sand beach bordering a cauldron of whitewater and waves detonating in the background, a throwback in time to a prehistoric vision of Central America where the tropical waters of the Pacific Ocean meet the charcoal sands of ancient volcanic outflows.
13 views
Submitted Oct 14, 2012
Myers House Hotel is a fabulous upscale mediteranian mansion style Bed and Breakfast with 10 stunning rooms with private bathrooms, and full amenitys which includes refrigerator, tv with cable, telephone, internet access, air conditioning, and a home decor that makes you fit right at home. Myers House Hotel is located in the luxurious section of Colonia Escalon in San Salvador, El Salvador, which is two blocks from The presidential Mansion.
10 views
Submitted Oct 14, 2012
In a world where everything changes so fast, we need to remember where we come from and preserve our culture and beautiful landscape. We hope you come explore El Salvador!
9 views
Submitted Oct 14, 2012
Welcome to our website, where you will find all you need for organizing your travel to El Salvador, Guatemala and Honduras.
10 views
Submitted Oct 14, 2012
San Salvador, USA Embassy
77 views
Submitted Feb 26, 2010
Suchitoto, El Salvador....Take a step back in time and visit this small colonial city in the central part of El Salvador Central America
69 views
Submitted Feb 26, 2010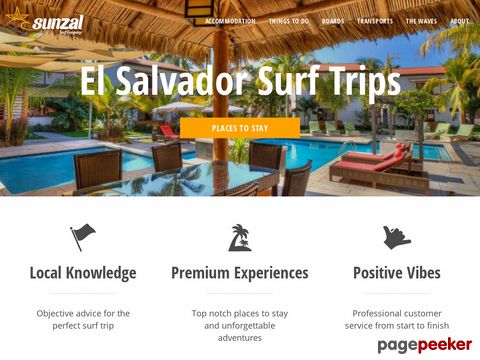 The mission of Sunzal Surf Company is to provide an unforgettable surf experience to travelers in El Salvador. We provide all the key services to surf travelers such as a free hotel booking service, guided surf tours, airport pickup, surf photography, surf lessons, board rentals, and information about what to do and where to go in El Salvador. We want to help you have a great time here!
10 views
Submitted Oct 14, 2012
Discover the best of El Salvador and surfworld classwaves
12 views
Submitted Oct 14, 2012
Now renovated and reopened, SUNZAL POINT was the original surf lodge of El Salvador. In 1961, the Angulo family purchased Sunzal Point, and shortly thereafter opened doors for business as "Surfer's Inn." Their small "rancho" was the original, first, and only lodging available for surfer's and vacationers in the area during the 1960's and 70's. They provided accommodations for surfers and tourists from the United States, many of whom slept in hammocks when all the rooms were sold out.
13 views
Submitted Oct 14, 2012
Come explore and see what El Salvador has to offer. Rural, alternative eco and adventure tourism, for those who want to discover the real El Salvador and its people. Enjoy all of El Salvador, its beaches, small colonial towns, night life in the larger cities, volcanoes, lakes and mountain villages as well as the small rural communities that are developing new ideas in rural and alternative tourism.
11 views
Submitted Oct 14, 2012
three different locations within El Salvador
9 views
Submitted Oct 14, 2012

About Dave's Pick
Category Stats
Listings:
20
Regular:
20
Last listing added:
Oct 14, 2012