Ethiopia
Ethiopia Travel
Daketta Ethiopia Tours has been established to promote Tourism and Travel in Ethiopia. DAKETTA ETHIOPIA TOURS run by experienced and professional Tour Operators, Guides and Drivers.
14 views
Submitted Oct 14, 2012
Danit is a Dutch Ethiopian owned company. We are one of the best Destination Management Company (DMC) in Ethiopia providing professional services possessing extensive local knowledge, expertise and resources, specializing in the design and implementation of events, activities, tours, transportation and program logistics.
9 views
Submitted Oct 14, 2012
Located on Bole road commonly knows as Olympia 5 minute drive from Bole International Airport, Destiny Addis Hotel provides excellent service for both business and pleasure travellers combined with highly comfortable rooms, a fitness center, sauna and spa, beauty salon, high speed internet connection and a modern pent house highly equipped just to make you feel at home. Enjoy our european dishes prepared by the best executive chef in town, while you experience first class comfort.
12 views
Submitted Oct 14, 2012
Inaugurated in October 2008, Dimitri Hotel features modern services and a friendly staff.
10 views
Submitted Oct 14, 2012
DET operates on a serious belief that its making and breaking is in the hands of its customers. This is not just a hollow slogan. For a service provider such as DET, the recommendations of our satisfied customers have more lasting effects than tons of literatures and promotional materials.
12 views
Submitted Oct 14, 2012
Ethiopia is endowed with a fascinating historic, cultural and natural heritage, from the lowest lowlands on earth to the fourth highest mountains of Africa, from abundant endemic wild life to the archeological eight wonders of the world, from sophisticated city life to the most inaccessible tribes, Diversity Tours Ethiopia specializes in providing you with a rewarding and enriching experience. Our tours are customized to your specific interests.
10 views
Submitted Oct 14, 2012
Dreamland Ethiopia Tour and Travel gives you the experience of great and formidable steles, timeless monuments, prehistoric cave paintings, exotic rock-hewn churches, old monasteries, castles, mosques, temples and other shrines, The innumerable, magnificent crater lakes characterized by their aquatic life, The interweaving mountains, the enticing and graceful waterfalls, extraordinary savannah and the wild domains are mystery covered and peculiar. The extensive national parks and game reserves are sanctuaries for the great number of wild life species.
11 views
Submitted Oct 14, 2012
Founded in 1997, Eco Ethiopia Tour and travel is reestablished carrying strong ambitions & visions with firm commitment to contribute its share in fighting against poverty by conserving the beauty of nature and creating jobs for the people in Ethiopia. Eco Ethiopia is fully owned by an Ethiopia who has experience in Tour and Travel for over 20 years
29 views
Submitted Oct 14, 2012
Located in the vibrant heart of Addis Ababa, Edna Addis delivers a refreshing blend of urban luxury and friendly hospitality. Spacious accommodations and convenient location. It is 10 Km from the Bole International Airport and a walking distance from the ECA.
11 views
Submitted Oct 14, 2012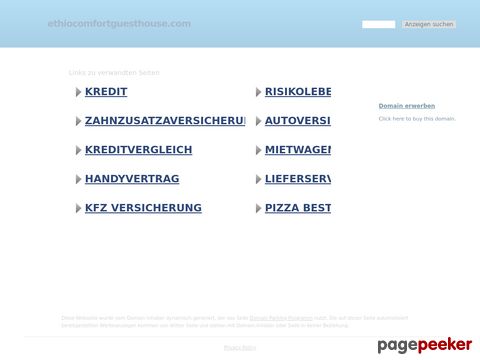 Ethio Comfort Guest House is the new, modern, shining building at the downhill of Addis Ababa ready to give its esteem customers all the required Ethiopian style luxury facilities. Ethio Comfort has furnished with new style and mood to meet the level our guests expectations.
18 views
Submitted Oct 14, 2012
With over 80 distinct and fascinating ethnic groups, Ethiopia provides a mix of cultures and traditions that ranges between the modern and sophisticated lives of the cities to the most untouched and authentic African tribes of the remote parts of south western Ethiopia
12 views
Submitted Oct 14, 2012
Our company which is a division of Priceless Ethiopia Tours Plc is managed by well expereinced & professional tour managers who studied tourism and business management in renown Universities and Colleges in the country.
19 views
Submitted Oct 14, 2012
Green Valley EthiopiaTour has been providing quality service for leisure seeking tourists and business visitors to Ethiopia since 2005. Staffed with a highly qualified team
14 views
Submitted Oct 14, 2012
Ethiopia Tour & Travel
92 views
Submitted Feb 26, 2010
We are a company of travelers dedicated to show you the hidden treasures of Ethiopia in an intimate and professional Manner. We offer Trekking in semien and bale, Danakil Depressions, Historic route, omo valley safari, coffee tours and bird watching packages.
7 views
Submitted Feb 25, 2015
Travel and tour to Ethiopia; Aberus Ethiopia tours is specialist for package tour and customized tours throughout Ethiopia
39 views
Submitted Feb 26, 2010
Ethiopian Embassy, Washington DC
60 views
Submitted Feb 26, 2010
EthiopiaHotelGuide.com is a solution to the search and booking problems many tourist and business travelers to Ethiopia have been facing for years. By availing the online hotel search, comparison and booking process, we hope to make traveling to Ethiopia more convenient.
11 views
Submitted Oct 14, 2012
Welcome to Inspiration Tour Operator. Inspiration Tour Operator was founded in 2003 to provide travel focusing on some of the wonderful cultures and tribal groups. We are one of the very few most promising tour operators in Ethiopia
16 views
Submitted Oct 14, 2012
Interesting facts on Ethiopia, its cities, peoples, culture, history, languages, climate, currency, different times, in fact everything Ethiopia.
11 views
Submitted Oct 14, 2012

About Dave's Pick
Category Stats
Listings:
99
Regular:
99
Last listing added:
Feb 24, 2015