Fiji
Fiji Travel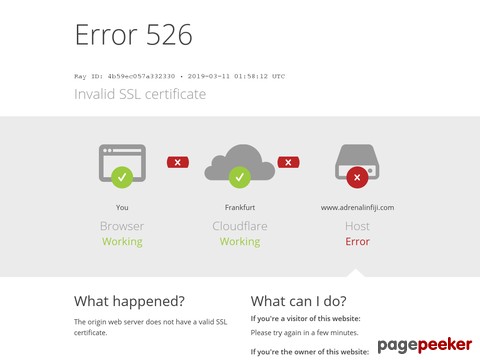 Surf-Dive-Cruise-Fish-Fly! For things to do in Fiji, including jet ski safaris, village tours, surf charters, scuba diving, game fishing, fast jet boat rides, parasailing, watersports, luxury charters, leisure cruising, and much more....visit us here at Adrenalin Fiji. We are the premier provider of action and adventure, offering fun in Fiji and attractions for family, singles and groups. We have something for everyone, so check out our range of favourite holiday activities.
49 views
Submitted Oct 18, 2012
Anchorage Beach Resort is an intimate hillside boutique resort with its own secluded palm fringe beach, set admist lush tropical gardens with breathtaking views of the Pacific Ocean, nearby mountains and uninhabited islands in the distance. Join us for a truly relaxing tropical getaway.
52 views
Submitted Oct 18, 2012
Bula! ('welcome' in Fijian). If you are looking for the ultimate tropical island experience, then you've come to the right place. Fiji offers spectacular beaches, lush rainforest, magnificent waterfalls, world-class scuba diving and a host of amazing adventures. To top it off, Fiji is rich in culture and tradition, and the people are some of the most delightful in the world
67 views
Submitted Oct 18, 2012
dive Fiji
58 views
Submitted Oct 18, 2012
Join us in Fiji and we can guarantee you the surf holiday of a lifetime. Our awesome surf vacations are located at two idyllic surf resorts, with access to some of the world's premiere surf destinations. We operate epic surf tours for experienced surfers and have quality surf schools for those that need some surf lessons
56 views
Submitted Oct 18, 2012

A stunning island location, a private beach, delicious cusine, and access to the world class waves at Frigate Passage. Batiluva Beach Resort offers one of the best surfing vacation destinations in Fiji.
48 views
Submitted Oct 18, 2012
Our intimate resort features 25 deluxe, private air-conditioned villas(called bures) spread out beneath the lush tropical landscape. Each of these generously sized mini-suites are beautifully appointed with traditional island dècor.
54 views
Submitted Oct 18, 2012
Traditionally designed accommodation, the relaxed ambience of a remote tropical island resort and of course, you will be spoilt with uninterrupted views facing directly west over the calm crystal blue waters of the Blue Lagoon and into the rays of the fading sunsets.
51 views
Submitted Oct 18, 2012
Capricorn Hotels Fiji
49 views
Submitted Oct 18, 2012
We transform Fiji Holidays into voyages of discovery. The Fiji Islands offer tropical beauty and diversity. Why choose one of the Fiji Island resorts when there are over 300 islands to discover.
73 views
Submitted Oct 18, 2012
BULA! Our Fiji island resort is an award-winning iconic private island escape embodying the heart and soul of the South Pacific.
59 views
Submitted Oct 18, 2012

Escape to the jewel of the Fiji Islands and embrace the simple island lifestyle of enjoying each moment at a leisurely pace.
59 views
Submitted Oct 18, 2012
get pampered
50 views
Submitted Oct 18, 2012
Coconut Grove Beachfront Cottages is a small, intimate resort located directly on the ocean and a private, white sand beach.
56 views
Submitted Oct 18, 2012
Experience the warmth, Friendliness and Pride in Hospitality synonomous with authentic Fijian culture and values.
72 views
Submitted Oct 18, 2012
Nestled amongst lush tropical gardens and fronting a palm-fringed sandy beach and stunning lagoon, Crusoe's Retreat is a friendly, intimate, traditional Fijian Beach Resort. Featuring only 29 Fijian-inspired Bures, Crusoe's truly embodies all that is wonderful about the Fiji Islands: world-famous hospitality, an unhurried pace, fresh island cuisine, lots of complimentary activities, PADI scuba diving, sunset weddings, romantic honeymoons, and a dedication to local culture and traditions. Crusoe's Retreat truly is Fiji.
64 views
Submitted Oct 18, 2012
Crystal Divers offers the unique personalized experience of diving in possibly the finest area for diving in Fiji, the Bligh Waters. We cater to the discerning, discriminating diver, experienced divers who appreciate and respect marine life, themselves and others.
55 views
Submitted Oct 18, 2012
Daku Resort is Vintage Fiji at Vintage Prices – all the pleasures of a bure in a traditional bayside resort without the prices of five star resort life.
58 views
Submitted Oct 18, 2012
De Vos on the Park was formerly known as JJ's on the Park Hotel and is managed By Chris and Annemarie De Vos - This well known hotel is situated at 1 Central Street in the YWCA five storey Building and in the heart of Suva offers friendly and affordable accommodation for both, the holiday makers or business persons travelling to Suva which is the capital of Fiji Island.
53 views
Submitted Oct 18, 2012
award winning tourism company
52 views
Submitted Oct 14, 2012

About Dave's Pick
Category Stats
Listings:
151
Regular:
151
Last listing added:
Oct 18, 2012