Ghana
Ghana Travel
Erata hotel is a plush three star facility situated in the serene environs of East Legon, a plush residential area in Accra - the capital city of Ghana. We are conveniently located 10min drive from the Kotoka International Airport and half an hour to Accra city center.It is a 5min drive to the University of Ghana.Aburi Botanical Gardens is just a 20min drive from the hotel. .
10 views
Submitted Dec 15, 2012
Guide for life, travel, work and volunteering in Ghana
11 views
Submitted Jun 20, 2010
Volunteer projects and idylic beachside accomodation close to Accra
95 views
Submitted Feb 26, 2010
The Association of Travel and Tourist Agents was founded in 1957 and was affiliated to the then Universal Federation of Travel Agents Association referred to as UFTAA) in 1967 to encourage, promote and foster unity among trade participant of the travel and tour fraternity in Ghana.
11 views
Submitted Dec 15, 2012
The advantage of travelling in Ghana by car -apart from the extra bit of comfort- is flexibility. Rough roads and unsurfaced roads Ghana rough road - car rentalsare not uncommon and therefore make it difficult to access areas. With a private car you can freely explore remote villages, access isolated beaches, safari parks and other 'must-see' sights.
18 views
Submitted Dec 15, 2012
Ghanaecotours.com Limited is a registered company that provides an assortment of tours including customized packages and ground handling services for individuals, families and groups
17 views
Submitted Dec 15, 2012
lots of good information on this tour operator's site
58 views
Submitted Feb 26, 2010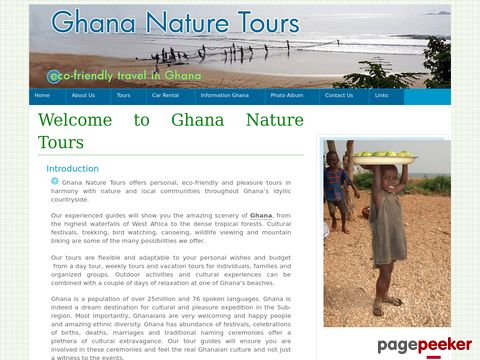 Ghana Nature Tours offers personal, eco-friendly tours in harmony with nature and local communities throughout Ghana's idyllic countryside.
16 views
Submitted Dec 15, 2012
Ghana Safari Tours was set up by Swedish nationals and their Ghanian patrner who has first hand experience in Ghana Safari and other adventure tours which he holds with high merit certificate awards as he emerged the best guide in the department of Kwabarksa tours not forgetting the number of recommendation letters received from clients.
22 views
Submitted Dec 15, 2012
Ghana is the most interesting place to visit in West Africa. The country has got many things going for it: the friendly people, the profuse vegetation, the colorful festivals, the vibrant music, the lively markets, the immaculate beaches and a distinctive way of life that is truly Ghanaian.
12 views
Submitted Dec 15, 2012
Welcome to Golden Tulip Accra, situated in Accra, the capital city of Ghana where you will always be greeted with 'Akwaaba' (meaning 'you are warmly welcome&#39
11 views
Submitted Dec 15, 2012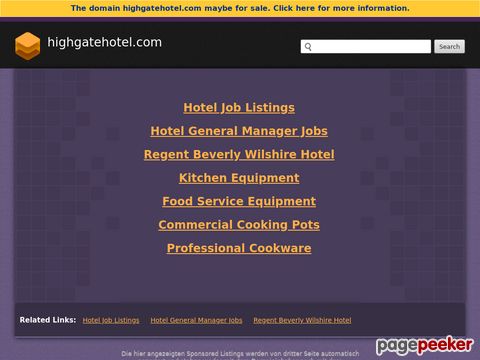 HIGHGATE HOTEL is a member of the Simon Petro Group of Companies registered under the company code, 1963 (Act 179) as a Limited Liability Company. Highgate is a three (3) star hotel in the hospitality industry registered with the Ghana Tourist Board certified by Registrar General. Highgate Hotel is a place that has a magnet at it very heart.
9 views
Submitted Dec 15, 2012
My cheek is smudged with red clay. African soil keeps me grounded, dirty, alive. Gives me perspective and cause for alarm. Dusty, wet, preoccupied by irony and deceit, beauty and angst, the fragile and the strong. Beads of sweat trickle down my spine over time and through the valleys of this continent for over a decade. I could escape it but only tangibly. The unmistakable pattern of living this life in this place is a tattoo etched on my psyche, coursing through my veins. Forever.
11 views
Submitted Jun 23, 2010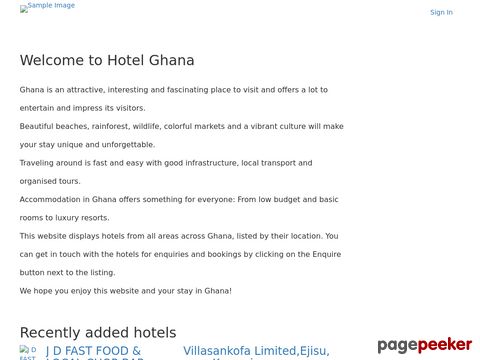 This website displays hotels from all areas across Ghana, listed by their location. You can get in touch with the hotels for enquiries and bookings by clicking on the Enquire button next to the listing. We hope you enjoy this website and your stay in Ghana!
8 views
Submitted Dec 15, 2012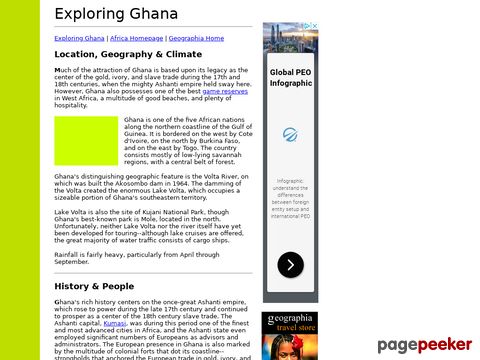 Interknowledge Ghana
194 views
Submitted Feb 26, 2010
At Jolinaiko Eco Tours, based near Accra, the capital of Ghana, we take great pride in our own region. It gives us great pleasure to show off our unique mix of cultures, landscapes and people. Let us share our passion for West Africa with you.
12 views
Submitted Jul 19, 2012
all about this national park
12 views
Submitted Dec 15, 2012
KO-SA is an environmentally aware and restful resort built in natural surroundings, managed by two Dutch couples, located near the historical cities of Cape Coast and Elmina, Kakum National Park and on the beach next to the small fishing village of Ampenyi.
7 views
Submitted Dec 15, 2012
Korkdam Hotel, which enjoys a prime location in a quiet area at New Achimota, is the embodiment of style, comfort and convenience.
8 views
Submitted Dec 15, 2012
La Villa Boutique Hotel provides a truly unforgettable experience for those with distinctive taste.
9 views
Submitted Dec 15, 2012

About Dave's Pick
Category Stats
Listings:
69
Regular:
69
Last listing added:
Dec 15, 2012