Ghana
Ghana Travel
Labadi Beach Hotel - Where West Africa Meets and Plays Welcome to Ghana's premier hotel, resort and business address. Set amidst tropical landscaped gardens, overlooking one of Ghana's most beautiful beaches is the famous Labadi Beach Hotel. The hotel is renowned for its food and the unique spirit of Ghanaian hospitality, and is located within easy access of both the city and airport. Labadi Beach, where tourists and the business traveller meet and play..
9 views
Submitted Dec 15, 2012
We invite you to join us on an unforgettable journey to West Africa
17 views
Submitted Dec 15, 2012
We offer various tour packages to suite every need of our client.
11 views
Submitted Dec 15, 2012
Lonely Planet Info
169 views
Submitted Feb 26, 2010
The Rising Phoenix Magic Beach Resort is a budget hotel, vegetarian restaurant, bar, nightspot, and ecotourism center. It is a focal point, open to all who wish to participare and contribute, for a range of artistic and otherwise inspirational activities, featuring music and dance performances, party nights, music and dance training, and other activities to uplift body and spirit.
8 views
Submitted Dec 15, 2012
The long experience and professionalism of Malimbe Tours' guides have provided them with an excellent understanding of your needs when you embark on an African adventure
11 views
Submitted Dec 15, 2012
offering a wide variety of ghana tours
11 views
Submitted Dec 15, 2012
Mariset Hotel, Cantonments and Mariset Plaza Osu are located in the capital city of Ghana, Accra. They are part of the Mariset and MPlaza Group of hotels.
8 views
Submitted Dec 15, 2012
Mighty Victory Hotel is located at Aboom Close, behind Jubilee school, Cape Coast. This Beauty of a hotel sits just below Fort Victoria on a hill with magnificent views of the town and the Ocean.
14 views
Submitted Dec 15, 2012
news and information about current events
75 views
Submitted Feb 26, 2010
Our monkeys Bongo and Nona will welcome you at the reception. You can visit our Daktari Terrace located on top of our hill, built on an ancient rock formation, where we serve refreshments. There is a splendid view overlooking Kakum National Park (only 3 km away from Monkey Forest Resort).
11 views
Submitted Dec 15, 2012
A warm welcome to Oasis Lodge, a cozy and relaxing atmosphere in a luxurios and intimate setting.Oasis Lodge lives up to its name, offering a haven which marries the world renowned Ghanaian hospitality with world class service and amenities.
10 views
Submitted Dec 15, 2012
Pink Hostel is an International Student Hostel, the first of its kind in Ghana. The unique Pink Hostel is a member of the International Youth Hostel Association and is an ideal first stop for anyone visiting Ghana.
16 views
Submitted Dec 15, 2012
The British Air Force built Planter's Lodge for their flying officers in 1934 in Takoradi, in the Western Region of Ghana. It was later sold to a British company who used it as a hotel. Takoradi was the only harbour at that time in Ghana and British Overseas Airways Corporation had just a few flights from the capital, Accra, so almost anyone who travelled outside Ghana came to Takoradi to take the Elder Dempster vessels to Europe.
9 views
Submitted Dec 15, 2012
Akwabba: Welcome to African Rainbow Resort See the Colors: Feel the spirit of Africa! African Rainbow Resort invites you to experience Ghanaian hospitality in style and comfort. Our twelve room hotel is located beside the ocean, only a few steps away from the Famous Beach at Busua.
13 views
Submitted Dec 15, 2012
RAINFOREST LODGE is privately set in a nature reserve that spreads over thousands of acres in the tropical rainforest belt of Ghana. It stands between the foremost nature reserve in southern Ghana which is the Kakum National Park with the longest canopy
12 views
Submitted Dec 15, 2012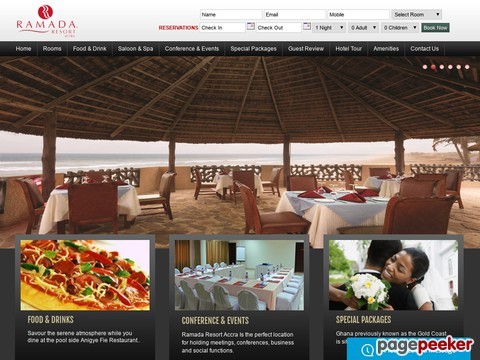 amada Resort, Accra
12 views
Submitted Dec 15, 2012
RayPorsh Hotel is one of the most spectacular two star hotels in Accra – Ghana. This beautiful establishment with its exquisite facilities offers you deluxe rooms ranging from single to executive deluxe, all in a cool and quite environment not far from the Accra International Airport and the city central.
9 views
Submitted Dec 15, 2012
Safari Beach Lodge is an Eco-Lodge located on a secluded beach near a small fishing village. The lodge is built in traditional style with thatched roofs which help it to blend in with the environment as well as keeping cool. The overall feel is a perfect mix of modern design and African rustic elegance termed Eco-Luxury. There are 7 beautifully decorated beach front chalets and a well appointed 2 bedroom beach house.
13 views
Submitted Dec 15, 2012
The Sanaa Lodge is a 3-star hotel and conference center located in historic Cape Coast, the capital of the Central Region in Ghana, West Africa.
10 views
Submitted Jul 12, 2012

About Dave's Pick
Category Stats
Listings:
69
Regular:
69
Last listing added:
Dec 15, 2012