Iceland
Iceland Travel & Iceland Tours
a must visit tourism site
234 views
Submitted Feb 26, 2010
excellent travel information here
266 views
Submitted Feb 26, 2010
101 hotel is a boutique hotel, situated in the heart of Reykjavik, the capital of Iceland. It is a member of Design Hotels. This elegant hotel offers a restaurant and a bar/lounge. Additional amenities include a concierge desk, and multilingual staff. This is a smoke-free property.
66 views
Submitted Dec 16, 2012
4th Floor Hotel occupies the 1st, 2nd and 4th floors of a building along Snorrabraut 29, just a minute away from the bus station Hlemmur
68 views
Submitted Dec 16, 2012
Get to know all about tours in Iceland, you are at the right place. Walk, Hike, Bike, Drive or Dine or else whatever you like with a private guide. Whether you are a small group or need many buses we can plan your stay for you A-Z. We offer tours from Reykjavik and Akureyri for big groups, small groups and individuals.
86 views
Submitted Dec 16, 2012
Hotel AdaM is conveniently located in down town Reykjavik near the Hallgrimskirkja church tower, a excellent landmark for those who are new to Reykjavik. Downstairs we have a convenience store that&#39
98 views
Submitted Dec 16, 2012
Arctic Adventures is an Icelandic adventure and activity company with an emphasis on eco tourism and environmentally friendly trips in the amazing Icelandic nature.
128 views
Submitted Dec 16, 2012
All Iceland is a Travel Agency,
122 views
Submitted Dec 16, 2012
A leading company for iceland self drive tours. our team in another iceland devotes 365 days a year to one purpose: planning and executing tours in iceland!
59 views
Submitted Jun 12, 2019
Conveniently situated at the foot of Mýrdalsjökull glacier, the tour company Arcanum is one of Iceland's best known and respected glacier tours outfitters, providing safe and responsible tours for more than 20 years from the same location
95 views
Submitted Dec 16, 2012
The hotel offers large (24-27 m2) single, double and triple rooms, as well as studio rooms. All rooms are equipped with twin beds, refrigerator, telephone, color TV and private bathrooms with shower. The studio rooms are additionally furnished with a kitchenette, which include a small cooking-stove and a microwave oven. One or two extra beds can be added in each room. The breakfast room is located on the ground floor, as well as a lounge and a bar.
67 views
Submitted Dec 16, 2012
Professionalism and good service is what Arctic Heli Skiing is all about. We are Iceland&#39
95 views
Submitted Dec 15, 2012
We are Iceland&#39
123 views
Submitted Dec 16, 2012
The Arni Magnusson Institute for Icelandic studies
92 views
Submitted Dec 16, 2012
The Travel Agency Aurora Tours is family company, who has served a variety of clients with different expectations, and made sure that any tour chosen will become an unforgettable and a pitch-free journey for every client. These quality tours feature complete sightseeing, professional Tour Directors and great itineraries, operated by one of the country's best and most respected tour companies.
88 views
Submitted Dec 16, 2012
Join us for a fun, interesting ride around Reykjavik or in the highland of Iceland. Our bike tours are designed with english speaking traveller in mind. We offer other languages on request
110 views
Submitted Dec 16, 2012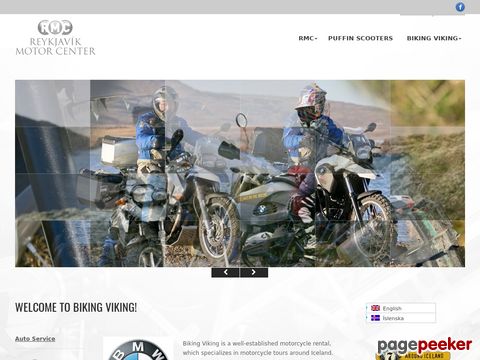 Biking Viking is a motorcycle rental and a motorcycle tour operator. We have moved our offices to a new location at Kleppsvegur 152 in Reykjavik
81 views
Submitted Dec 16, 2012
The Bjork Hotel is a very centrally located hotel rated as a three star and with a loyal following of previous guests who frequently return for the service and peace and tranquility.
64 views
Submitted Dec 16, 2012
Join a fascinating tour of Blue Lagoon's stories, sights and
91 views
Submitted Dec 16, 2012
&#34
63 views
Submitted Dec 15, 2012

About Dave's Pick
Category Stats
Listings:
143
Regular:
141
Reciprocal:
2
Last listing added:
Jun 11, 2019