India
India Travel
www.incredibleindia.org
200 views
Submitted Feb 26, 2010
offering custom tours to India, husband-wife team
106 views
Submitted Sep 18, 2011
Hotel Directory of Agra, India
104 views
Submitted Feb 26, 2010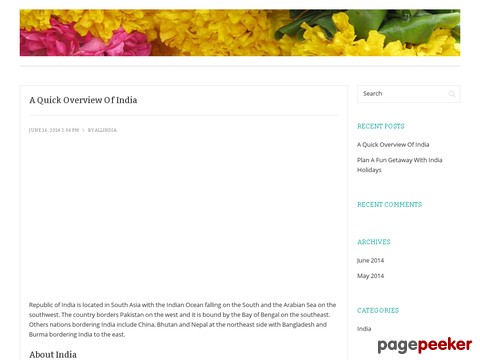 All India Travel
212 views
Submitted Feb 26, 2010
I am an Australian born woman of Indian origin in my late-30′s. My whole life has been lived in Australia, but I have traveled to India 7 times (for both work and pleasure) and feel a strong affiliation with the country.
23 views
Submitted May 28, 2012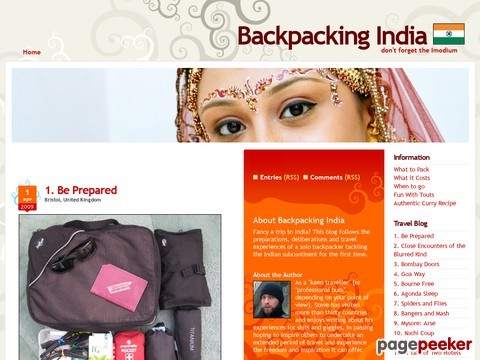 As a "keen traveller" (or "professional bum", depending on your point of view), Steve James has visited more than thirty countries and enjoys writing about his experiences for shits and giggles, in passing hoping to inspire others to undertake an extended period of travel and experience the freedom and inspiration it can offer
32 views
Submitted Jun 21, 2010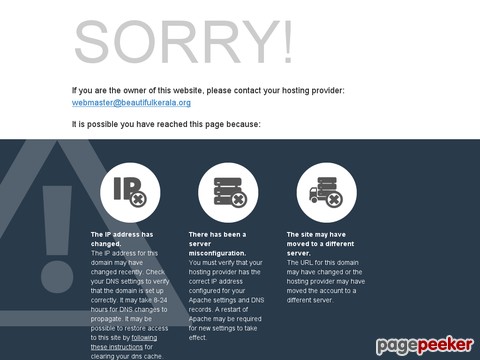 Kerala is the beautiful girl on earth, South west part of India, between Western Ghats of Hills and the Arabian Sea with an area of approximate 39,000 sq.km
146 views
Submitted Feb 26, 2010 Bhagirathi Tour & Travel has been in business for over three Years. We do our very best to provide you with prompt and effective service as well as very competitive Prices. We understand that vacation time is precious and we will help you find the perfect cruise Tours or packages to fit your needs. We r one of the top sellers in the country for several major tour operator in India and Nepal.
17 views
Submitted Dec 16, 2012
Far from the madding crowd, in the land of looms & lores, the traditional Kannur
32 views
Submitted Jul 18, 2012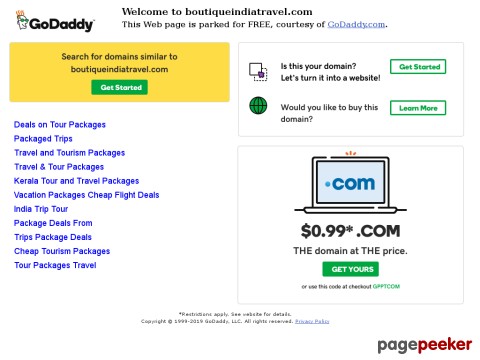 Your Perfect Trip To India Starts Here - Boutique India Travel is about handpicked collections of the best and most rewarding travel experiences in India. Get inspired by clicking on the Experiences
73 views
Submitted Dec 19, 2010
BreatheDreamGo is Mariellen...
a travel writer, yogi and Indiaphile, who agrees with Rumer Godden: "Once you have felt the Indian dust, you will never be free of it." Mariellen is passionate about sharing the beauty of India's culture and wisdom
32 views
Submitted Mar 9, 2010
Centrally located in Delhi provide chain of budget hotels.
111 views
Submitted Feb 26, 2010
Camels and castles in Rajasthan. Cycling through the Spice Hills. Kerala backwaters and sandy beaches. Build your own India adventure.
59 views
Submitted Feb 26, 2010
I am Dheeraj Sharma, an Avid Traveler, a Day – Night Dreamer and a Passionate Lover of Himalayas who has a high zest for driving whilst exploring new places in Himalayas & sharing back those Himalayan Travel experiences with the other fellow Travelers
10 views
Submitted Dec 21, 2015
Europe tours from India, Holidays in Australia, New Zealand, Malaysia, Thailand, China, American Tours, Tour Operator India
180 views
Submitted Feb 26, 2010 Official Website of The Directorate of Mountaineering and Allied Sports, Government of Himachal Pradesh
79 views
Submitted Feb 26, 2010
Easy tours of india offers unique tours that include the pushkar camel fair that takes place in the village of pushkar in the state of rajasthan in north india.
34 views
Submitted May 8, 2013
a boutique agency with the highest ratings for luxury tours in India
23 views
Submitted Jun 22, 2010
stories of a Canadian living in India, traveling around Asia
10 views
Submitted May 27, 2015
tips and advice from a western traveler
14 views
Submitted Jun 22, 2010

About Dave's Pick
Category Stats
Listings:
114
Regular:
113
Reciprocal:
1
Last listing added:
Dec 21, 2015