Indonesia
Indonesia Travel
We are a diving resort in Bali's South-East coast located in a small village called Padang Bai, which has become the center of Bali's diving. We offer tailor made diving holidays for the recreational diver, from the beginner to the very experienced
89 views
Submitted Dec 16, 2012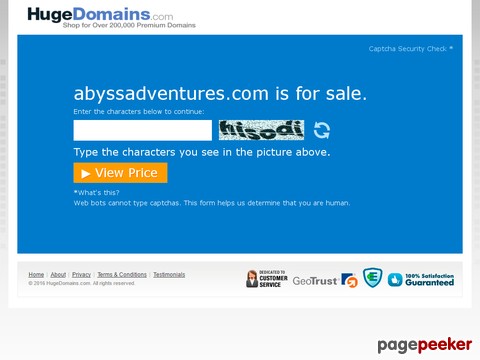 We are a dedicated technical dive centre, located just 20 mins. from Bali&#39
89 views
Submitted Dec 16, 2012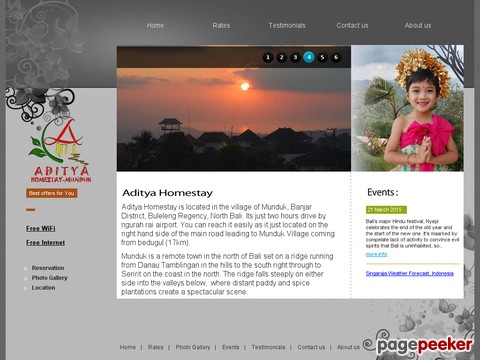 Aditya Homestay is located in the village of Munduk, Banjar District, Buleleng Regency, North Bali. Its just two hours drive by ngurah rai airport. You can reach it easily as it just located on the right hand side of the main road leading to Munduk Village coming from bedugul (17km).
85 views
Submitted Dec 17, 2012
For both beginners and the very experienced divers , the area provides a big variety of dive-sites with beautiful hard and soft coral gardens, dramatic drop offs and walls, sand-eel gardens and fascinating shipwrecks.
82 views
Submitted Dec 16, 2012
ADVENTURE INDONESIA, an Indonesian tour operator with 15 years of experiences in operating tours throughout Indonesia: Sumatra, Java, Borneo, Sulawesi, Lesser Sunda (Nusa Tenggara Islands), Bali, Papua Island (formerly called Irian) and many more. Our trips unveil the magical natural history, wildlife and culture of our ancient land.
117 views
Submitted Dec 16, 2012

Bali lovina beachfront boutique hotel holiday cottages and family bungalows with pool restaurant and spa on the beach in lovina bali
89 views
Submitted Dec 16, 2012 Agung Raka Bungalow is built on a 3,500 square meters property between Pengosekan art village and the artistic center of Peliatan, Ubud, Bali and trips to Monkey Forest and Central Ubud are equally convenient either by vehicle or on foot. Agung Raka Bungalow are built to complement the landscape that surrounds it, providing a sensational feeling of being in a beautiful village, with a stunning sunset view from the rice terrace, while still within less than an hour drive from Ngurah Rai International Airport.
89 views
Submitted Dec 16, 2012
Travels in the Indonesian archipelago: Bali, Java, Jakarta and beyond
92 views
Submitted Jun 18, 2010
beach bungalow resort
86 views
Submitted Dec 16, 2012
Alam Bidadari Seminyak Boutique Culture Villas and Spa is the newest fine property, a member of Alam Hotel Group, comprises of 9 units modern and luxury one bedroom private pool villa with spacious living room, private bathroom and nice poolside terrace.
78 views
Submitted Feb 23, 2016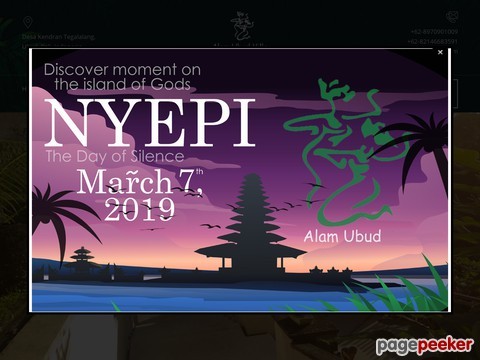 Alam Ubud is not only a resort but a new place for the Indonesian culture in the surrounding of Ubud area.
87 views
Submitted Dec 17, 2012
Hidden behind the Monkey Forest of Ubud, the arts and cultural centre of Bali, is the tranquil village of Nyuhkuning. Here you will find our 3 intimate hotels Alam Indah, Alam Jiwa and Alam Shanti.
89 views
Submitted Dec 16, 2012
Welcome to Alam Kulkul Boutique Resort, an award winning luxury boutique resort nestled in the legendary Legian sunset beach.
79 views
Submitted Dec 17, 2012
We are government licensed Tour Operator Specializing on handling incoming tours within Indonesia and the member of Association of Indonesia Tour & Travel.
111 views
Submitted Dec 16, 2012
Ultra-luxurious yet sustainable developments set in some of the most spectacular locations.
99 views
Submitted Dec 17, 2012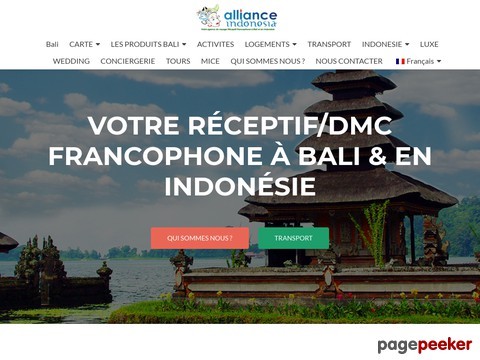 your destination management company in Indonesia
125 views
Submitted Dec 16, 2012 Bali tour operator arrange all your travel need from tours, transfers, car rental,hotel reservation and domestic airline ticketing for Bali and Indonesia
182 views
Submitted Feb 26, 2010
Aloita stands alone as the most refined and comfortable resort ever built in Indonesia's Mentawai Islands. Everything you have heard regarding the world's most desired surfing location is true. Now we can say the same for diving, fishing and a whole range of other marine activities.
80 views
Submitted Dec 17, 2012
The hotel is designed for a short simple travelers with its comfortable, uncomplicated amenities and straight forward guest needs.
95 views
Submitted Dec 17, 2012
Baliku Dive Resort is located in Amed on the North/East Coast of Bali, the ultimate diver's paradise and ideal base for your adventure holiday. Just a two hour scenic drive from Ngurah Rai International Airport, Baliku Dive Resort - Amed is a diver's destination of distinction. The accommodation is 1st class, dining superb and the diving outstanding.
94 views
Submitted Dec 16, 2012

About Dave's Pick
Category Stats
Listings:
553
Regular:
553
Last listing added:
Jan 27, 2019