Indonesia
Indonesia Travel
the seatrek team Seatrek Sailing Adventures started its operations in 1985 with a clear vision that it never abandoned and for a quarter of a century, without any interruptions, we have been instrumental in opening the Eastern part of Indonesia to several generations of travelers
42 views
Submitted Jul 21, 2012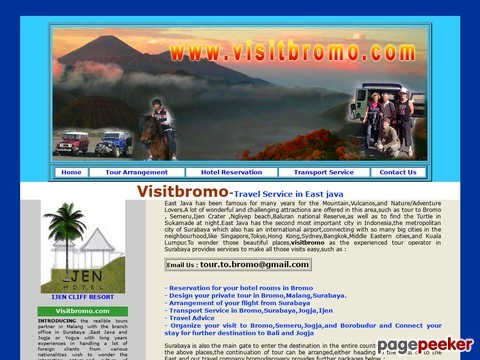 INTRODUCING the realible tours partner in Malang with the branch office in Surabaya ,East Java and Jogja or Yogya with long years experiences in handling a lot of foreign clients from various nationalities wish to wonder the interesting nature,and culture of Javanese
22 views
Submitted Dec 17, 2012
Meet one of endangered species on the earth which is only found in Indonesia and part of Malaysia. Borneo including Malaysia and Kalimantan also in Sumatra are nature home for this umbrella species. Tanjung puting national park is your truly wildlife adventures tours site. Your travel to indonesia borneo will give you unforgettable memory in your live-time
44 views
Submitted Dec 16, 2012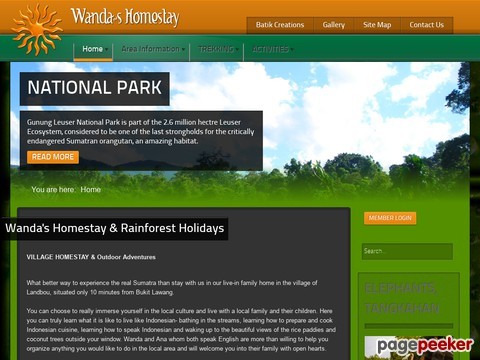 What better way to experience the real Sumatra than stay with us in our live-in family home in the village of Landbou, situated only 10 minutes from Bukit Lawang.
59 views
Submitted Dec 17, 2012
Warjihouse is a home stay with cheap budget that is located in the earth of Ubud Bali, a famous village with the beautiful nature and Balinese Art. It offers the comfortable accommodation in the center of real Balinese society life in Ubud Bali. It is situated in the form of Balinese traditional village close to the religious, social and art activities.
44 views
Submitted Dec 16, 2012

Warsa Garden Bungalows in Ubud, ideally located at Monkey Forest Street, 1,5 hours drive from Bali&#39
42 views
Submitted Dec 17, 2012
A magnificent Bali resort steeped in royal heritage, Warwick Ibah Luxury Villas & Spa consists of 17 spacious, uniquely designed private villas and suites, all nestled amidst a haven of coconut groves, frangipani trees and lush tropical gardens.
17 views
Submitted Dec 16, 2012
Water Worx Dive Center Bali was established in June 2001 and opened its doors to the public in September the same year. The founders are David Ruland and Wolfgang Krutz, two SSI + PADI Scuba Diving Instructors with years of working experience in Bali&#39
19 views
Submitted Dec 16, 2012
We are a camp for people who already surf (Intermediate to advanced) and are ready to move from beachbreaks to reefs and improve their technique
19 views
Submitted Dec 16, 2012
Suara Ombak Cottages offers you affordable tropical beachfront luxury. We are located on the most pristine piece of Bali&#39
41 views
Submitted Dec 17, 2012
Welcome to Wonderful Bali, a Bali site with great photo albums, Bali maps and insider articles on the island of Bali.
78 views
Submitted Dec 16, 2012
Kalimantan Tour Destinations (KTD) unique cruise boats take you along meandering jungle lined rivers, passing islands with orang utans visible in the trees and the briliant splashes of kites, hornbills and kingfishers overhead. Further upstream visit villages and meet the inhabitants dependent on the jungle and the river for their livelihoods.
47 views
Submitted Dec 17, 2012
Y Resort is a fusion of stunning Balinese Architecture blended with modern fixtures and amenities.
25 views
Submitted Dec 16, 2012

About Dave's Pick
Category Stats
Listings:
553
Regular:
553
Last listing added:
Jan 27, 2019