Indonesia
Indonesia Travel
WELCOME TO BALI, hi..My name is Agung Rahtut you can call me Agung. I am Balinese, a professional tour organizer in Bali and English Speaking Bali Tour Driver Provider.
67 views
Submitted Dec 16, 2012
Bali Alternative provide responsible tourism program, the tourism program gives new experience beside mass tourism or traditional tourism. Join on planting is nature interaction, social relationship to be sustainable tourism. Sustainable tourism in its purest sense is an industry which attempts to make a low impact on the natural environment and local culture, while helping to generate income and employment for locals, as well as to promote the conservation of local ecosystems. It is responsible tourism which is both ecologically and culturally sensitive
59 views
Submitted Dec 16, 2012

Bali amazon trekking tours is a company that provides special adventure for mountain climbing,hiking,trekking,biking,and white water rafting,we organize all bali mountain for climbing,like climbing to Mt. Agung
53 views
Submitted Dec 16, 2012
Bali Aqua is a 5-Star dive operator and scuba training facility, and an SSI and PADI Divecenter offering expert knowledge, years of experience, great service, and the flexibility you need to get the best from your holiday time.
26 views
Submitted Dec 16, 2012
To experience the excitement of Bali shopping, we recommend going and leaving the resorts and going inland or to local markets to haggle over every purchase! Traffic in Bali is very light and you can use a number of taxis or minibuses. To enjoy different places - try renting a motorcycle or car.
55 views
Submitted Dec 16, 2012
Karma Jimbaran offers an array of tailored Guest Experiences that encompass Cultural, Romantic, Adventure and Family enjoyment.
88 views
Submitted Feb 26, 2010
This tour is designed for travelers who seek to go deep into Bali&#39
97 views
Submitted Dec 16, 2012
BALI BOAT TRIP brings you the holiday from a holiday. Spend a day with us, away from the hassle and the crowds, aboard our traditional Indonesian motor yacht. Visit Crystal Bay on Nusa Penida, snorkel vibrant reefs or just relax onboard, soak up the rays and sip an ice cold Bintang.
52 views
Submitted Dec 16, 2012
Welcome to Bali bodyboarding. With over 10 years' experience in Indonesia and 4 years of running trips throughout the archipelago our promise to you is to provide you with the perfect bespoke bodyboarding and or surfing package to match your budget and wave riding ability.
39 views
Submitted Dec 16, 2012
Let the warm herbal oil that drips tenderly to your forehead refresh your mind
22 views
Submitted Dec 17, 2012
Bali Bubbles offers our recommended high quality dive courses from all major organisations (SSI, PADI and DAN).
42 views
Submitted Dec 16, 2012
In cooperation with the owner of the Villa, Bali Bungalow Rent currently rents out 15 holiday villas, which helps you find the accommodation of your dreams on Bali.
19 views
Submitted Dec 16, 2012
On this website you will find information about Bali Bungalows. If you have any questions about our accommodations in Sanur, don&#39
22 views
Submitted Dec 16, 2012 Only the cheapest accommodation in Bali
56 views
Submitted Dec 16, 2012
Amidst a pastoral landscape of farming activities, Sukahet Sari offers visitors an intimate introduction to Bali&#39
39 views
Submitted Dec 16, 2012
Welcome to We Are Family Tours!
74 views
Submitted Dec 16, 2012
Find out the island of Bali, Java and Lombok with the team of Bali Discovery in an authentic way, we can organize your stay in Bali, Java and Lombok with a formula prepared by us for you, your friends or your family. Transport service with driver and / or English or French speaking guide, private day trips, sports activities, scuba diving, fairtrade activities.
36 views
Submitted Dec 16, 2012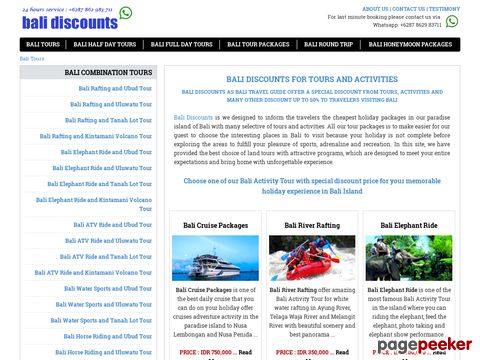 Bali Discounts committed providing a cheap price during your holidays in Bali
55 views
Submitted Dec 16, 2012
balidiscovery.com the one-stop website for everything you need for a Bali holiday. Award-winning news on Bali tourism, special offers on Bali hotels and villas, island tours, transportation and practical tips and advice from the people who know Bali best.
41 views
Submitted Dec 16, 2012
Operating throughout Asia for nearly 10 years in the Maldives, Philippines and Bali since 1996, Atlantis is conveniently located in Sanur Bali
54 views
Submitted Dec 16, 2012

About Dave's Pick
Category Stats
Listings:
553
Regular:
553
Last listing added:
Jan 27, 2019