Indonesia
Indonesia Travel
Bali homestay program - a unique homestay program in bali. get mingle with local village people and stay at their warmth hosting
22 views
Submitted Dec 17, 2012
Bali's most romantic villa establishments
112 views
Submitted Feb 26, 2010
Welcome to Bali,and Welcome to our website, warm greetings from Us.We try to provide a brief description of the beauty and charm that we have on special in Bali and in Indonesia in general . Bali is one part of the province of the RepublicIndonesia.dan Bali consists of one main island and there are 4 sisters island (Menjangan Island, Nusa Lembongan, Nusa Ceningan, Nusa Penida)
23 views
Submitted Dec 16, 2012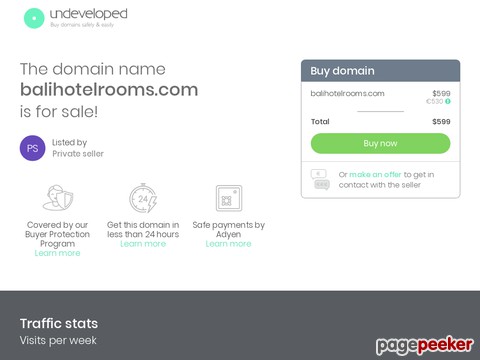 Bali Hotel Reservations
218 views
Submitted Feb 26, 2010
Rumah Kartika Dharma
25 views
Submitted Dec 16, 2012
Our villas for rent have various numbers of bedrooms from one bedroom to seven bedrooms located in some areas from Seminyak, Oberoi, Petitenget, Kerobokan, Umalas, and Canggu. Seminyak, Oberoi and Petitenget are the central where you can find almost everything you need and characterized by night clubs, trendy boutiques, restaurants and cocktail bars, supermarkets
29 views
Submitted Dec 16, 2012
Bali Bintang Cycling Tour is organized by a number of professional tour guides. They are fun, witty, energetic, mature and responsible in their jobs.
40 views
Submitted Dec 16, 2012

We are very pleased to welcome you and provide best holiday in Indonesia. Balijavaorangutantours.com is best solution & online marketing to get reliable information about Indonesia tourism destination
22 views
Submitted Dec 16, 2012
Bali is a fertile tropical holy island with 2 volcanoes such as Agung volcano and Batur volcano, and 4 lakes such as Batur lake, Bratan lake, Buyan lake, and Tamblingan lake, with white and black sandy beaches and many hot springs. Graced with swatches of extremely mountainous fertile island, much of it sculpted into terraced rice field.
49 views
Submitted Dec 16, 2012
Let us take you deep inside Ubud and see real village life. First stop is Batuan village to see a traditional Balinese house then we go to Tegalalang for its picturesque rice terrace. The trip will be continued to the highlight of this tour "The unknown Ubud".
36 views
Submitted Dec 16, 2012
Rent a car in Bali never been so confident and comfort along with BaliMobil.Com, an online subsidiary of Bali Bima Sakti, CV, a well-known car rental company based in Denpasar, Kuta and Canggu area.
66 views
Submitted Dec 16, 2012
Being situated in this traditional area, Bali Mountain Retreat's guests are given a unique experience with the local Balinese people and their culture.You will welcome the refreshing and revitalizing mountain air, clean spring fed water and panoramic views to the coast of Bali
53 views
Submitted Dec 16, 2012
Located in the exclusive Petitenget, Seminyak Tourist Precinct surrounded by finest restaurants to cater for all markets and tastes
22 views
Submitted Dec 17, 2012

Come and spend a pleasant time in the snug ambience of the Nana Homestay that is located in a magic fishing village of Amed at the east shore of Bali.
23 views
Submitted Dec 17, 2012

We offer quality accommodations in different price categories by incorporating western comfort and safety standards with unique local designs. Our trusted partners have the opportunity to truthfully advertise their properties to mutually benefit from our corporation.
67 views
Submitted Dec 16, 2012
Blue Season Bali Diving is an award winning five star PADI Career Development Center (IDC) that will take you diving to Bali&#39
44 views
Submitted Dec 16, 2012
Get the "feel of Bali", on foot. A carefully selected walking course of about 3 hours, through charming villages, with those gorgeous rice fields in between
68 views
Submitted Dec 16, 2012
Bali is one of thousands of beautiful islands in Indonesia, lies to the east of Java and the west of Lombok. Bali is well known as &#34
33 views
Submitted Dec 16, 2012
The Payogan Villa Resort & Spa embraces 15 hectares of timeless landscape that is traversed by two separate river flows. It is just a 10 minute drive by car from downtown Ubud. Enveloped by hinterland greenery, this secluded property celebrates nature&#39
26 views
Submitted Dec 16, 2012
Now we would like to introduce new services of our company to you. Our company works for diving adventures, fishing, watching dolphin, and marine sport . We offer high quality services made by our licensed guide and also professional external partners.
33 views
Submitted Dec 16, 2012

About Dave's Pick
Category Stats
Listings:
553
Regular:
553
Last listing added:
Jan 27, 2019