Indonesia
Indonesia Travel
Baliwaves waves formed in late 1999 and is dedicated to providing surfers with reports, images, videos and general information on surfing in Bali. Slim has been living and surfing in Bali for many years and provides a unique perspective on the waves and general surfing scene.
34 views
Submitted Dec 16, 2012
Bali is the "Island of Paradise". The word paradise is used a lot for Bali, and not without reason. The combination of friendly and hospitable people, a magnificently visual culture infused with spirituality and spectacular beaches with great surfing and diving have made Bali Indonesia's unparalleled number one tourist attraction. Eighty percent of international visitors to Indonesia visit Bali. Bali is fairly a big island and you'll need a method or even a special guide to get around if you plan on exploring more than the hotel pool
72 views
Submitted Dec 16, 2012
Come and visit the natural wonders of Bali and Indonesia on a dirt bike tour. Ride the top class dirt track Bali and Indonesia has to offer. Meet the friendliest people on earth from Galiukir ancient village to Batukaru reserve, upper Pujungan jungles
137 views
Submitted Dec 16, 2012
This unique comprehensive family guidebook offers up to date information about kid friendly activities and places in Bali as well as practical and cultural background information relevant for families with babies, infants, children and teenagers.
80 views
Submitted Dec 16, 2012
World Surfaris now has an office in Sanur, Bali. Our local team can hook you up with guided surf tours, surf camps, surf boats and more.
46 views
Submitted Dec 16, 2012
Baliwww.com provides not just good choices of Bali Hotels but over 13,000 hotels booking in more than 100 Indonesia cities from the most luxurious hotels to comfortable villas with best deals.
48 views
Submitted Dec 16, 2012
Located centrally in Bali's cultural Gianyar Regency, the Bali Zoo is within close proximity to the tourist areas of Kuta, Sanur, Seminyak and Nusa Dua and is only 15 minutes drive from Ubud
46 views
Submitted Dec 16, 2012
a reservation directory for any type of hotels, villas and accommodation in Bali. Search your hotel, get the special rates and book, Simple and Fast!
168 views
Submitted Feb 26, 2010
Bali Barong Tours specializes in custom-designed trips to Bali and other parts of Indonesia
42 views
Submitted Dec 16, 2012
offering tours of Bali
21 views
Submitted Feb 2, 2013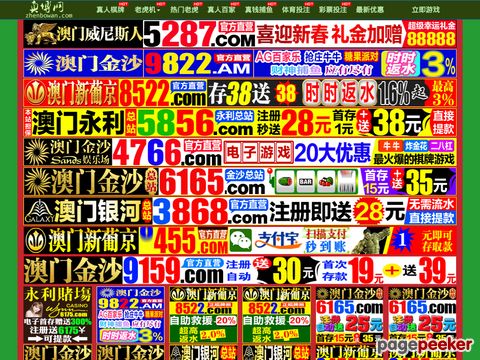 Bali is the most interesting beautiful place. A stunning tropical island bathed in beauty. Mystical temples, colourful festivals, beautiful dances, unique arts and crafts, and interesting customs are provided in it
37 views
Submitted Dec 16, 2012
It's your first holiday trip to Bali? You're confused or you need more information on Bali? Then read this! A MUST-READ travel guide to bali! Full of insights and tips for you that will definitely ensure you enjoy your Bali holiday.
63 views
Submitted Jun 23, 2010
Private Bali tour with professional Bali driver tour guide to explore the Island of Bali and its culture and we are committed in safety and customer satisfaction as our premier concern
67 views
Submitted Dec 16, 2012
We Arrange Mountain Climbing, Trekking, Hiking, Cycling, Canoeing,Bird Watching, Cooking in Bali and East Java
33 views
Submitted Dec 16, 2012
Bamboo Bali Bonaire boutique resort offers accommodation rental in cottages and suites in a tropical, romantic setting
67 views
Submitted Dec 16, 2012
Bambu Indah is a radically distinctive, unique boutique hotel located on the Sayan Ridge 15 minutes southwest of central Ubud, Bali. The hotel is a stunning combination of bamboo buildings and antique Javanese teak wood bridal homes, each with individual design details to surround you in beauty and comfort.
37 views
Submitted Dec 16, 2012
Bangjo is a synonym from "Abang – Ijo" means RED and GREEN, also it means "traffic light" on a crossroad. This phrase is very popular among People of Central Java and Yogyakarta.
41 views
Submitted Dec 17, 2012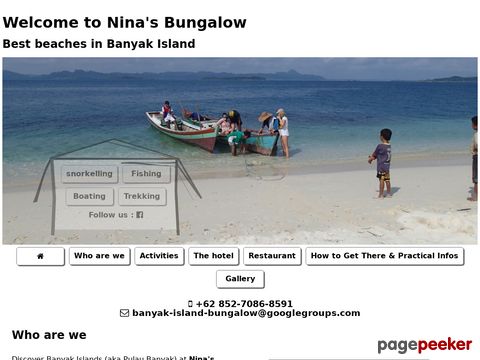 The Banyak islands, a hidden paradise in Indonesia
22 views
Submitted Dec 17, 2012
Banyan Tree Tours started in 2008 and was developed by Ketut Bagiada who had worked in the tourism industry for many years taking the tracks and trails of many touring companies before. He wanted to share with people another side of Bali, an unseen side where there were no café&#39
56 views
Submitted Dec 16, 2012
Far away from towns and mass tourism the resort is placed in the head of Sulawesis south coast. It´s made for a relaxed and recreativ holiday.
21 views
Submitted Dec 16, 2012

About Dave's Pick
Category Stats
Listings:
553
Regular:
553
Last listing added:
Jan 27, 2019