Iraq
Iraq Travel & Iraq Trips
Carl and Carolyn are living in Sulaimani, Iraq where they teach at the American University of Iraq- Sulaimani. This is their effort at describing what it means to live in a new location.
12 views
Submitted Jul 30, 2010
Thoughts from Iraq
11 views
Submitted Jul 30, 2010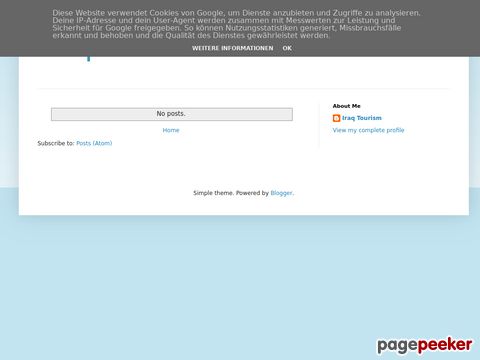 Iraq Tourism - Is it possible? Is the first line on this site at the time of this submission. To this we say, OF COURSE, its only a matter of time.

This Blog focuses on the opportunities for current and future tourism in Iraq
92 views
Submitted Feb 26, 2010
For travelers who thrive on adventure, seek authentic new experiences and who are not afraid to venture off the well worn path, Kurdistan Adventures is for you.

Welcome to the hidden world of Iraqi Kurdistan. Leave all your preconceived ideas at the border and discover "The Other Iraq". Iraqi Kurdistan is a safe and peaceful region full of fascinating history and charming people. Fertile valleys, stunning waterfalls, green pastures and snow-capped mountains will welcome you with open arms.

An Australian/Kurdish joint venture, Kurdistan Adventures combines local knowledge with Western tour operating management. We pride ourselves on immersing our small groups of travelers in Iraqi Kurdistan culture with safety, security and professionalism.

Citizens of many countries including Australia, New Zealand, the EU, Canada and the USA are granted a free visa on arrival.

Our 8 day escorted tour includes the 3 major cities of Dohuk, Erbil and Sulymaniyah.
19 views
Submitted Jul 21, 2011
Citizen journalist Kelly Hayes-Raitt visited Iraq just 5 weeks before the U.S.-led bombings and invasion in 2003. She returned a few months later to find the people who touched her so deeply. Living Large in Limbo: How I Found Myself Among the World's Forgotten is her personal story of recovery from a mid-life loss by working in the Middle East with Iraqi and Palestinian refugees.
15 views
Submitted Jan 19, 2013
visit Kurdistan!
65 views
Submitted Feb 26, 2010

About Dave's Pick
Category Stats
Listings:
6
Regular:
6
Last listing added:
Jan 19, 2013