Italy
Italy Travel & Italy Tours
Our Tuscany biking trips take you on an incredible bike ride through the Tuscan terrain ensuring you enjoy your Tuscany bike tour stay with us.
407 views
Submitted Apr 5, 2011
personal travel blog about travels in Italy
78 views
Submitted Jun 28, 2013
A La Carte Italy Tours can take you on a Tour to discover Italy like no travel agency could. Hosting smaller exclusive groups on which they can focus their personal service, they have a wide range of tour programs inside Italy. See the best of Italy on a personal holiday that takes you from Venice to Naples, stopping off to admire the many treasures along the way. Your luggage will be transported each day to the next lodging and all arrangements will be set by your private driver.
143 views
Submitted Feb 26, 2010
The Agritourism Giratola is located in Tuscany, in the area of Mugello, a 25 km away from Florence, view on the Lake of Bilancino. The Agritourism is composed of 4 independent buildings, each one of them hosting an apartment.
79 views
Submitted Jul 5, 2010
Providing efficient and reliable limousine service from or to the airport to Rome and within Europe 24 hours a day.
234 views
Submitted Feb 26, 2010
A charming 5-star resort in the verdant hills of Franciacorta a few minutes' drive from Lake Iseo, L'Albereta Relais & Chateaux is an enchanting place off the beaten track.
86 views
Submitted Jul 23, 2010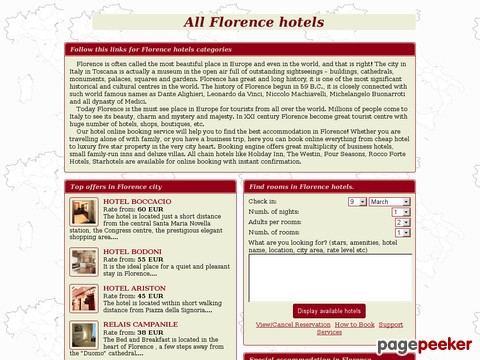 Florence hotels online Reservation
274 views
Submitted Feb 26, 2010
Anthony Transfers & Excursions Service provides limousine and minivan service with private driver for the Amalfi Coast and all the surrounding areas such as: Amalfi, Ravello, Positano, Conca Dei Marini, Cetari, Vietri Sul Mare, Naples, Sorrento, Salerno, Pompei, Rome, and Florence. Specialized tours can be tailored to suit your needs.
106 views
Submitted Feb 26, 2010
Aolmaia Tuscany Society is a small group of Italians who organize cooking, food and wine holidays for tourists from all over the world. The company is situated in the heart of Tuscany, near San Miniato, within easy reach of Florence, Pisa, Lucca, Siena, San Gimignano and Volterra. Aolmaia offers tours and courses which are true experiences in touch with culture, traditions, life and the friendly people of Tuscany.
We love our region, our cuisine, we know "the real things" and we like to share them with you, making your holiday pleasent and unforgettable. Looking forward to meet you in Tuscany.

99 views
Submitted Oct 28, 2011
Italy, Art, Travel & Lifestyle
106 views
Submitted Apr 20, 2010
This blog is written by a born and bred Tuscan who wishes to share her love for this region with as many people as possible. It's about living here, but also about travelling, learning, experiencing, and enjoying life in Tuscany.
128 views
Submitted Apr 2, 2010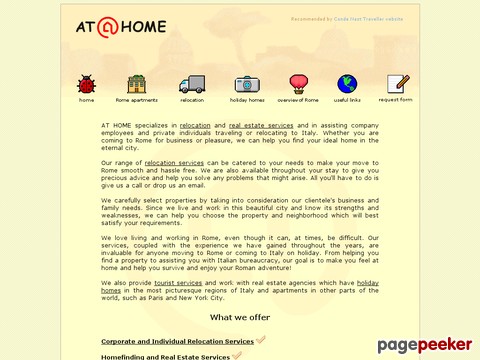 long & short term rents and relocations to Rome Italy
291 views
Submitted Feb 26, 2010
Il Bed and Breakfast Globetrotter Siracusa in Sicilia
86 views
Submitted May 20, 2012
Living in Southeast Sicily
88 views
Submitted Jun 20, 2010
B&B in the beautiful wine region of Lombardy, the Oltrepo Pavese, south of Milan. The Oltrepo Pavese is the largest wine producing area of Lombardy in the North of Italy, but is also virtually unknown abroad. This is a pity as the landscape is beautiful, the people are kind, the food is authentic and there are lots of possibilities for walking, hiking, cycling and sight-seeing. The smooth hills are covered with vineyards, castles and medieval villages and this landscape reminds one of Tuscany. Pace of life is slow, food is traditional and wine can be tasted anywhere, in one of the over 100 independent cantines.

85 views
Submitted Oct 14, 2011
Customized guided tours with private guide, walking tours, boat tours, itineraries and sightseeing in Venice
197 views
Submitted Feb 26, 2010
Just outside of Assisi, nestled among the foothills of St. Francis
75 views
Submitted Aug 5, 2010
a beautiful farm with 500 year old + farmhouses - located on the border of Tuscany and Umbria - a dream location - providing lodging for the dream vacation
291 views
Submitted Feb 26, 2010
digital diary of Italy
81 views
Submitted Aug 8, 2012
The Hotel Astoria Hotel is a comfortable accommodation in Caorle, Italy. Directly overlooking the western beach and a short walk from the picturesque old town, is the ideal destination for your next summer holiday in Caorle.
133 views
Submitted May 3, 2011

About Dave's Pick
Category Stats
Listings:
129
Regular:
128
Reciprocal:
1
Last listing added:
Dec 7, 2018