Kenya
Kenya Travel & Kenya Trips, Nairobi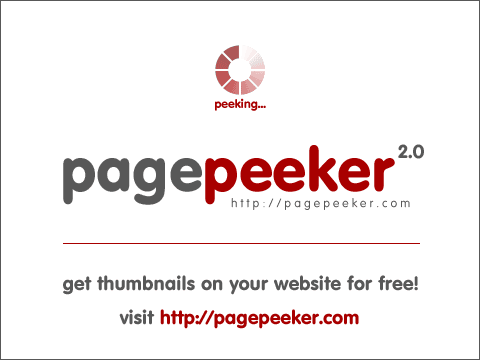 Bush House & Camp is Nairobi's leading budget accommodation providing cheap and affordable stays. Conference facilities are available, a restaurant, with other activities like nairobi excursions and Kenya safaris.
19 views
Submitted Nov 24, 2010
Online travel guide for hotels, restaurants, attractions, and entertainment in Nairobi. Includes news, events, weather, photos, and travel help.
18 views
Submitted Jun 18, 2010
Kenya camping and lodge safaris, car hire Kenya, airport transfers Jomo Kenyatta Nairobi, Mountain climbing. Also visit Masai Mara
209 views
Submitted Feb 26, 2010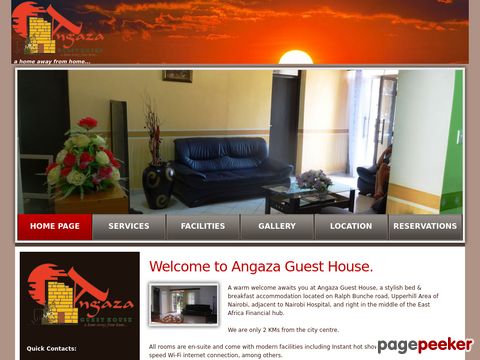 a home away from home in Nairobi
11 views
Submitted Jul 14, 2012 Located in the Karen, serene upmarket suburb of Nairobi, Bush House & Camp is an award winning guest house and hostel in Nairobi offering quality cheap / budget accommodation in Kenya.
17 views
Submitted Jul 14, 2012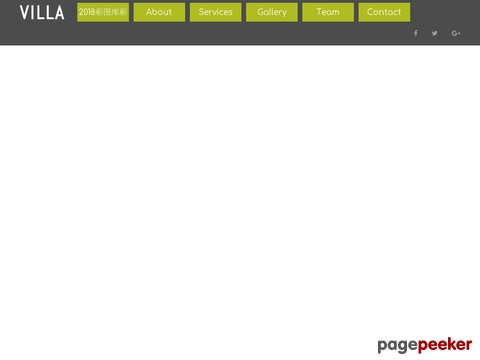 Crazy About Kenya is a positively charged online experience for adventurers looking to make more of Africa?s wildlife capital. Created by Acacia Adventure Holidays, the website will take you further than the Maasai Mara and give you a leftfield perspective on the destination ? over twenty indigenous artists and musicians bringing Kenya to life
73 views
Submitted Feb 26, 2010
Ecotourism Kenya is a civil society organization that was founded in 1996 to promote ecotourism and sustainable tourism practices in Kenya
77 views
Submitted Feb 26, 2010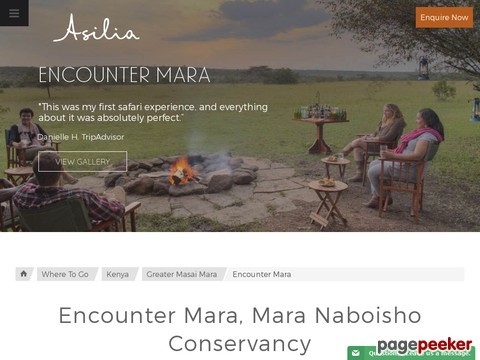 The perfect Masai Mara safaris for people seeking an authentic and unique safari experience. Intimate safari camp with only 12 guest tents in the Masai Mara Reserve.
16 views
Submitted Jan 24, 2014
We are a family owned Budget Guest House in Nairobi which offers personalized service and a selection of tastefully decorated en-suite rooms. Fully serviced houses are available as complete houses or individual rooms on a daily, weekly or monthly basis. We have two homes:
11 views
Submitted Jul 14, 2012
the premier and most comprehensive online booking and payment service for Kenyan hotels and lodges
16 views
Submitted Dec 17, 2010
Nairobi online and Kenya train booking
31 views
Submitted Feb 26, 2010
Kenya walking tours
217 views
Submitted Feb 26, 2010
Khweza Bed and Breakfast Nairobi offers high quality, affordable accommodation minutes away from the Nairobi city centre. (Approx 1 Km)
11 views
Submitted Jul 14, 2012
Loisaba Wilderness is outstandingly beautiful, its abundant wildlife is truly wild and its accommodation is comfortable beyond measure. Whether sleeping under the undisturbed African night sky on our unique Star Beds, rafting down the majestic Ewaso Ngiro and Ng'are Narok Rivers, or watching the big five stroll past on a game drives, a visit to Loisaba will revive your mind, rejuvenate your body and revitalise your soul.
10 views
Submitted Jul 23, 2010
Kenya Budget Camping Safaris is operating safari company in Nairobi, Kenya. We handle safaris to all tourist destinations in Kenya.
20 views
Submitted Jul 31, 2012
magical Kenya
195 views
Submitted Feb 26, 2010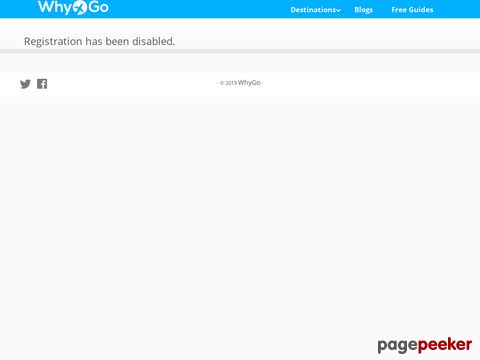 Welcome to MtKilimanjaroLogue – Your one-stop travel guide to climbing Mount Kilimanjaro
21 views
Submitted Mar 14, 2010
Find and book online a Nairobi Guest Houses
25 views
Submitted Jul 14, 2012
We offers advance Kenya train booking and seat reservations for first and second class for passengers traveling between Nairobi to Mombasa.OUR MISSION: Is to provide quality and satisfying Nairobi - Mombasa | Mombasa - Nairobi train bookings to our clientele both locally and internationally. OUR GOAL: To satisfy our customers by giving the best services according to their demands. Why Kenya Train Booking? - Personalized care and attention. Individualized booking, matching your interests.
19 views
Submitted Apr 28, 2013
offering a wide variety of safaris, tented camps and lodges within Kenya
15 views
Submitted Oct 22, 2012

About Dave's Pick
Category Stats
Listings:
23
Regular:
21
Reciprocal:
2
Last listing added:
Nov 20, 2015