Madagascar
Madagascar Travel
If you are planning to visit Madagascar, we are here to help. We are a Malagasy tour agency, based in Antananarivo with over 10 years experience providing wildlife and cultural tours as well as beach holidays
98 views
Submitted Feb 26, 2010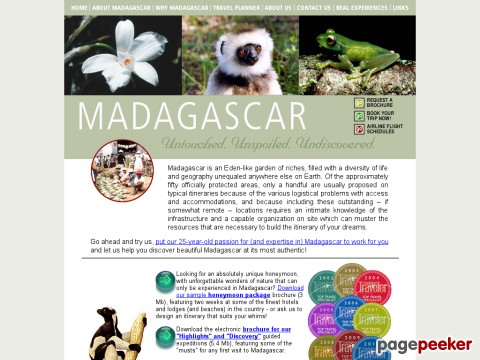 Madagascar is an Eden-like garden of riches, filled with a diversity of life and geography unequaled anywhere else on earth. California based company offering trips to Madagascar
98 views
Submitted Feb 26, 2010
Ilay tours is located in Antananarivo
86 views
Submitted Feb 26, 2010
an experienced tour guide in Madagascar - fluent in both English and Francais
24 views
Submitted Jun 24, 2012
Lonely Planet Info
220 views
Submitted Feb 26, 2010
Visit Mada Tours has been in Tourism sectors for over 9 years and it runs by Malagasy people who have traveled around Madagascar. We do our very best to provide you with prompt and effective service as well as very competitive prices. We understand that vacation time is precious and we will help you to find the perfect holiday, tour or package to fit your needs and budget. We are one of the easy one in Tana for several major tour operators in Madagascar.
57 views
Submitted Feb 26, 2010
Madagascar, a true natural sanctuary knew how to presence its fauna and flora which passionate naturalists, the land of orchids, baobas and the world's biggest butterfly, the famous land of lemurs and chameleons, the birds paradise, an exceptional fauna and flora to be discovered on twelves Integral Natural Reserves
18 views
Submitted Jun 24, 2012
Mike and Harriet Joao started marketing charter boats in Nosy Be but their clients were demanding - asking for help in planning far beyond just charters. They wanted to travel further, explore more and they wanted Mike and Harriet to do the travel arrangements.
19 views
Submitted Jun 24, 2012 Nosy Be travel guide and portal
61 views
Submitted Feb 26, 2010
Ortour has been helping many tourists since 1996 by arranging different tour schedules, rent a car, river-trips, and flight booking.
12 views
Submitted Jun 24, 2012
Manao ahoana e ! I would like to welcome you to my site. You can simply call me Rija. One word about my "route", question of learning more about each other. One says "studying law leads to all...with the proviso of getting out of it!" One day, I made decision to leave it to launch out into the tourism matters that I have not left any more. In fact, as a native of Morondava in the south-west of Madagasikara that is always combined with Vezo, with the beam dugouts, the baobab trees... nothing is so surprising!
28 views
Submitted Jun 24, 2012
Tourism is a splendid opportunity for international communication and interaction which attracts a great deal of attention on the part of the Malagasy government, owing not only to its economic potential but also to the authorities' obvious eagerness to open up to the world and thereby to obviate the country's insular out of the way situation.
20 views
Submitted Jun 24, 2012
The Madagascar Travel Guide and Planner offers users completely free and most comprehensive English speaking information about Madagascar's National Parks and Reserves, places of interest, cities and towns, accommodations, transportation means and lots more.
12 views
Submitted Jun 24, 2012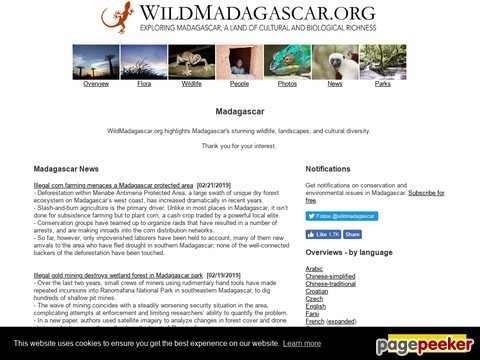 excellent website detailing Madagascar
126 views
Submitted Feb 26, 2010

About Dave's Pick
Category Stats
Listings:
14
Regular:
14
Last listing added:
Jun 24, 2012