Papua New Guinea
Papua New Guinea Travel
offering adventure travel excursions to PNG
221 views
Submitted Feb 26, 2010
hotel listings in select parts of PNG
31 views
Submitted Dec 4, 2012
Ecotourism Melanesia offers a wide range of expertly designed soft adventure experiences that take you into rural areas of Papua New Guinea and bring you face to face with our culturally diverse peoples and unique natural history. And rest assured that we practise responsible tourism and all our tours benefit local communities.
27 views
Submitted Dec 11, 2012
one persons' PNG photos
166 views
Submitted Feb 26, 2010
In Wewak Boutique Hotel is designed and owned by local family business operators. As long time residents the hotel has been designed to provide a comfortable & luxurious stay accommodating guests on business, tour, or leisure.
17 views
Submitted Jun 24, 2012
Kalibobo Village is a secure, village resort style complex set in magnificently landscaped grounds with 60 self-contained deluxe and executives suites plus two presidential suites, as well as 10 three bedroom cottages which are available for longer term lease, all with a private bathroom and balcony and some with a kitchenette.
23 views
Submitted Jun 24, 2012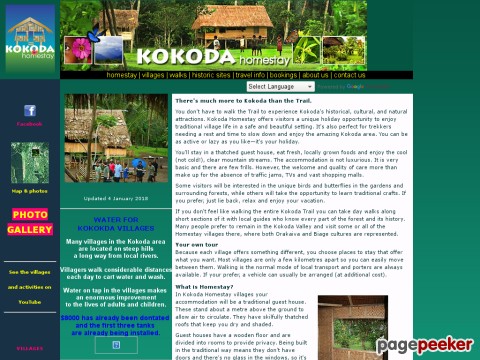 You don&#39
26 views
Submitted Dec 11, 2012
Known as one of the world's most spectacular and challenging treks, the Kokoda Track, Papua New Guinea, offers the experience of a lifetime. Wind your way along the track through rugged mountainous terrain and delve deep into the dark history of the area, whilst immersing yourself in the culture of the local communities.
26 views
Submitted Jun 24, 2012
The Kokoda Track Foundation is an Australian philanthropic organisation which aims to repay the selfless help given to Australia during WWII by the 'Fuzzy Wuzzy Angels' of Papua New Guinea by helping to improve the lives and futures of their descendants.
23 views
Submitted Dec 4, 2012
the best little dive resort in the South Pacific
22 views
Submitted Jun 24, 2012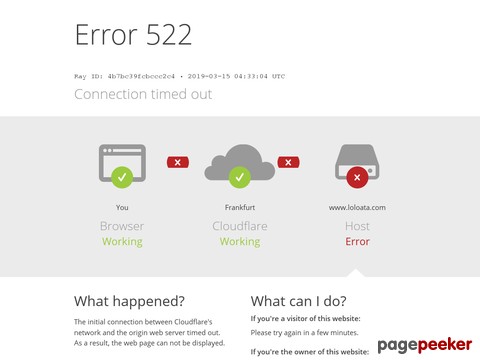 Many of our overseas guests find Loloata Island Resort a tranquil and more natural alternative to the bustling capital city of Port Moresby, New Guinea. For locals, Loloata Island is a welcome getaway -- a chance to unwind, commune with nature and enjoy true Melanesian hospitality.
19 views
Submitted Jun 24, 2012
A pearl hidden in the south pacific, Madang is a totally unexpected montage of immense physical beauty, tribal cultures, friendly people and pristine diving. An absolute must to discover, whether you're a diver, an adventurer or just wanting to relax and let the world go by. This delightful tropical garden township is a place where travellers can experience a diverse range of cultural and natural attractions.
25 views
Submitted Dec 11, 2012
Melanesian tourist services, based in Madang, PNG
24 views
Submitted Dec 4, 2012
is the official tourism website for Papua New Guinea
186 views
Submitted Feb 26, 2010
Origin Papua New Guinea is a travel organization specializing in authentic culturally immersive, ecodynamic expeditions to the Mt. Bosavi region of Papua New Guinea. Our featured expedition affords you the unparalleled opportunity to completely immerse yourself in the beautiful, colorful and captivating life of the Kosua tribe of Mt. Bosavi.
17 views
Submitted Nov 20, 2012
Paddy&#39
13 views
Submitted Dec 19, 2012
blog with good information for travelers
18 views
Submitted Feb 11, 2011
Lying just south of the equator, 160km north of Australia, Papua New Guinea is part of a great arc of mountains stretching from Asia, through Indonesia and into the South Pacific. With a vibrant and colourful culture, more than 600 islands and 800 indigenous languages, Papua New Guinea is made up of 4 regions with 20 provinces.
13 views
Submitted Jun 24, 2012
PNG Embassy, Washington DC
62 views
Submitted Feb 26, 2010
Interested in Papua New Guinea as a holiday destination, and want to make a travel arrangement, you will be most likely to wonder who to book with. PNG is geographically wide, climate pattern varied from place to place, and communication is not easy. When you send e-mail to hotels for booking, you may receive response in a week time if you are fortunate.
17 views
Submitted Jun 24, 2012

About Dave's Pick
Category Stats
Listings:
29
Regular:
29
Last listing added:
Dec 19, 2012