Sao Tome and Principe
Sao Tome and Principe
The Agôsto Neto Hotel, right in the heart of the city will be your perfect base, either for business, leisure or onward trips (read more).
24 views
Submitted Jul 15, 2012
Hotelbooking.st offers easy tools to find and book your hotel at competitive rates in São Tomé and Príncipe. Get fast, easy access to the information you need to select a hotel in the right destination at the right price. You don't even need to pre-pay for your room, the hotel will take payment from you when you stay.
21 views
Submitted Jul 15, 2012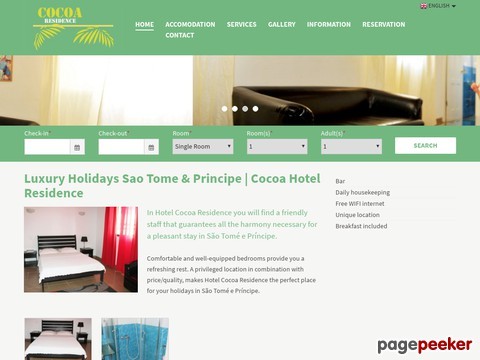 friendly staff, pleasant stay
29 views
Submitted Jul 15, 2012
Navetur Tours
89 views
Submitted Feb 26, 2010
Poiso Alto Gold Guesthouse is located in a charming neighbourhood in the historic centre of Sao Tome. From there you will be within walking distance from Sao Tome's 14th century fort and its remarkable historic artefact, the beach, and the city centre, which combines historical building with shopping district. The Obo Natural Park is not far from there.
20 views
Submitted Jul 15, 2012
Sao Tome e Principe - very good tourism guide
76 views
Submitted Feb 26, 2010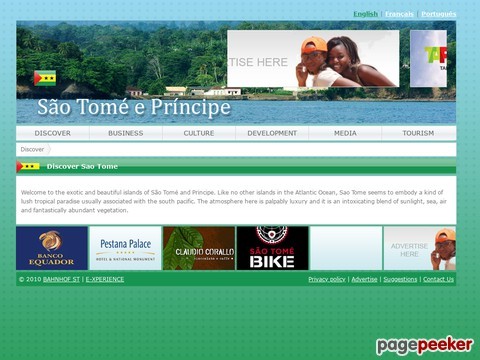 Welcome to the exotic and beautiful islands of São Tomé and Principe. Like no other islands in the Atlantic Ocean, Sao Tome seems to embody a kind of lush tropical paradise usually associated with the south pacific. The atmosphere here is palpably luxury and it is an intoxicating blend of sunlight, sea, air and fantastically abundant vegetation.
21 views
Submitted Jul 15, 2012
Sao Tome travel tnfo
203 views
Submitted Feb 26, 2010
Paradise islands on the equator - heaven for individualists
22 views
Submitted Jul 15, 2012

About Dave's Pick
Category Stats
Listings:
9
Regular:
9
Last listing added:
Jul 15, 2012